New Suns owner Mat Ishbia overhauled the roster. Now he's moving on to the fan experience
New Phoenix Suns owner Mat Ishbia wasted little time overhauling his team's roster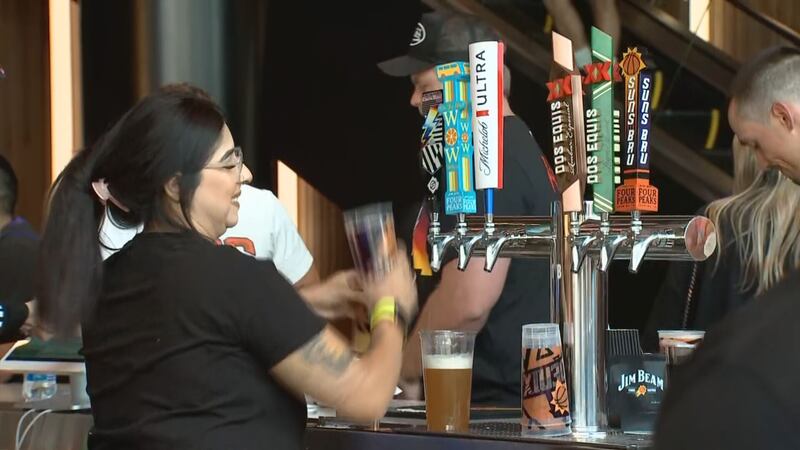 Published: Aug. 8, 2023 at 10:52 PM MST
PHOENIX (AP) — New Phoenix Suns owner Mat Ishbia wasted little time overhauling his team's roster.
Now, he's turned his attention to the fan experience at Footprint Center.
The Suns and the WNBA's Phoenix Mercury announced Tuesday that they've partnered with OVG Hospitality to provide food and beverages at games, concerts, and other live events at the arena. Ishbia said the new partnership will improve the quality of food, speed up lines at concession stands, and include new menu items.
The Suns have sold out 80 straight games at Footprint Center, counting regular season contests and the playoffs.
"Just because our fans love the Phoenix Suns doesn't mean I can take them for granted," Ishbia said. "It means I want to lean in more. That was part of the TV deal, too."
The Suns made waves in April when they announced a new media rights deal that would make Suns and Mercury games available on local television and provide streaming options. The first-of-its-kind deal could pave the way for local sports broadcasts following the struggles of regional sports networks.
Now the deep-pocketed Ishbia — who bought the Suns for roughly $4 billion less than a year ago — is trying to up the food and drink game at his arena. The deal with OVG includes everything from "specialized beverages as fans enter the arena, customized food offerings from locally renowned chefs, to an elevated wine program for connoisseurs of every variety."
Ishbia has quickly become one of the NBA's most visible owners despite his short tenure. Less than a week after he was officially introduced by the Suns, the franchise pulled off a blockbuster deadline deal to land 13-time All-Star Kevin Durant.
The Suns have also been busy this offseason, trading for three-time All-Star Bradley Beal. Ishbia even had a much-publicized spat with Nuggets star Nikola Jokic during a playoff game, but the two eventually made up.
Ishbia's fingerprints have been prominent on all the moves — whether it's adding an All-Star or a snazzy new cocktail.
"How do we make everything more efficient so we can have a better all-around fan experience?" Ishbia said. "It's not all going to be ready Day 1. But it's an evolution, not a revolution."