Arizona Coyotes tickets go on sale Friday; what you need to know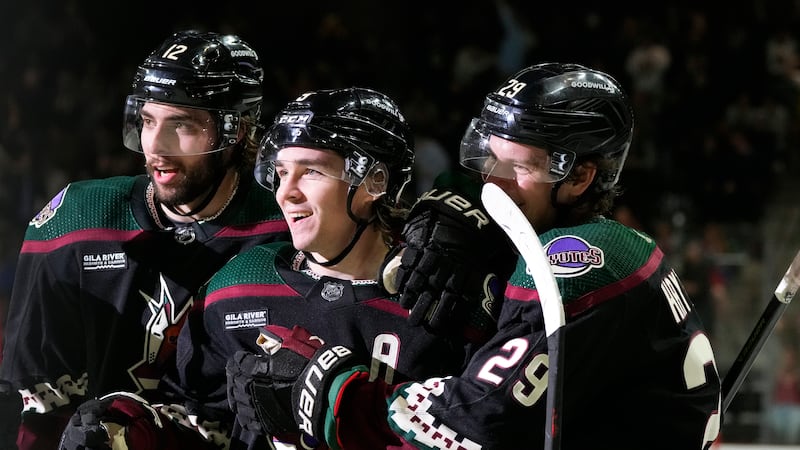 Published: Aug. 8, 2023 at 12:43 PM MST
TEMPE, AZ (3TV/CBS 5) -- Coyotes fans, get ready to pull out your wallet. Single-game tickets for the upcoming NHL regular season are going on sale on Friday, Aug. 11 at 10 a.m.
The team is entering its 28th year in the Valley and will open the season with a game against Jack Hughes and the New Jersey Devils Sun on Friday, Oct. 13, at Prudential Center in New Jersey. The home opener is scheduled for Saturday, Oct. 21, when Arizona hosts the Anaheim Ducks at Mullett Arena in Tempe. This upcoming season is the second year of a three-year agreement to play at Mullett Arena, Arizona State University's hockey arena, as the team eyes a future home after a failed referendum to create an entertainment district in the City of Tempe that would house the hockey team.
Pricing for single-game tickets starts at $65, and all single-game tickets are available at ArizonaCoyotes.com or by calling 480-563-PUCK. Pre-sale access starts Wednesday on the NHL website.
What other home games are scheduled?
Anze Kopitar, Drew Doughty, and the Los Angeles Kings (Oct. 27 & Nov. 20).

Connor Bedard, Taylor Hall, and the Chicago Blackhawks (Oct. 30 & Mar. 5).

Nick Suzuki, Cole Caufield, and the Montreal Canadiens (Nov. 2).

Steven Stamkos, Victor Hedman, and the Tampa Bay Lightning (Nov. 28).

Nathan MacKinnon, Cale Makar, and the Colorado Avalanche (Nov. 30 & Dec. 27).

Alex Ovechkin, Nicklas Backstrom, and the Washington Capitals (Dec. 4).

Brady Tkachuk, Jakob Chychrun, and the Ottawa Senators (Dec. 19).

Matthew Tkachuk, Aleksander Barkov and the 2023 Eastern Conference Champion Florida Panthers (Jan. 2).

Brad Marchand, David Pastrnak, and the Boston Bruins (Jan. 9).

Sidney Crosby, Evgeni Malkin, and the Pittsburgh Penguins (Jan. 22).

Jack Eichel, Alex Pietrangelo, and the 2023 Stanley Cup Champion Vegas Golden Knights (Feb. 8 & Apr. 5).

Kirill Kaprizov and the Minnesota Wild (Feb. 14 & Mar. 7).

Sebastian Aho, Andrei Svechnikov, and the Carolina Hurricanes (Feb. 16).

Connor McDavid, Leon Draisaitl, and the Edmonton Oilers (Feb. 19 & Apr. 17).

Auston Matthews, Mitch Marner, and the Toronto Maple Leafs (Feb. 21).

Jack Hughes, Nico Hischier, and the New Jersey Devils (Mar. 16).

Artemi Panarin, Miko Zibanejad, and the New York Rangers (Mar. 30).
See a spelling or grammatical error in our story? Please click here to report it.
Do you have a photo or video of a breaking news story? Send it to us here with a brief description.
Copyright 2023 KTVK/KPHO. All rights reserved.