Twice as many men visit the ER for heat-related issues in Arizona compared to women, data finds
State visitors more likely to need hospitalization.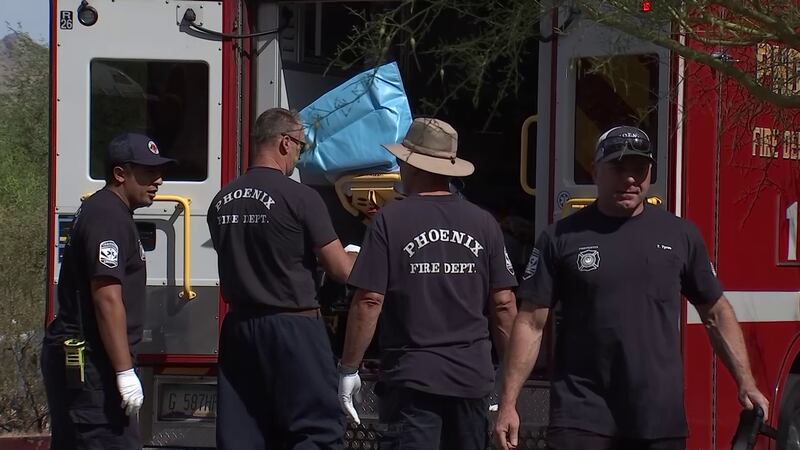 Published: Jul. 13, 2023 at 1:59 PM MST
|
Updated: Jul. 13, 2023 at 2:13 PM MST
PHOENIX (3TV/CBS 5) -- Men are about twice as likely to visit the emergency room for heat-related illness, according to data from the Arizona Department of Health Services (ADHS).
Data collected by ADHS shows that more men visited the ER for heat-related illnesses compared to women by a ratio of about 2-to-1. An overwhelming majority of those who did visit the emergency room were between the ages of 20 and 44, according to the state's five-year data record from 2017 to 2021.
In 2021, more than 2,514 Arizona residents visited an emergency room, of which about 30% required hospitalization. The hospitalization rate of visitors who went to the ER was higher at approximately 41%.
These numbers are in line with a recent FAIR Health study finding that more men are diagnosed with heat-related illnesses compared to women, and men are far more likely to experience heat exhaustion and heatstroke in every age group. In addition, older men above age 65 were also twice as likely to be hospitalized compared to young adults aged 20 to 44.
Those with circulatory disease, like those with high blood pressure or heart disease, had a 90% chance of being hospitalized during their visit. Notably, while the number of emergency room visits is down, the rate of hospitalizations is up. In 2017, only 24% of ER visits ended up with inpatient care, but in 2021, the rate spike to 32%.
Deadly Heat
Data from the Maricopa County Department of Health has also recently revealed that 12 people have died from issues likely connected to heat so far in 2023. Earlier this week, Arizona's Family reported that a number of Valley emergency room doctors are reporting an uptick in heat-related illnesses.
"About, give or take, 20% of people that have come in (in the last week) have had some sort of heat-related illness," said Dr. Frank LoVecchio with Valleywise Health Medical Center in Phoenix.
According to ADHS, "over 2,700 deaths from exposure to extreme heat have occurred in the state from 2011 to 2021."
Avoiding Health Issues In Extreme Heat
According to the Arizona Department of Health Services, every person and even pets are susceptible to heat-related illness, especially during Arizona's extreme summer heat. Here are some tips that health professionals suggest:
1. Drink water.
Even people that stay mostly indoors all day should drink at least 2 liters of water per day. People that spend time outdoors should drink 1 to 2 liters per hour that they are outdoors. People that do strenuous activity outdoors should be very careful, being your body can lose up to 4 liters of water per hour during strenuous activity. You should carry water with you and drink it even if you do not feel thirsty. Be heat safe and avoid alcohol, which dehydrates the body. Avoid using salt tablets unless directed to do so by a physician.
2. Dress for the heat.
Wear lightweight, light-colored clothing. Light colors will reflect away some of the sun's energy. It is also a good idea to wear hats or to use an umbrella. Always apply sunscreen to exposed skin.
3. Eat small meals and eat more often.
Avoid foods that are high in protein which increases metabolic heat.
4. Monitor Those at High Risk.
Check on friends, family, and neighbors for signs of heat exhaustion or heat stroke. Infants and young children, of course, need much more frequent watching.
5. Slow down.
Avoid strenuous activity. If you must do strenuous activity, do it during the coolest part of the day, which is usually in the morning between 4:00 a.m. and 7:00 a.m.
6. Stay indoors when possible.
7. Take regular breaks when engaged in physical activity on warm days.
Take time out to find a cool place. If you recognize that you, or someone else, are showing symptoms of a heat-related illness, stop the activity and find a cool place. Remember, have fun, but stay cool!
See a spelling or grammatical error in our story? Please click here to report it.
Do you have a photo or video of a breaking news story? Send it to us here with a brief description.
Copyright 2023 KTVK/KPHO. All rights reserved.