Phoenix expands 'cool pavement;' research shows it makes people hotter
Updated: Jul. 13, 2023 at 6:00 AM MST
PHOENIX (3TV/CBS 5) — This time of year, we're all looking for relief from the heat. The city of Phoenix is implementing programs to help, and one of them is called "cool pavement." It's a coating that's been added to more than a hundred miles of road, but as Arizona's Family Investigates found, it could actually make people feel hotter.
With large concentrations of pavement and buildings, Phoenix is what's known as an urban heat island. All that concrete and asphalt absorb and trap a lot of heat. It leads to higher temperatures during the day with less cooling at night. That's where cool pavement comes in. "The purpose of the cool seal is not only to seal the pavement's surface but has an added benefit of reducing heat," Ryan Stevens, an engineer with the Phoenix Street Transportation Department, said.
"We've found this coating makes our streets about 10 degrees cooler, so it's a difference you can feel," Phoenix Mayor Kate Gallego said. "It's like sunscreen for the road," Jennifer Vanos, an ASU professor, said.
In 2020, the City of Phoenix partnered with ASU to study cool pavement as part of a pilot program. "We are seeing the results we wanted about 10 degrees of cooling," Mayor Gallego said. Citing those findings, Phoenix made it a permanent program. They announced they'd put down a hundred miles of the stuff in June. In all, the city has spent $12 Million to install cool pavement over the last four years. The pavement has been installed in 28 neighborhoods and one city park. "It's reducing the surface temperature, which is great for reducing our urban heat island effect," Stevens said.
While the surface temperature of cool pavement is about 10-12 degrees cooler, the research found the effect diminishes the further you get from the road. At 6 feet off the ground, the air temperature was only 0.3 degrees cooler during the day and only 0.5 degrees cooler at night.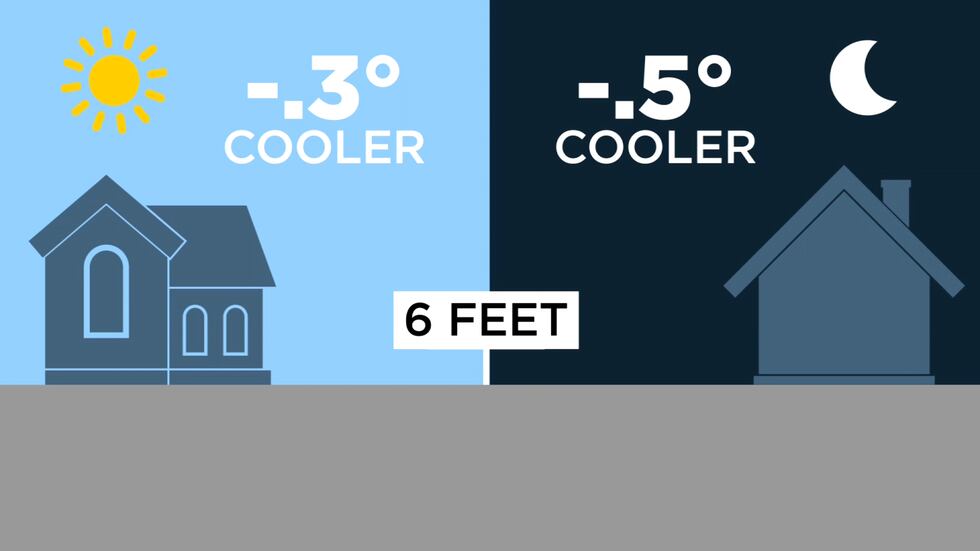 "We see it as a success because even a half a degree Fahrenheit reduction in air temperature can substantially reduce energy use for air conditioning and water use," ASU professor David Sailor said. He's also the director of its Urban Climate Research Center and also worked on the study.
Sailor acknowledged another finding, that cool pavement makes people feel hotter, as much as 5.5 degrees hotter. That's because the sunlight reflected off the road is absorbed by people on it. The study called it "a necessary tradeoff." "That concern is easily outweighed by the benefits of the cooler air temperature," he said.
ASU assistant professor Ariane Middel also worked on the study. She created MARTY, the device she and her students use to determine the mean radiant temperature. "They measure the short wave radiation and the long wave radiation," Middel explained. "The short wave radiation is the radiation that comes from the sun. The long wave radiation is the radiation that comes off hot surfaces."
Middel and the ASU team also researched cool pavement programs in the Los Angeles area in 2019 and found the same results that Phoenix is experiencing today -- people are likely absorbing the heat being radiated from the 'cool' pavement. According to a report in Bloomberg's CityLab, Middel's sensors recorded a person could feel more than seven degrees warmer on a cool pavement compared to a traditional blacktop.
In Phoenix neighborhoods where cool pavement has been placed, Arizona's Family Investigates found mixed reviews. "I don't like it. I think it's very unattractive and I've called the city to complain about it," Deb Selzer, a Phoenix homeowner, said. "I really haven't seen any difference because we walk."
"Anything that can be done to help the city cool down should be done," Katie Bechtel, a Phoenix homeowner, said. She said she has noticed an improvement in the heat since the cool pavement arrived.
"Given those tradeoffs that the research found, some might wonder why is the city moving forward with cool pavement?" Arizona's Family Investigator Amy Cutler asked the city. "Well, I think paved surfaces comprise about 40% of our urbanized area, so there's a lot of area we can address," Stevens replied.
Arizona's Family Investigates asked why the city wouldn't wait until they have more research on the long-term effects before moving forward. "I think there's a little bit — we want to be leading in this space," Stevens said. He also points out that the roads getting the cool pavement need to be sealed anyway. While it's nearly three times as expensive, early findings show it holds up to wear better and may protect the infrastructure under the road—a sentiment Guardtop, the company that makes the coating, stressed.
"You're getting preventative maintenance with cool pavement that substantial, pavement is lasting 15-20% longer," Davis Koleas, Guardtop's director of sustainability, said. "It's not the solution to our urban heat issues but we are confident it will be beneficial for us in the future," Stevens said.
Another finding is that cool pavement becomes less reflective over time. Just 10 months made a big difference. Arizona's Family Investigates took that question to the city and they said it's likely because the road gets dirty and that dirt is easier to see on the lighter surface. They said they're working on it.
ASU's complete report on Cool Pavement
See a spelling or grammatical error in our story? Please click here to report it.
Do you have a photo or video of a breaking news story? Send it to us here with a brief description.
Do you have a story you want us to investigate? Tell us about it by contacting us.
Copyright 2023 KTVK/KPHO. All rights reserved.