ASU, Applied Materials to create 'Materials-to-Fab Center' at ASU Research Park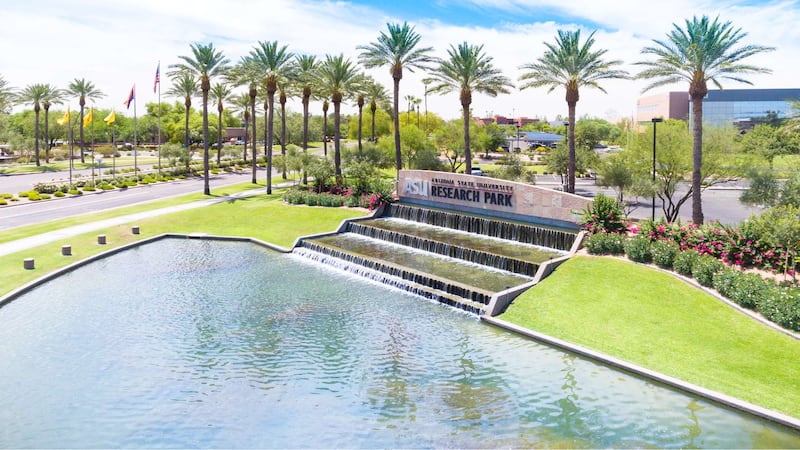 Published: Jul. 11, 2023 at 4:17 PM MST
TEMPE, AZ (3TV/CBS 5) — Arizona State University and semi-conductor company Applied Materials Inc. announced Tuesday their partnership to create the "Materials-to-Fab Center" (MTF) in the university's MacroTechnology Works building at ASU Research Park. The center will focus on semiconductors and the associated technologies and finding new uses.
The MTF Center will bring more than $270 million to create world-class shared research that is designed to shorten the time that it takes from an idea to creating a prototype. The MTF Center will provide students and faculty with hands-on learning opportunities.
"Applied Materials and Arizona State University already enjoy a close partnership, and this new alliance around the Materials-to-Fab Center will take things to a new level," ASU President Michael Crow said. "This is the beginning of a reconfiguration of the way to accelerate discovery and translational research outcomes in response to real-world challenges and the development of next-generational processes, materials, equipment and workforce."
The design of the MTF Center has already begun, and the facility is planned to open in the next two years. The center is supported by the Arizona Commerce Authority ($30 million), ASU ($17 million) and the Arizona New Economy Initiative ($25 million).
"High-quality universities are one of America's greatest advantages in the global competition for semiconductor manufacturing, research and development," Arizona governor Katie Hobbs said. "What Applied Materials and Arizona State University are doing is smart, and the successful implementation of the Materials-to-Fab facility will establish an innovation and job-creation engine for the semiconductor ecosystem in Arizona."
You can learn more about the MTF Center here.
See a spelling or grammatical error in our story? Please click here to report it.
Do you have a photo or video of a breaking news story? Send it to us here with a brief description.
Copyright 2023 KTVK/KPHO. All rights reserved.