Arizona GOP lawmaker may have violated state 'revenge porn' law by tweeting X-rated pictures of Hunter Biden
Published: Jul. 6, 2023 at 8:32 PM MST
|
Updated: Jul. 7, 2023 at 4:25 PM MST
PHOENIX (3TV/CBS 5) — An Arizona Republican state senator, who is no stranger to controversy, may have violated the state's revenge porn law after posting sexually explicit images on Twitter of President Biden's son, Hunter Biden.
Late Wednesday, Sen. Wendy Rogers, who sponsored a bill earlier this year in an attempt to block minors from watching online pornography, retweeted a video that contained X-rated images of Hunter Biden, to her more than 300,000 followers on Twitter. The social media platform allows adolescents from as young as 13 years old to sign up without age restrictions and allows adult content to be posted.
In her retweet, Rogers wrote, "It's all here in black and white. Oh, and apparently in NBC living color."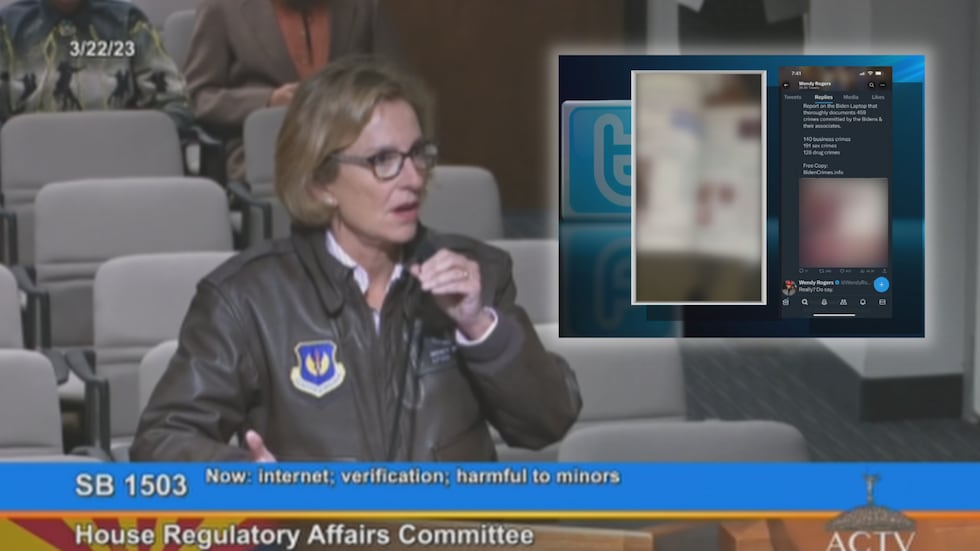 Rogers, the Republican state senator for the Flagstaff area, has since removed the video. State Senate President Warren Petersen, also a Republican, released a statement to Arizona's Family, calling Roger's re-tweet a mistake. "[Rogers] didn't realize those images were in that video until it was brought to her attention, and she immediately removed the video from her feed," Petersen said.
Removing the offensive video, which Arizona's Family is prohibited from airing on TV and online, may not be enough to keep Rogers out of legal trouble, according to one local attorney. "It's not a defense if she later took them down, which appears she has done," Tom Ryan, a Valley lawyer, said. "Any more than it would be a defense if you robbed a Circle K and later gave the money back, you don't get to wipe out the robbery."
Ryan said he thinks Rogers violated Arizona's so-called revenge porn law, which makes intentionally disclosing a sexual picture of anyone without consent a criminal offense. Other lawyers who were contacted but unavailable for on-camera interviews said it would be a tough case to prosecute given the Bidens are a high-profile family and because explicit images of Hunter Biden are common on social media platforms.
Rogers is no stranger to controversy. Last year, she was censured by the state Senate following a pre-recorded speech she made for a white nationalist conference. During that speech, she called for people she viewed as enemies to be hanged from the gallows.
This year, Rogers pushed for legislation that would bar anyone from accessing online porn unless they were at least 18 years old. During a committee hearing, Rogers expressed her concerns about the ease with which minors can access pornography, calling it "a scourge that is affecting impressionable minds."
Rogers was unavailable for comment before publishing this story.
See a spelling or grammatical error in our story? Please click here to report it.
Do you have a photo or video of a breaking news story? Send it to us here with a brief description.
Copyright 2023 KTVK/KPHO. All rights reserved.