Shipping containers used on the border could provide shelter and community
Wholistic Transformation - Changing Hearts, Minds and Communities wants to help those aging out of foster care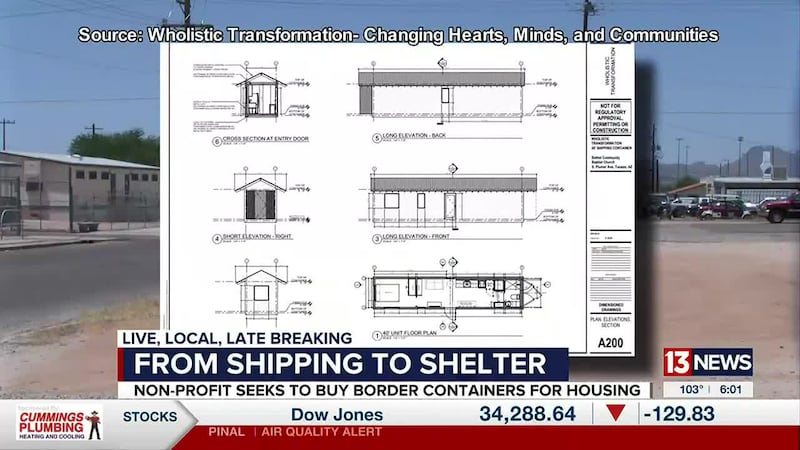 Published: Jul. 5, 2023 at 6:41 PM MST
TUCSON, Ariz. (13 News) - The shipping containers once intended to keep people out of the country could now be a source of shelter for others. But one non-profit, Wholistic Transformation – Changing Hearts, Minds and Communities, is enduring a waiting game as it tries to fulfill its vision.
Its concept of using shipping containers is posted right on the sign near Bethel Community Baptist Church. They have their vision, but they're waiting to hear word from the state if it's going to provide the answer to their prayers.
"I've always wanted to help people, but I don't want to help you the rest of your life. I want to help you, I want to give you a hand up because I want you to go forth and help others," said Bryan Benz, founder and CEO of Wholistic Transformation – Changing Hearts, Minds and Communities.
Inside Bethel Community Baptist Church, Benz presented a clear vision for helping young adults aging out of foster care: tiny homes built from shipping containers.
"I've had conversations over using containers over two years ago," he said.
Therefore, his interest was obvious when the state offered the containers used along the border for sale to the public. He said that he's trying to buy a few, but since they're old and, other than the size, it's a blind purchase, he wants to take only a small risk with three.
"Obviously one of the questions is what you say is C quality maybe different than what I say is C quality," he said.
Benz showed the lot next to the church where they hope to have anywhere from eight to fourteen container homes arranged to form a community that provides not only shelter but life skills education.
"How can this house, how can this community be used to further their relationships, if you will," he explained.
He has yet to hear if containers like the ones kept south of I-10 near Wilmot will be his answer. He said that he is pursuing a variety of options, and that hearing "no" won't close the door on his vision.
"I don't know what would cause me to stop, to be completely honest with you. We're applying for other grants. Yeah, we're going to get 'er done," he said.
Messages left at the Department of Administration and the governor's office had yet to be returned Wednesday evening.
Wholistic Transformation – Changing Hearts, Minds and Communities is already buying one container, in much better condition, as a prototype. Benz said that costs $8000, compared to $2000 per unit for the state's 20-year-old containers.
Be sure to subscribe to the 13 News YouTube channel: www.youtube.com/@13newskold
Copyright 2023 13 News. All rights reserved.