Heat exposure kills over 100 migrants along Southwest Border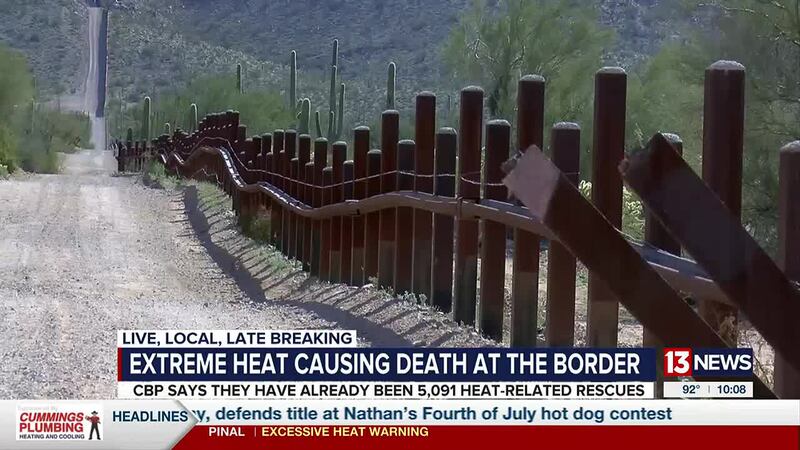 Published: Jul. 5, 2023 at 10:45 PM MST
TUCSON, Ariz. (13 News) - The brutal summer heat is not stopping thousands of migrants from crossing illegally into the United States.
Thousands have risked their lives in triple-digit temperatures across the southwestern border for a chance at a better future -- and many have not made it.
"We have encountered migrants who have died in the desert this year," said Tucson Sector Customs and Border Protection Agent David Skinner. "Every summer this occurs. Migrants will die from dehydration and heat-related illness."
U.S. Border Patrol Chief Jason Owens made a social media post on Twitter that said as of June 29th, there have already been 5,091 heat-related rescues along the Southwest Border, and another 103 migrants have died.
According to the Pima County Medical Examiner's Office, nine of those heat-related deaths were in Pima County.
"Overarching message from CBP is this -- don't do it. It's not worth your life. Anybody who chooses to cross the border illegally, they put their lives in peril," Skinner said.
CBP agents say it's not only the extreme heat causing issues but also the physical exertion needed to traverse these remote regions. Many times these migrants are being led into remote areas by cartels and human smugglers who prioritize money over safety.
"They see them as a commodity. It's just a way to make money and so if they are no longer to continue they are left behind, and this is often in extremely desolate areas, often without any cellphone service," Skinner said.
Migrants who find themselves lost or unable to continue the dangerous journey are encouraged to call 911 immediately.
"Don't call the smuggler, don't call family members, call 911," Skinner said. "Don't wait until the last minute to do it. It could be a matter of life and death."
CBP Agents always have water and heat stress kits on hand for whomever they come in contact with.
CBP is also announcing that they are expanding the number of available appointments for asylum seekers looking to cross legally at some ports of entry, including Nogales.
They are now taking up to 1,450 non-citizen appointments through the CBP One App. That's up from 1,250 per day, and a 50 percent increase from the 1,000 a day just after Title 42 was lifted.
Officials say the app gives asylum seekers a better chance at finding refuge in the United States and reduces the potential for smugglers to exploit them. And it appears to be working. CBP says illegal entries between ports of entry is down 64 percent across the Southwestern border.
Be sure to subscribe to the 13 News YouTube channel: www.youtube.com/@13newskold
Copyright 2023 13 News. All rights reserved.