Griner returns to Mercury lineup after missing three games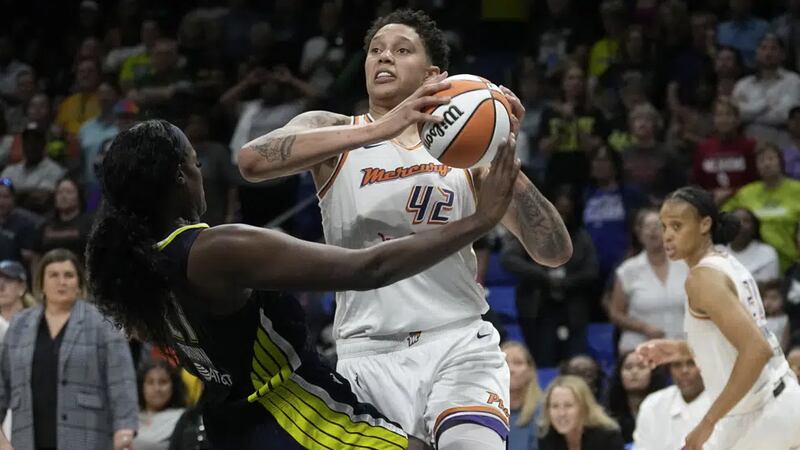 Published: Jun. 25, 2023 at 9:05 AM MST
SEATTLE (AP) - Brittney Griner believes her voice is being heard when it comes to safer and better travel conditions for herself, her team, and the other players in the WNBA.
Griner was back in action for the Phoenix Mercury on Saturday night, getting the start in Seattle against the Storm in her return from a three-game absence. Griner suffered a hip injury when the Mercury and Seattle met in Phoenix on June 13. She left that game during the second quarter and did not return, as the Storm went on to win, 83-69. She subsequently missed the next three games, all double-digit losses.
"It feels good being back on the court – I hate missing games, I hate being hurt or down with anything," said Griner, who had 11 points and six rebounds in 20 minutes of action of a 97-74 loss. "I just wish we could have done better." This was Griner's first appearance in Seattle since a 2021 playoff game. She missed all of last season while being detained in Russia on a drug possession charge. Griner rejoined the Mercury after being released and returning to the United States in December.
Saturday was the fourth road game for Phoenix since an incident in the Dallas-Fort Worth airport on June 9 when Griner was harassed by a social media "provocateur" as the team was heading to its flight for a game in Indiana. Since then, the Mercury and the WNBA have been evaluating travel options for Griner and the team. Griner played in the Indiana game, and warmed up with the team but did not play in games at Washington and New York because of her injury.
"The message is being heard," Griner said. "It has been a very warm welcome being back home, but there are times when it's not so warm, so we're dealing with that in different steps, trying to avoid it as much as we can. My team is doing a good job on keeping the noise back." Griner has been welcomed warmly around the league, and Saturday in Seattle was no different. She was the last player introduced among the Phoenix starting five, and received a standing ovation from the crowd. She tapped her heart several times and waved to both sides of Climate Pledge Arena.
"Seattle has always been so warm and so ice. Just to see them cheer like that when they read my name at the introduction, I could feel the love from everybody here," Griner said. During early warm-ups, a small group of fans standing along the rail above the player entrance to the playing floor greeted her with, "Hey, BG!" and "Welcome back" when she hit the court. She slapped hands with several of them and said, "Thank you."
On her way back to the locker room about 50 minutes before game time, Griner posed for several photos with fans – even taking some of the phones and snapping the pictures herself. She also exchanged a few hugs, signed autographs, and gave some high-fives Griner and her teammates remained on the court for the national anthem. The Storm players, as has been their practice, left prior to the anthem and returned afterward.
Copyright 2023 The Associated Press. All rights reserved.