Governor vetoes bill to ban photo enforcement radars on Arizona roads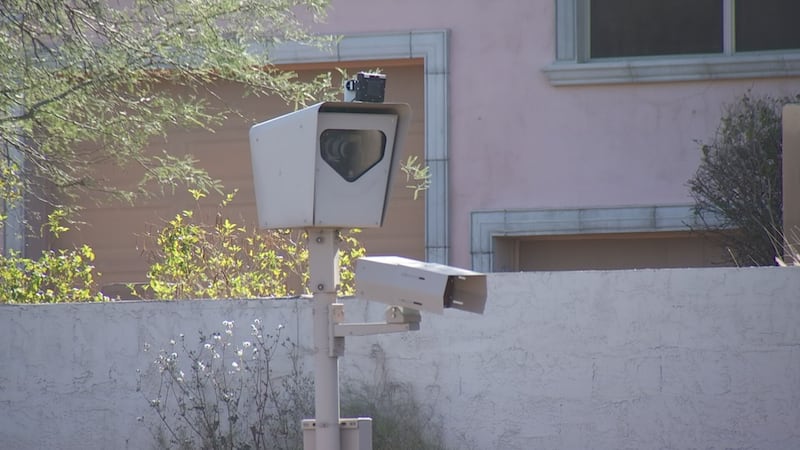 Published: May. 26, 2023 at 4:00 PM MST
PHOENIX (3TV/CBS 5) — Gov. Katie Hobbs took action on a number of bills Friday afternoon, including vetoing one that would have banned the use of photo enforcement radars.
Placed on streets and traffic lights, the devices snap license plate photos of cars detected to be speeding or running red lights. Tickets are then mailed to drivers, which can often be hundreds of dollars in fines and other fees. Valley cities including Paradise Valley, Mesa and Scottsdale use photo enforcement radars.
While research has found that many people say the photo radars make roads safer, others call the cameras expensive and intrusive to drivers. Following years of debate, SB1234 was finally passed by the state House early last week that would ban their use in the state.
The bill, sponsored by Sen. Wendy Rogers (R), was opposed by police chiefs in Mesa and Paradise Valley. Below is the letter sent by the governor to the president of the state Senate:
"President Petersen,

I have vetoed SB1234.

I've heard from local leaders and the law enforcement officers across the state about the impact this bill will have on the safety of Arizonans. Research indicates that photo radar cameras demonstrate effectiveness in changing driver behavior and decreasing fatal accidents, especially in vulnerable areas like school zones. The bill's ban of photo radar would eliminate an important tool for law enforcement that allows for a more efficient allocation of limited police resources.

I look forward to continuing the work with the Arizona legislature, law enforcement, and local municipalities to solve traffic issues and enhance public safety.

Sincerely,

Katie Hobbs

Governor

State of Arizona"
Sen. Rogers issued an immediate response following the veto, calling the use of the systems a traffic citation scam that enables companies to exploit Arizona drivers. "This is an egregious invasion of our privacy. Hobbs' veto fails Arizonans," Sen. Rogers said in an emailed statement. "She will ultimately answer to our fleeced drivers who don't support this years-long cash grab cloaked in the name of 'traffic enforcement."
With Friday's legislative action, Gov. Hobbs has now vetoed 100 bills since taking office.
See a spelling or grammar error in our story? Please click here to report it and include the headline of the story in your email.
Do you have a photo or video of a breaking news story? Send it to us here with a brief description.
Copyright 2023 KTVK/KPHO. All rights reserved.