Key Arizona leaders address historic Colorado River water cuts deal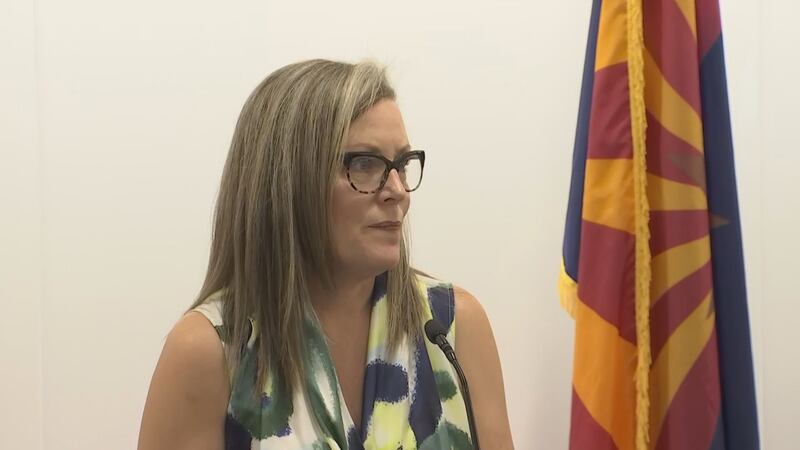 Published: May. 25, 2023 at 7:57 AM MST
|
Updated: May. 25, 2023 at 10:55 AM MST
PHOENIX (3TV/CBS 5) — Gov. Katie Hobbs held a news conference Thursday morning to provide more details and context to a historic move to cut millions of gallons of Colorado River water usage over the next four years. Three Southwest states, including Arizona, announced the water deal on Monday.
The governor was joined by Gila River Indian Community Governor Stephen Roe and several key state water leaders and managers. About half of those cuts would be completed by next year to stave off a crisis at the nation's largest reservoirs. The deal agrees to cut at least 3 million acre-feet of water through 2026 — around 10% of the states' Colorado River allocation. "Either way, whatever those numbers are... we're going to protect in a robust way, both Lake Mead and Lake Powell," said Tom Buschatzke, the director of the Arizona Department of Water Resources.
"I think the positions we're in is because we haven't done really thoughtful, long-term planning on this," Hobbs said. "We've kicked the can down the road, and we're going to stop doing that."
"There are different projections by scientists about how much of the Colorado River we can rely upon in the future. The long-term historical average of 15 million acre-feet, we haven't seen that in the last 20 or so years," explained Buschatzke. Most of the cuts would be compensated with at least $1 billion in federal funds from the Inflation Reduction Act.
In a letter to federal officials announcing the plan, the governors of California, Arizona and Nevada wrote that they were "pleased and encouraged by this successful collaboration" among the three states. The plan still must be finalized after a federal environmental review, which the Department of Interior said on Monday it would begin. The four states that make up the river's upper basin – Colorado, Wyoming, Utah and New Mexico – said they supported reviewing the new plan, CNN reported.
Copyright 2023 KTVK/KPHO. All rights reserved.