Maricopa County seeking sanctions against Kari Lake and legal team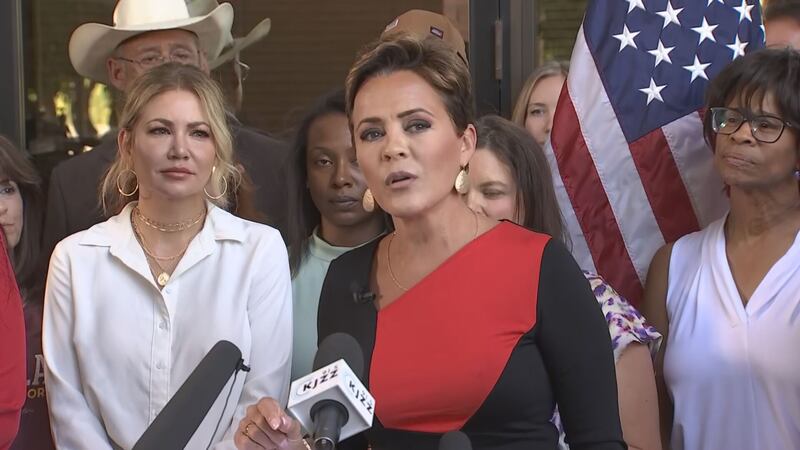 Published: May. 23, 2023 at 7:45 PM MST
PHOENIX (3TV/CBS 5) -- Maricopa County Attorney's Office has filed a motion against Kari Lake and her legal team, asking for sanctions and attorney fees for the rejected election lawsuit. On Tuesday, Maricopa County Attorney Rachel Mitchell said in court paperwork her office would request the sanctions because Lake and her team "repeatedly made demonstrably false statements to this Court" and claimed the former TV news anchor brought weak arguments and claims to the trial.
In the filing, Maricopa County attorneys allege Lake's claim regarding signature verification had "several demonstrably false statements intended to confuse the Court and expand the remand proceedings." She alleged Maricopa County officials failed to perform any higher level signature verifications on ballots that had been flagged by lower level screeners for any inconsistency. Lake's team also claimed 8,000 ballots were improperly rejected and not counted during the general election, but their evidence contradicted their original claim. "Yet again, Lake and her counsel presented uncertainty as certainty despite the plain text of her primary documents," a portion of the ruling read.
Maricopa County officials also brought up the allegations Lake and her team have been echoing since her defeat to now-Gov. Katie Hobbs, calling the election "rigged." "Lake not only failed to prove that the election was rigged by a clear and convincing evidence standard, but also she did not bother attempting to prove the election was "rigged" at trial," the ruling read. Maricopa County also says Lake's witness couldn't testify that any ballots were improperly counted or if the election decision was swayed.
On Monday, Judge Peter A. Thompson rejected Lake's final claim in her election lawsuit, which alleged Maricopa County election officials failed to correctly verify signatures during the 2022 general election. The court didn't find clear and convincing evidence regarding Lake's allegation. However, Maricopa County officials also pointed out the signature verification claim in Tuesday's ruling, saying, "The claim that 'no signature verification was conducted' was entirely frivolous, and Lake and her counsel knew it."
The filing from MCAO didn't specify how much Maricopa County are seeking from Lake's team.
Copyright 2023 KTVK/KPHO. All rights reserved.