Phoenix Suns lose game 1 in playoffs to Los Angeles Clippers 115-110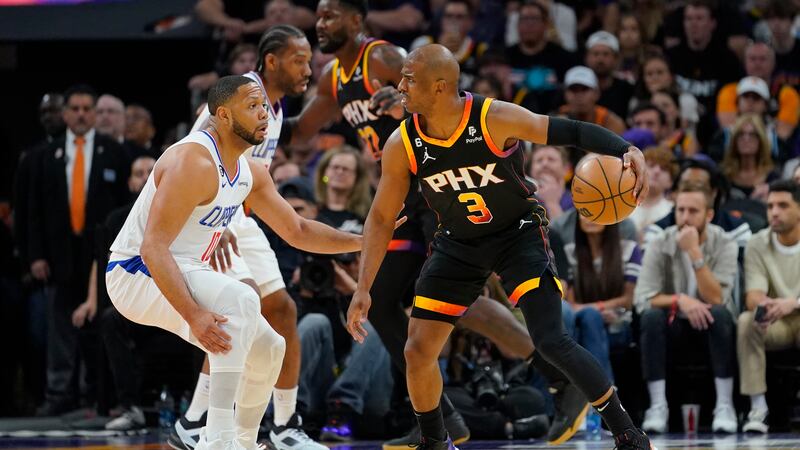 Published: Apr. 16, 2023 at 7:53 PM MST
PHOENIX (3TV/CBS 5) - Thousands of fans flocked to the Footprint Center on Sunday to 'Rally the Valley' and watch the Phoenix Suns in their first game of the NBA playoffs. It came down to the final seconds when Russell Westbrook came up with a clutch block and the Phoenix Suns fall in Game 1, 115-110 to the Los Angeles Clippers.
The Suns hit the court with their starting five: Torrey Craig, Kevin Durant, Deandre Ayton, Devin Booker, and Chris Paul. Since Durant entered the lineup they've gone undefeated with an 8-0 streak. They are favored to win the Western Conference. However, the Suns couldn't keep up with the Clippers in the first quarter, falling 30-18. As the clock wound down in the second quarter, Durant stuck a 3-pointer and worked with Booker to close the gap with the Clippers. However, the Suns couldn't push through, ending the first half, 59-54.
The Suns came back in the third quarter to take over the lead from the Clippers. Booker stepped up his defense with 3 blocks and 4 steals, and scored 26 points in Game 1. Durant nearly had a triple double with 27 points nine rebounds and 11 assists. However, Chris Paul struggled from the field only going 2/8 with seven points but he had 11 rebounds and 10 assists. It was back-and-forth up until the final moments in the fourth quarter when the Clippers came out on top taking the game, 115-110.
The Suns and Clippers will face off again in Game 2 of the playoffs on Tuesday, April 16 at 7 p.m.
Copyright 2023 KTVK/KPHO. All rights reserved.