Kliff Kingsbury joins USC staff as senior offensive analyst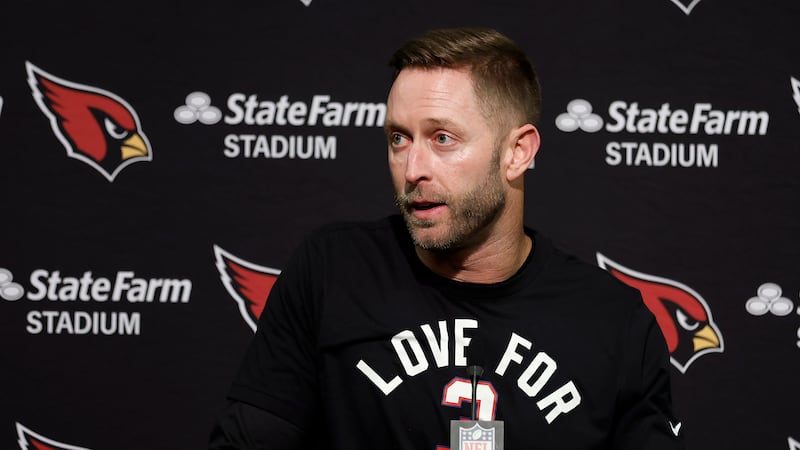 Published: Apr. 12, 2023 at 8:37 AM MST
LOS ANGELES (AP) — Kliff Kingsbury is joining Lincoln Riley's coaching staff at Southern California as a senior offensive analyst.
USC announced the addition Tuesday of Kingsbury, who was fired by the Arizona Cardinals in January after four seasons as their head coach. Kingsbury went 28-37-1 at Arizona, making one playoff appearance. Before that, he spent six seasons as Texas Tech's head coach and earned a reputation as one of football's most innovative offensive minds.
Riley and Kingsbury were briefly teammates at Texas Tech when Riley walked onto Mike Leach's Red Raiders roster during Kingsbury's senior season in 2002. Speaking after the Trojans' latest spring practice Tuesday night, Riley said he reconnected with Kingsbury about a month ago. Kingsbury took a break to travel after his dismissal by the Cardinals, but Riley floated the idea of working together when Kingsbury visited Los Angeles.
"He thought about it for a little bit, and I think it just ended up being a great fit for both sides," Riley said. "He's got great familiarity with our offense. He's got familiarity with a lot of people on our staff, so that made a lot of sense. His experience on the offensive side, to have another set of eyes, will be very helpful. ... It's always great to have another opinion and kind of an outside perspective that isn't tied to one position."
Between his two head coaching jobs, Kingsbury spent about one month at USC as the offensive coordinator and quarterbacks coach under Clay Helton before the Cardinals surprisingly hired him for their top job in January 2019.
Kingsbury is rejoining USC at a time when the Trojans' quarterback room is loaded with talent. Heisman Trophy winner Caleb Williams is returning for presumably his final college season, backed up by former four-star recruit Miller Moss and incoming freshman Malachi Nelson, who is widely considered one of the nation's top quarterback prospects. Before coaching Kyler Murray in Arizona, Kingsbury coached several top quarterbacks in college, including Patrick Mahomes, Johnny Manziel and Case Keenum.
The Trojans went 11-3 in Riley's first year in an immediate rebound from several unimpressive seasons under Helton. They missed out on the College Football Playoff only when they lost the Pac-12 championship game to Utah, and they lost the Cotton Bowl on a late comeback by Tulane. USC is wrapping up its spring practice this week, with the Trojans' spring game scheduled for the Coliseum on Saturday.
___
AP college football: https://apnews.com/hub/college-football and https://twitter.com/AP_Top25
Copyright 2023 The Associated Press. All rights reserved.