Arizona Coyotes sue Phoenix for trying to 'sabotage' Tempe development
The lawsuit claims the city would owe Bluebird Development $2.3 billion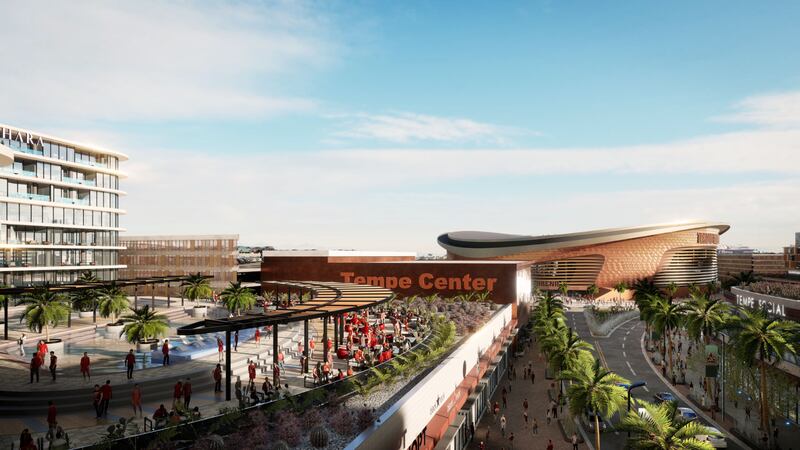 Published: Apr. 5, 2023 at 2:47 PM MST
|
Updated: Apr. 5, 2023 at 5:06 PM MST
TEMPE, AZ (3TV/CBS 5) — The drama between Phoenix Sky Harbor and the Tempe Entertainment District has grown $2.3 billion dollars bigger. This is due to the Arizona Coyotes and Bluebird Development suing the city of Phoenix for what they claim is "sabotage" and "reneging on its public promise not to oppose" after Sky Harbor filed its lawsuit March 27.
The lawsuit, obtained by Arizona's Family, says during a Nov. 29, 2022 meeting with the Tempe City Council, Sky Harbor's airport director made a statement the council interpreted as a "green light to proceed." The suit also says the city's interpretation was confirmed after the airport posted a statement to its website a few days after the meeting. The suit highlights a sentence in the second paragraph that says, "Negotiations wrapped up successfully with the developer prior to the Tempe City Council vote."
When asked for comment, Phoenix Sky Harbor says Bluebird Development's anger is "misdirected."
The $2.3 billion claim amount in the lawsuit is the same estimated cost to develop and construct the land, which is currently a landfill, into an entertainment area. The development is intended to be the NHL team's future home as well as dining, other entertainment, residential, and shopping opportunities. The fight is over the proposed residential area of the construction, a 1.2 square mile area less than two miles from the airport runway. Officials claim the area is exposed to high noise levels from airplanes and unsuitable for housing. Lawyers cited a formal agreement between the two cities in 1994, where Tempe said no homes would be built under the flight path.
Phoenix Sky Harbor tells us the noise from the airport and the planes is their biggest concern for the area, but Tempe says they've added stipulations to ensure people who decide to live and work in the area understand that and know if they try to sue the airport, they will lose. Tempe voters will decide the fate of the proposed project through a special election in May.
Copyright 2023 KTVK/KPHO. All rights reserved.