A weekend weather break for AZ before next storm moves in
Published: Mar. 17, 2023 at 5:53 AM MST
|
Updated: Mar. 17, 2023 at 12:59 PM MST
PHOENIX (3TV/CBS 5) — Look for sunshine and quiet weather in the Valley today with an afternoon high of 73 degrees and light winds. In the High Country, there's a chance of scattered rain and snow showers today as a weak storm system brushes through that part of the state.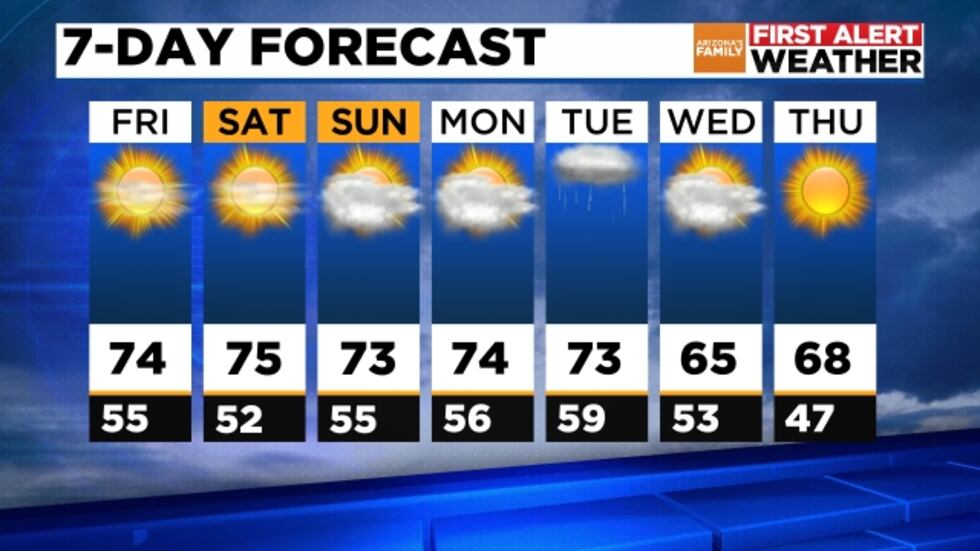 Over the weekend ahead, Saturday looks quiet for most of the state. There's a chance for scattered showers in the High Country of eastern Arizona on Saturday, but northern Arizona and the Valley should stay dry with below-normal temperatures. On Sunday, the next storm system approaches and rain chances begin for the High Country.
Sunday looks dry for the Valley, but thick clouds will keep temperatures in the mid-70s this weekend. Breezy conditions can be expected Saturday as well with 10-15 mph winds.
On Monday, another atmospheric river event begins to impact California before setting its sights on Arizona. Rain chances start Monday night in the Valley but increase to nearly 60% for Tuesday in the day and Tuesday night. Tuesday will be a possible First Alert weather day, assuming this storm stays on track and the timing doesn't change. Right now, there's not a lot of certainty on how much rain this storm could bring, with models showing a spread of between 0.1″ to 1″ of rain. We'll be able to narrow that down as the storm gets closer. Rain chances linger into Wednesday morning in the Valley, with temperatures dropping to the 60s.
In the High Country, there's a chance for significant snow and rain with this next system, so we'll be watching for the chance of flooding. We'll have a better idea of precipitation amounts and snow levels as the storm gets closer.
Copyright 2023 KTVK/KPHO. All rights reserved.