The show must go on, even with a broken arm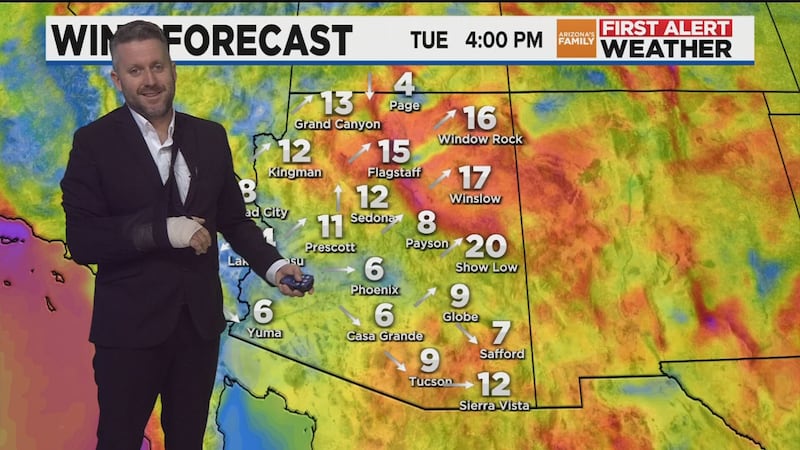 Published: Mar. 6, 2023 at 2:51 PM MST
PHOENIX (3TV/CBS 5) — Even injured, don't expect First Alert meteorologist Ian Schwartz to take a day off. That is, until he absolutely has to because of surgery on Tuesday.
Last Monday, Feb. 27, Ian was hurt after crashing his bicycle in central Phoenix. "I was in quite a bit of pain, and was pretty sure it was broken when it happened." A visit to urgent care confirmed his suspicion. The diagnosis? Ian had multiple breaks in his distal radius – one of two long bones in the forearm.
The next stop was to visit a specialist. "I knew it was bad when the orthopedist started to draw a diagram describing 'a normal break,' and then proceeded to tell me why mine was so bad!" he said.
Until surgery, it was back to work for Ian on Good Morning Arizona, where he provides the latest weather forecasts and goes live from spots all around the Valley. But doing so with one arm hasn't been without its challenges.
"Putting on a dress shirt is a pain in the butt," he said with a laugh, noting that he has to get up about 30 minutes earlier every morning to get ready. Once getting to work, he says he's also a little slower when it comes to typing and using the weather computers.
Ian says the silver lining about the ordeal has been the support from Arizona's Family viewers, adding that he's received a lot of well wishes and kind comments through email and social media. "It really shows that's what we are all about at Arizona's Family," he said. "We care about the viewers and they care about us. It really is a neat thing to see."
With surgery scheduled for Tuesday, Ian will be out for the rest of the week to recover. He'll be back soon but until then, get well, Ian!
Copyright 2023 KTVK/KPHO. All rights reserved.