Deputies seize 160+ fentanyl pills at Maricopa Co. jail facility in one week; crackdown continues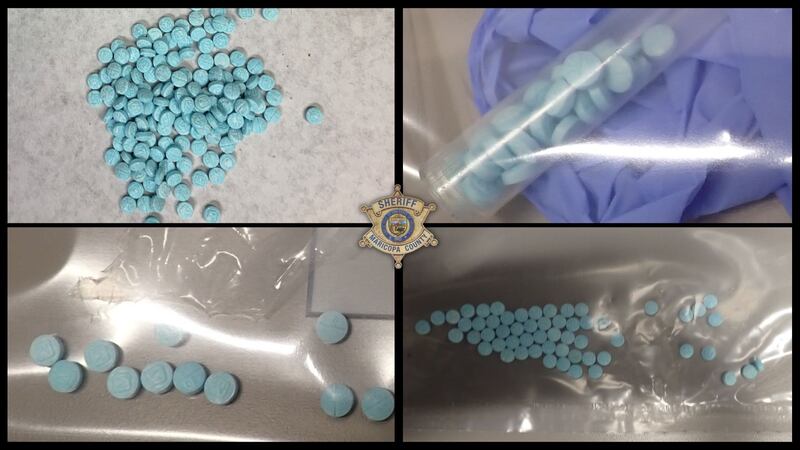 Published: Jan. 20, 2023 at 11:24 AM MST
PHOENIX (3TV/CBS 5) -- The Maricopa County Sheriff's Office says earlier this week it found several newly booked inmates attempting to smuggle fentanyl pills by concealing them in their bodies.
In the first incident at the ITR (Intake, Transfer and Release) facility, the sheriff's office says an inmate was seen passing pills to other inmates. After getting a search warrant, investigators found and removed about 160 pills from inside his body. In another incident, deputies found 65 pills on a man during a routine search. In the third case, the sheriff's office says a woman had been hiding 35 pills inside her body. Deputies found that bag after a search during the booking process.
"Sheriff Penzone's commitment to suppress this criminal behavior that endangers the lives of all is only exceeded by the exceptional work and tireless dedication of the members of the organization," MCSO said in a statement.
The department's report comes less than two weeks after a detention officer was arrested for smuggling fentanyl pills and methamphetamine into a Phoenix jail. Sheriff Paul Penzone said 26-year-old Andres Salazar, who worked at Lower Buckeye jail, was arrested just before Sheriff Penzone announced a crackdown on drugs entering the facilities, citing its responsibility to protect staff and inmates.
Penzone said his office plans to buy and install new scanning devices in jails and scan detention officers. He made a blunt message to other officers. "It's damn important. And you better be committed to why we're doing it. Otherwise, find a door. I don't want you."
Copyright 2023 KTVK/KPHO. All rights reserved.