Playing God: Medical staff accused of placing DNRs on patients without family knowledge
Published: Jan. 9, 2023 at 3:12 PM MST
InvestigateTV - Chuck Milne remembers his big sister, Leona, who always struggled to fit in.
"It was like a little girl trying to be somebody big and grown up," Milne said. "But, you could still see the child, the angelic part."
Milne said Leona was born with a mental disability and had the cognitive ability of a nine or 10-year-old as an adult. She lived with Chuck and their mother in Canton, Georgia, for more than 20 years.
"She was very gregarious, very outgoing. And loved people and loved attention," Milne said.
In April 2018, Milne said Leona got an infection in one of her toes, which required foot surgery and rehab to help her walk again. That's when she landed at Roselane Health and Rehabilitation Center in Marietta, Georgia. It was supposed to be a temporary stay, not long-term care.
Within a few days though, nurses noticed something wrong with the 73-year-old. Milne said nurses called to notify him that his sister was having difficulty breathing. He asked the nursing staff to send Leona to the a hospital, which was less than a mile away. Milne says the nursing staff refused.
That's because Leona signed a DNR, or "Do Not Resuscitate" order, which prohibits medical staff from performing life-saving measures, like CPR, if someone's heart stops.
"And I said, 'You don't understand, she's not capable of signing a DNR,'" Milne said. "I told [the nurse] she didn't have the mental capabilities to sign one."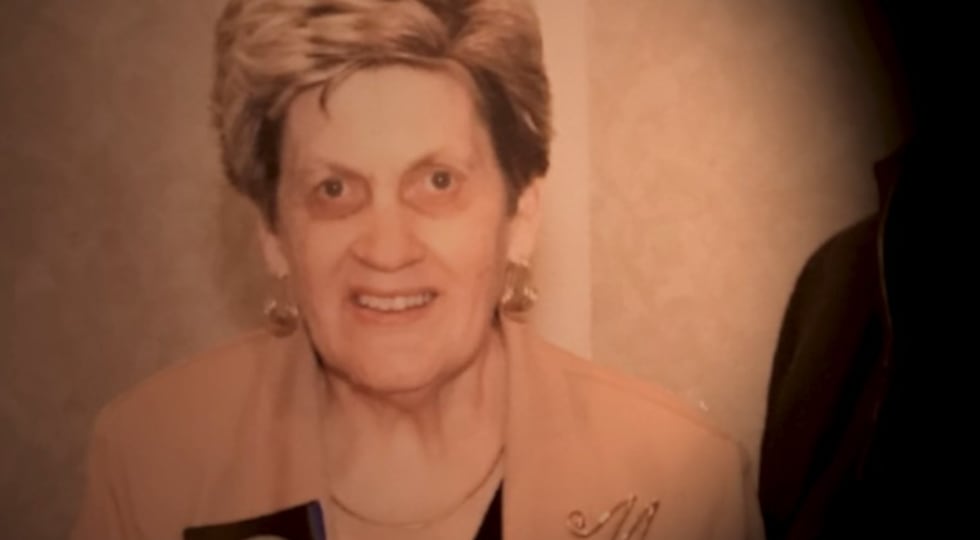 Milne said the nurse told him their hands were tied and hung up the phone. Leona died a short time later.
A pending wrongful death lawsuit filed by Leona's family in Clayton County, Georgia, claims the DNR order placed on her was fraudulent.
Attorney Mike Prieto represents the family in the lawsuit against Roselane's former medical director, Dr. Sara Sambandham, the physician ultimately responsible for Leona's care.
"When we first looked at the case, we really just looked at whether or not Ms. Milne had the mental capacity to execute a DNR," Prieto said. "It wasn't until later that the rest of the story came out."
The rest of the story revealed itself during a 2021 deposition with a social worker who worked at Roselane.
According to the Milne's attorney, Georgia law states before a DNR order is placed on someone mentally disabled, two doctors must evaluate the patient and sign the order. It must then go before an ethics committee for final determination. Most states require similar protocols.
The social worker said none of that happened when she worked at Roselane for 21 years. In Leona's case, her DNR was photocopied with two doctors' signatures already on it before the form was ever given to Leona.
"Well, the process at that time is that we had pre-signed DNR forms just as this one. They were already pre-signed," said the social worker in the videotaped deposition. "I had them in my notebook. We had them when we went to see our residents."

On Roselane's DNR orders, the form includes a section that indicates whether the patient has "a medical condition which can reasonably be expected to result in the imminent death of the resident."
The social worker who was deposed said social workers allowed patients to make that determination without a doctor's evaluation. There was another problem with Leona's DNR form. According to court records, one of the doctors' signatures included a physician who resigned from the facility before Leona was admitted into the facility.
"She had been gone for seven months before the DNR was ever executed in our case was ever executed," Prieto said.
It wasn't the only time the practice allegedly happened at Roselane. Prieto's law firm identified at least 194 other DNR orders, part of the pending lawsuit, that were allegedly photocopied with doctor signatures on them before patients were ever evaluated. The DNR orders were signed and dated while Sambandham was the facility's medical director. The identities of the patients are unknown because the Roselane officials redacted their names, citing privacy rights.
"The scary thing is, how many victims of this physician are out there who have no idea? That is terrifying," Prieto said.
Through her attorney, Sambandham declined to be interviewed, but denies any wrongdoing in court filings. According to a transcript of a deposition with the doctor conducted in August, when asked about the DNR orders, Sambandham said, "they look photocopied."
The doctor also claimed she had no idea the practice was happening in her four years as the facility's medical director. "It never came up," said Sambandham in the deposition.
"It is illogical for a physician to see these pre-printed forms in 194 of her patients' files and to claim that she had no knowledge of it," Prieto said.
Milne settled a civil lawsuit with SavaSeniorCare, the facility's former operator, for an undisclosed amount of money. Roselane is now owned and operated by Harborview Health Systems. Neither responded to requests for an interview.
Since 2017, Georgia's Department of Community Health has cited the facility 34 times for various violations, including not providing proper treatment plans, supervision, and medication errors.
Once considered one of the largest long-term care operators in the county, SavaSeniorCare only runs a handful of facilities in the Southeast and Midwest. According to a statement released to Skilled Nursing News, which covers the long-term care industry, Sava said that the pandemic drove its decision to sell off or shut down its properties.
"The nursing home industry has experienced significant challenges over the past few years due, in large part, to COVID-19.
As a result, Sava and its affiliated operating companies have made the decision to transition the portfolio of nursing centers to regional operators. Sava's operating affiliates currently operate five nursing centers. "We anticipate that all transitions will be completed by the end of January 2023," reported the online news outlet in December.
In May 2021, the Department of Justice reported SavaSeniorCare agreed to pay $11.2 million to resolve allegations it inappropriately billed Medicare and Medicaid programs.
According to records from the Centers for Medicare and Medicaid Services, at least 4,808 long-term care facilities were cited for violating patient advanced directives across the country since 2019. Advanced directives include DNRs, but it's unclear how many of those violations involved DNR orders improperly ordered without patient or legal guardians' consent.
Grace Schara's family believes their daughter is among them.
While born with Down Syndrome, her father, Scott, said Grace's ability disability never slowed her down.
"She was gifted. People think of Down Syndrome as mentally challenged. I would say that's likely true, but in Grace's case, she was top of her class," Schara said.
In October, 2021, the 19-year-old contracted COVID and went to St. Elizabeth Hospital in Appleton, Wisconsin, for treatment. Documents provided to InvestigateTV by her parents show they had medical power of attorney.
Schara said Grace's doctor asked if they wanted medical staff to repeatedly try to resuscitate their daughter if things went downhill, but never mentioned a DNR order. Grace's parents say they never requested a DNR order either.
"Absolutely not. Why would we ever request it? It makes no sense. We were expecting our daughter to get out of there. We're not expecting her to die," Schara said in an interview with InvestigateTV this past September.
Wisconsin's Department of Safety and Professional Services (DSPS) licenses doctors in the state. According to a letter sent to the agency on the doctor's behalf, the physician claimed he had three conversations with Grace's parents about a DNR and that "he received clear consent from the family to place the patient on a DNR."
The hospital claims the doctor documented the same conversations. But according to Wisconsin law, a DNR order must be signed by two people: the doctor and the patient, or their legal guardian. Patients must also wear special bracelets on their wrists to notify staff a DNR order is in place.
Grace's parents said none of that happened with their daughter. The hospital and doctor declined repeated requests for an interview. Grace died on October 13, 2021, with a DNR order placed in her medical chart her parents said they never approved.
"And these nurses from the hallway, they won't come into the room. They hollered, 'She's DNR.' And we holler back, 'She's not DNR, save our daughter.' They refused; they would not come into the room," Schara said.
Ascension, which operates St. Elizabeth Hospital, did not respond to multiple requests for an interview over the past five months. DSPS investigated and found the doctor didn't break the law because of the location where the physician worked at the time.
"Wisconsin's Statute does not apply to physicians operating in a hospital, non-emergency setting," said a spokesperson from the agency in an email to InvestigateTV. That means a written DNR order may not be required when the doctor works outside an emergency department or an out-of-hospital emergency setting.
None of that makes sense to Grace's dad. "How can someone be immune from liability for killing somebody?" Criminal charges against medical staff accused of fraudulent DNR orders is rare, but it has happened.
In Florida, Marion County Sheriff's deputies arrested a state-appointed guardian for abuse in 2020 after her 75-year-old client died under her care.
"The investigation shows the elderly man did not want a do not resuscitate order (DNR) and stated several times that he wanted to live," said Florida Department of Law Enforcement in a press release on its website.
In September, a judge declared a mistrial in the case after the jury could not decide on a unanimous verdict.
Police in Plano, Texas, arrested a nurse in 2022 for allegedly falsifying a deceased patient's DNR form.
Schara believes law enforcement needs to investigate more claims of fraudulent DNR orders, instead of relying on medical or licensing boards to do it. "We already have the laws on the books. We don't need more laws. What we need is an intense opportunity to prosecute," he said.
Investigative Producer Bailey Williams contributed to the research for this report.
Copyright 2023 Gray Media Group, Inc. All rights reserved.