Biden signs water bills benefiting 3 tribes in Arizona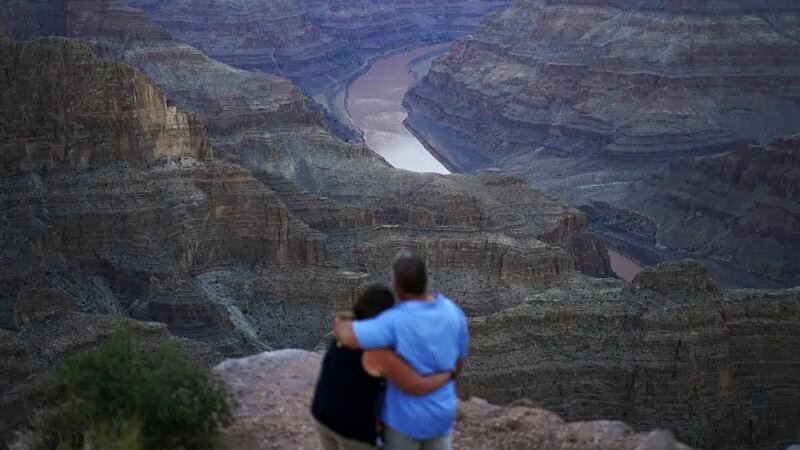 Published: Jan. 6, 2023 at 10:19 AM MST
FLAGSTAFF, AZ (AP) — A Native American tribe that has one of the largest and most secure rights to Colorado River water now has approval to lease some of it in Arizona, a state that's been hardest hit by cuts to its water supply and is on a perpetual search for more.
President Joe Biden signed legislation Thursday giving leasing authority to the Colorado River Indian Tribes, whose reservation tracks its namesake on the Arizona-California border. Biden also approved a water rights settlement for the Hualapai Tribe and authorized additional funding to complete water projects for the White Mountain Apache Tribe.
The Colorado River Indian Tribes passed a resolution in 2020 to seek the federal legislation to help bolster the tribe's economy and improve housing, health care and education on the reservation. Revenue from water leases also will help fund a nursing home, substance abuse treatment and improve an irrigation system, tribal leaders have said.
The tribe has the right to divert more than 662,000 acre-feet of Colorado River water in Arizona but hasn't taken full advantage because it lacks the infrastructure. It also has rights to nearly 57,000 acre-feet of water in California. An acre-foot is enough to serve roughly two to three households annually.
The tribe's leasing authority is limited to its water rights in Arizona and more so by what's already being used for farming. Tribal Chairwoman Amelia Flores said the legislation was designed that way to avoid further straining the river that's been dwindling because of overuse, climate change and an unrelenting drought.
Already, the tribe has committed to leaving water in Lake Mead — the largest human-made reservoir in the U.S. West — to help ensure Hoover Dam can continue generating power and deliver water to Arizona, California, Nevada and Mexico in the lower Colorado River basin. Flores said the tribe will work with its farm managers and talk to the community to determine the amount of water that can be leased, the price for the water and the length of the leases.
Flores suggested the leases won't be as long as the 50-year terms that the U.S. Bureau of Indian Affairs offered for farming on the tribe's reservation.
"I do not believe, and I think I speak for others on the Council, that we have the foresight to know what is best for our members who are not yet born or for their children," she said.
Cities in metropolitan Phoenix and Tucson, as well as other Native American tribes who get water from a series of canals managed by the Central Arizona Project, are among the likely customers for water leases with the Colorado River Indian Tribes.
Flores said the tribe is committed to helping its neighbors and maintaining the habitat along the river as water becomes more scarce and others face deeper cuts.
The Colorado River serves 40 million people in Wyoming, Colorado, Utah, New Mexico, Arizona, California and Nevada. Mexico also gets a share. Mandatory shortages are affecting some states, and the U.S. Bureau of Reclamation has called for more widespread cuts as key reservoirs shrink.
The Hualapai Tribe also secured the right to lease water as part of its settlement in the lower Colorado River basin. The tribe now can divert 3,414 acre-feet of water per year from the Colorado River. But it's also at risk of having water curtailed because it's a lower-tier right.
"The fourth-priority was only part of the whole negotiations, and we walked into it with our heads held up high because at least it's water," said former Hualapai Chairman Damon Clarke. "In that sense, it's good. In another sense, that's not good."
Still, the tribe called Biden's signature a historic step for the Hualapai people, whose reservation borders a 108-mile (174-kilometer) stretch of the Colorado River through the Grand Canyon.
"This is a life-changing moment for the Hualapai Tribe and the many members of the Tribal Council who have worked toward this goal for more than a decade," tribal Vice Chairman Scott Crozier said in a statement Thursday.
The legislation includes more than $310 million for the Hualapai tribe to build out a water delivery system. It has long relied on groundwater to serve its communities and its major tourist operation, Grand Canyon West that's outside the boundaries of Grand Canyon National Park.
The tribe secured water rights to a Colorado River tributary in 2014 through another federal water rights settlement. The federal government has approved about 40 such settlements with tribes, some of which include more than one tribe. Tribes often trade potentially huge water claims for the promise of federal funding to deliver water to their citizens.
The third bill that Biden signed amends a 2010 water rights settlement for the White Mountain Apache Tribe in eastern Arizona, authorizing additional funding and extending deadlines to complete a rural water system and dam.
___
Fonseca covers Indigenous communities on the AP's Race and Ethnicity team. Follow her on Twitter: @FonsecaAP
Copyright 2023 The Associated Press. All rights reserved.