3 students arrested after fake bomb threats at Arizona State University in Tempe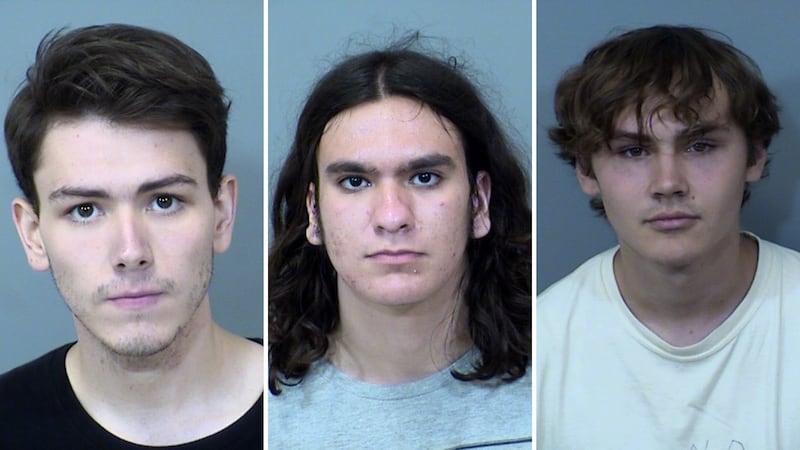 Published: Sep. 14, 2022 at 3:36 PM MST
TEMPE, AZ (3TV/CBS 5) -- Three students were taken into custody after a bomb scare forced Arizona State University students in Tempe to evacuate their dorms and the campus union earlier this week. ASU police announced that 18-year-old Lukas Patton, 21-year-old Trevor Benoit and 18-year-old Peter Fraeknel were arrested in connection to the threats.
On Monday, ASU police received reports of multiple bomb threats made at the Memorial Union and Hassayampa Residence Hall just before 9:30 p.m. According to court documents, all three men posted on the social media platform YikYak about placing bombs at the union and Hassayampa. Benoit wrote, "I put the bomb in the MU," while Patton replied, "No, I put the bomb in the MU," and also said, "It's OK guys we all put the bomb in the MU," court paperwork says. Fraeknel also reportedly posted, "I feel bad if you live in Hassy, I just placed a bomb in there."
Shortly afterward, students began receiving alerts on their phones about the threat. The Memorial Union, Hassayampa and Barrett Honors dorms were all evacuated as a precaution. Officers searched the dorms and union and didn't find any weapons or bombs. Students finally could return to their dorms just after 1:30 a.m.
On Tuesday, the trio was taken into custody by ASU police. According to court documents, Benoit told police he was drinking when he posted the threats and said he wanted attention on the site. Patton and Fraeknel also reportedly told police it was a "bad joke." Court paperwork says Fraeknel also admitted to officers he knew "how stupid it is" and said, "I don't know what I was thinking."
The three men were later released and face counts of interfering with an educational institution, disorderly conduct, false emergency and unlawful threats.
Copyright 2022 KTVK/KPHO. All rights reserved.