Phoenix Fire rescues group filming reality show on Camelback Mountain; 3 hospitalized
The hikers were overcome by the heat
Published: Jun. 23, 2022 at 12:31 PM MST
|
Updated: Jun. 23, 2022 at 2:16 PM MST
PHOENIX (3TV/CBS 5) - A group of hikers from out of town had to be rescued on Camelback Mountain's Echo Canyon trail on Thursday. Firefighters said a large group from a women's retreat began hiking the trail around 7 a.m. with each person only having one small bottle of water. The heat became too much for them around noon so they called rescuers. Crews said the hikers were spread out all over the trail which made the rescue more difficult.
First responders rescued a total of eight hikers from the mountain. Crews used a helicopter and a big wheel basket to get five of them off the trail. The remaining three walked down with help from firefighters. Three of the eight rescued, a 50-year-old woman, a 42-year-old woman and a 24-year-old man, were taken to the hospital in stable condition.
The group of women were with "Sculpt Praise" and were filming a show called "Bad Girls Gone God." "When we get together, we praise, we worship, we do different activities that not only test our physical but our spiritual capabilities as well," said Jasmine Hunter, who is from Tennessee.
Hunter said she was one of the first ones down the mountain and didn't know others in the group were struggling. "They noticed they weren't coming, the stream slowing down. We couldn't reach anybody on the phone anymore and that's when we were like, we need to activate," Hunter said.
"We had no idea going into it that this apparently was one of the hardest trails in Phoenix," said Kristin Livingston, from California. Livingston said their group made it to the top, but the heat got the best of them as they started to head down. "I think they just have dehydration and things like that. In the name of Jesus, they're going to be OK!" said Livingston.
One hiker said she started feeling dizzy on her way down. "Well that was my first time in a helicopter, that was pretty scary! But yeah, they just came, gave us a lot of water, poured it all over us, stuff like that," said Tatiana Robinson. "We kept stopping and then we had no more water so the more that we stopped, the harder it got."
The hikers were spread across different mile markers. Phoenix Fire said they used their drone to locate some of them and get to them quicker. "It is an accredit to our patients today again knowing some of their limitations. They knew they were beyond where they would be able to get down safely so they set in the shade. They gave us a call, and we were able to get down safely this afternoon," said Phoenix Fire Capt. Evan Gammage.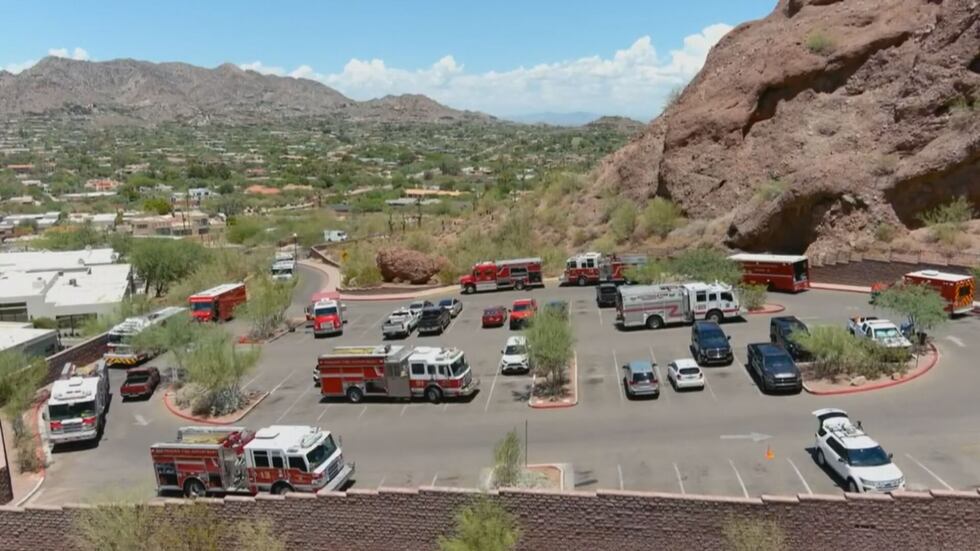 Editor's Note: Firefighters originally said there were 11 patients but then changed it to eight.
Copyright 2022 KTVK/KPHO. All rights reserved.