ADHS announces 1 millionth dose, second indoor vaccination site in Scottsdale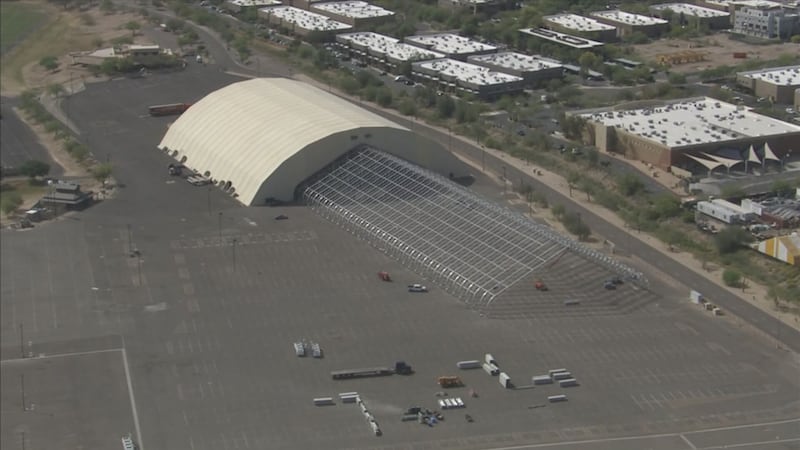 Updated: Feb. 22, 2022 at 10:38 AM MST
SCOTTSDALE, AZ (3TV/CBS 5) -- The Arizona Department of Health Services announced Monday that their state vaccination sites have administered its one millionth dose of the COVID-19 vaccine in addition to announcing a brand new indoor vaccination site at Scottsdale's WestWorld.
"With another new site, Arizona is once again expanding our capacity to provide the COVID-19 vaccine to all Arizonans," said Gov. Doug Ducey. "Out of the more than 3.7 million vaccine doses administered in Arizona, more than 1 million of those doses have been provided through state-run vaccination sites. I encourage all Arizonans to schedule an appointment and get vaccinated as soon as possible. The vaccine is safe, effective, and free of charge."
ADHS, Cigna, and Scottsdale have partnered together in establishing the new location that will offer 3,000 to 4,000 appointments per day from 7 a.m. to 5 p.m. The site will be open from April 22 through June 30.
"With its freeway access, proximity to tribal communities, and extensive indoor facilities, WestWorld is an ideal location for expanding the footprint of state-run vaccination sites in the region," said ADHS Director Dr. Cara Christ. "We are grateful to Cigna and the other partners who are bringing this site not just to the north Valley but to the many areas convenient to it."
The total number of doses administered is 1,053,035 doses at five of the state-run sites according to a press release from ADHS. About 700,000 of that number of doses was administered at State Farm Stadium.
"Arizona is working around the clock to make the COVID-19 vaccine available to all," said Governor Doug Ducey. "Today we are reaching another major milestone — administering the 1 millionth dose at state-run vaccination sites. We are thankful to the thousands of staff and volunteers who have been working tirelessly to get Arizonans vaccinated."
As of Monday morning, 3,708,660 doses of the COVID-19 vaccine have been administered to Arizonans. 2,350,701 count for at least one dose and 1,471,750 Arizonans have been fully vaccinated.
"The staff and volunteers at state vaccination sites in the Phoenix area, Tucson, and Yuma continue to do a tremendous job of getting these safe and effective COVID-19 vaccines into the community," said ADHS Director Dr. Cara Christ. "As more vaccine becomes available, we need even more Arizonans to roll up their sleeves at state sites and other venues."
The news comes as ADHS opened their first indoor vaccination site at Dexcom in Mesa. The site will start by offering 3,000 to 4,000 appointments a day from 7 a.m. to 5 p.m. seven days a week with hopes of eventually supporting 12,000 appointments 24/7. This site will replace the outdoor venue at Chandler-Gilbert Community College.
State Farm Stadium on Sunday evening changed their hours to overnight for 5 p.m. to 9 a.m. for the next few weeks due to weather changes in Arizona before transitioning over to inside the Gila River Arena on April 23.
To get more information on COVID-19 vaccinations or to schedule an appointment, visit their website here. Those who do not have internet access or are having trouble navigating the process can call 1-844-542-8201.
Copyright 2022 KTVK/KPHO. All rights reserved.