An inside look at the WM Phoenix Open 2022
Updated: Feb. 10, 2022 at 11:05 AM MST
Sponsored - Coverage of the WM Phoenix Open is sponsored by 72sold.com. Field Trip Friday is sponsored by Sanderson Ford.
SCOTTSDALE, AZ (3TV/CBS 5) -- The WM Phoenix is known as the "Greatest Show on Grass," and believe us, it takes months of work to put it together. Arizona's Family is giving you an inside look.
Fan guide by Susan Campbell
Throughout the week, hundreds of thousands of golf fans are expected at the WM Phoenix Open. If you're one of them, there are several things to keep in mind when you arrive at TPC Scottsdale.
First, you will pass through security. Small bags, just 4.5 inches by 6.5 inches, are allowed, and they will be searched. Bigger bags must be clear plastic. Fans like Wayne Lockwood are prepared. "These are also NFL-approved for stadiums, things like that, so this is the size; 12-by-12-by-6 inches wide," Lockwood said, showing off his bag. "You can get plenty in there -- water and a hat and sunscreen and all that good stuff." If you don't have a clear plastic bag made for events like this, WM Phoenix Open organizers say you can use a 1-gallon plastic freezer bag.
In case you need cash, there are ATMs near the entrance. Food is close by, too. Cheeseburgers are $12. Beers cost $10. There's even breakfast for early risers. "I'm just expecting lines," Jesse Pacheco said. "I'm excited for it. It's going to be fun!"
The PGA fan shop is a fan favorite. It's also near the entrance. "I got a towel for my bag, and we got some stuff for my dad, my father-in-law, and my husband got some stuff for his friends, as well," Porsha Bay said.
If you need to stay connected while on the course, phones are allowed, but they have to be set to silent. There's free Wi-Fi throughout the golf course for fans' social media-worthy moments.
General Admission tickets cost $50 on Thursday and Sunday, and $75 on Friday and Saturday. Children 15 and under are free, when accompanied by an adult.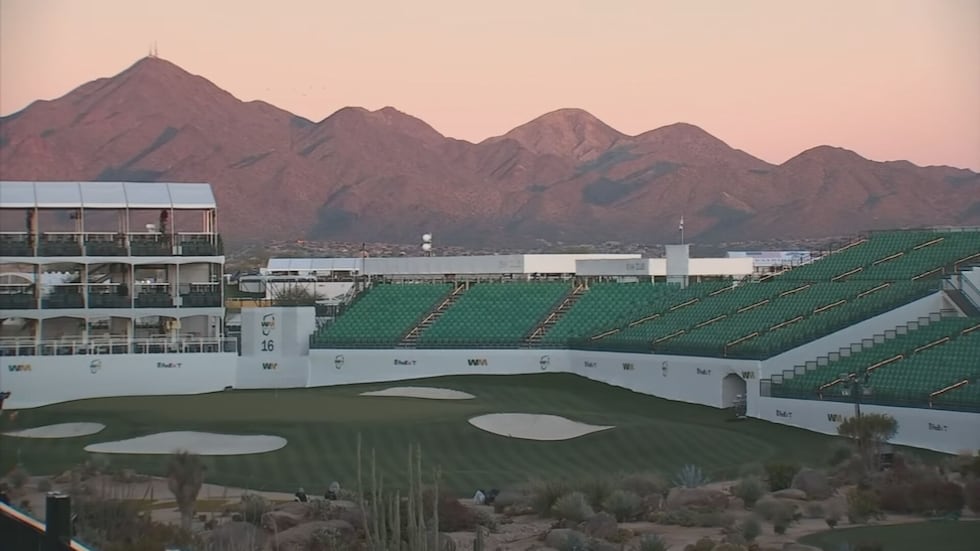 Scottsdale businesses see big boom by Holly Bock
You can tell it is the week of the WM Phoenix Open. The streets are busy, and restaurants are packed in Old Town Scottsdale. Local business owners say they are excited to welcome the large crowds, especially after a tough couple of years.
"It's very vibrant down here. All in their golf gear, that's how you can spot them," co-owner of Joyrides AZ Scottsdale Tours Kirk Nicodemus said.
Big crowds mean business will be booming. "They can only watch so much golf, and the evening times they come down here and go to restaurants and shop," Nicodemus said.
Nicodemus does around 10 to 15 tours a day with his Joyrides business, and the Open has brought in business for him even earlier than expected. "We've been getting anywhere between 10 to 20 calls a day," Nicodemus said.
It's a big change from this time last year when many places struggled to find customers. "During the pandemic and COVID, we saw a decline of 50 to 55 percent. To actually see smiling faces and people wanting some form of normalcy is a breath of fresh air," Nicodemus said.
"I'm hoping it'll be a record weekend for us as well," managing partner at the Social Tap Eatery Scottsdale Steve McDonald said.
McDonald expects revenue to jump 30 to 40 percent this week alone. "I feel we are right back to where we were," McDonald said.
McDonald said they are excited for the big crowds and have been busy preparing for the big weekend. "Just making sure we are properly staffed and being able to give our guests a great experience, and that has been a challenge in the bar and restaurant all year long, but I think we're ready for it."
Some places like the Social Tap are extending their hours this weekend for the Open and the Super Bowl. They're opening at 9 a.m. instead of 11 a.m.
New this year? Legalized sports betting! by David Caltabiano
For the first time ever, there will be legalized gambling at WM Phoenix Open. The tournament has partnered with betting company Draft Kings, which has a phone app for bettors and a physical location at the course.
"It's just going to make the golf tournament that much more exciting," said WM Phoenix Open 2022 Tournament Chairman Dr. Michael Golding. "The level of excitement on each and every hole, specifically 16, 17, 18; it's going to elevate every part of the fan experience."
All you have to do is take your phone out of your pocket and not bet with your buddy anymore, according to Draft King's Director of Racing and Sports Operations, Johnny Avello.
"To watch these guys and be able to bet every hole and handicap whos going to win for the week and get some pretty lucrative odds, I think that's the exciting part," said Avello. "You're off and running with so many different options." For the first time ever, it's not just the players who could be walking away with prize money. "Put your money where your phone is," said Dr. Golding.
Keeping drunk drivers off our roads by David Caltabiano
Scottsdale Police have all hands on deck for the WM Phoenix Open. They're getting help from agencies all over the Valley to make sure people going to the open have a good but safe time.
Everyone has a favorite golfer. "I think Jon Rahm has a good chance of winning this tournament," said a fan. And everyone has their favorite drink. "I'm going Coors," said another fan.
A couple of hundred thousand people from all over the country are expected in Scottsdale. "People are ready to get back into the open air again and experience it; it's going to be fantastic to watch," said Scottsdale Police Sgt. Kevin Quon. "We should see great, great crowds this year."
With great crowds comes great responsibility for Scottsdale Police, especially with the amount of alcohol flowing this week. Sgt. Quon said they'll get extra officers from several agencies to keep up.
"Many many agencies from around the valley will come and help us out and make it the safest event we can make it," said Sgt. Quon. That includes a DUI task force with 'a lot' of police cruisers on the road to put the brakes on drunk drivers.
"A DUI is 100% preventable, so anytime you can make sure you can have a designated driver for you and something changes, be safe; get a rideshare, get home safe," said Sgt. Quon. There will be a designated lot for rideshares; police say prepare to be patient while waiting for your ride.
Keeping an eye on the WM Phoenix Open by Gina Maravilla
Providing security and safety is no small effort for a venue as wide open as the TPC of Scottsdale for the WM Phoenix Open. As tens of thousands of people descend on North Scottsdale, One of the most important tools law enforcement has is a portable system of cameras.
The dozens of cameras and screens are funded with federal dollars. So, while the Phoenix Police Department sets up and tears them down, they are used all over the Valley.
"(These are) 1080p high-definition cameras that have pan/tilt/zoom capability," Commander Bill Lee of the Phoenix Police Department's Homeland Defense Bureau explained. "We use (this system) as a force multiplier in the absence of having a single uniformed officer that we can put in every single location. This allows us to view signals remotely and see what's going on."
Lee says the camera system is self-sufficient and can broadcast back to a mobile command center, expanding law enforcement's footprint many times over. He says the threat mitigation team members are actually part electrical engineers. They create an entire network system from nothing.
"Based on the on the geography that we're dealing with and what kind of environment that we're working in, we have the ability to either create our own wireless mesh network or we have the ability to be able to utilize cellular service to be able to get a signal to transmit information," he explained.
The WM Phoenix Open is just one of the many big events where this camera system is deployed. Phoenix police will also set it up in Avondale in March for the NASCAR event, and it will be used for Pat's Run, parades, and the Super Bowl next year.
Besides looking for troublemakers, police can also use the cameras to spot bottlenecks and help move vehicle and foot traffic in and out more efficiently.
How does the crowd get so quiet? by Ian Schwartz
There are tens of thousands of rowdy fans at the Waste Management Phoenix Open, but the crowd quiets down whenever a golfer is at the tee. It's almost silent. How does that happen? It's all because of a group of people that are part of the gallery management, also known as the "Quiet People."
You have probably seen them hanging around the crowds trying to keep everyone quiet. The "Quiet People" used to be known as marshals, says WMPO's longest-standing volunteer, Frank Kohler. He has been a volunteer at the Phoenix Open for 31 years, and he has done it all, including training the people who hold the "quiet" signs that keep the crowds in check.
"They run about a thousand marshals out here every year," Kohler explained. "The name was recently changed by the PGA to gallery management, which includes all the marshals. The main responsibilities are the shoots, the gates, keeping the spectators in line along the ropes, and assisting with the other volunteers with moving people, players, and caddies in a safe matter from hole to hole."
So, why quiet the crowds?
"It's really a courtesy to players," Kohler said. "They are professionals out here who are actually working. We like to keep things quiet and under control while they are playing the course."
He says keeping the rowdiness in check gets harder as the week goes by. "Alcohol does play a factor in it, but for the most part, the spectators are very courteous," Kohler said. "They do their best, and we try to maintain a professional atmosphere."
Kohler says the secret is to kill them with kindness. He says it works almost every time. People get up to three warnings before the "Quiet People" call security.
Recycling efforts help keep everything clean and tidy by Sean McLaughlin
When you attend the WM-Phoenix Open out at the TPC Scottsdale, how do you know what goes where when it comes to recycling?
Anne Spitzar from WM explains, "It's easier than ever to recycle out at the TPC. We've got your green recycling bins and the yellow compost bins. And there's a lot of them out here! There's 4,800, so there's not an excuse not to recycle. And to recycle right."
There's plenty of water and beer for fans to consume, but you have to remember to empty them! Spitzar says, "You've got to make sure there's no more beer in them...and they go in the recycle bin with the triangle. Liquids can damage the materials."
But what about all that delicious food on those plates? What do you do with them?
Spitzar says, "Food goes in the compost bin. Any of your dirty plates or bowls are compostable, so they go in the bin. Paper cups go in the bin. The one that's a little bit of a challenge is what appears to be plastic cups. It looks like plastic; feels like plastic. So do the utensils. But these are compostable materials out here that are specifically made to go in compost."
According to WM, in 2021, even with limited crowds, 100 tons of product were recycled. And since 2013, over 2,800 tons have been put into the recycle loop.
"It's just what you do to make it a zero event," explains Spitzar. "Nothing goes to the landfill; everything is either recycled compost and donated or reused."
How much food? It takes an army to feed WMPO fans and nothing goes to waste by Sean McLaughlin
You know the famous steel structure of the 16th hole, but did you know several mobile kitchens prepare most of the food on-site? Mobile kitchens are set up at the major hole venues to feed the hundreds of thousands of fans who come out to watch the Phoenix Open. And according to the official tournament cater M Culinary Concepts, it takes an army of chefs and waiters to pull it off.
Michael Stavros, from M Culinary, has been doing it for over two decades. Stavros ticks off the numbers and says, "We have 210 chefs and culinarians, another 90 at our commissary, and another 800 front of house staff getting this food to these people."
And when we talk about the amount of food that it takes to feed people at this tournament, it is enormous. "Well, we're feeding them over six days so we are putting out that food. We are looking at 28,000 flat iron steaks, 37,000 salmon filets, 114,000 chicken wings and get this, 157,000 potstickers. And these kitchens are all mobile. They set up, everything is made out here on the course. We partner with the Thunderbirds and Pro-Em and we make sure the WM Phoenix Open has everything they need everywhere. We have kitchens at every major hole, 16, 17 18. At Bay Club-Greenskeeper, we got to make sure that food is fresh and getting out there as fast as possible," Stavros explains.
But with all of that food, what about all the leftovers? "This is a zero waste event," explains Stavros. "We are not just talking about recycling-none of the food goes to waste. You know, part of the zero waste, sustainability effort here is reusing food. We partnered years ago with an organization called Waste Not, a locally based nonprofit. They will actually come to our facility. They will come here on course and come to our commissary headquarters, pick up food that we were able to pull back, that had not been out to the public and gather it. We send it out to them and they distribute it to about 60 different charities and shelters all across the Valley, about 20,000 pounds of food by the end of the tournament that is rescued. That is going to feed about 30,000 Arizonans experiencing food insecurity. The fact that we can give back and still take care of everyone else at the same time, it doesn't get better than that."
Golf 'spectacle' that is WM Phoenix Open pumps millions into Arizona charities by Susan Campbell
At St. Mary's Food Bank in Phoenix, boxes are packed and stacked high, filled with food for hungry children. "These backpacks are getting picked up, and drivers are taking them to more than 150 schools," said Lisa Notaro, the organization's chief development and communications officer.
It's not just schools. St. Mary's Food Bank provides 300,000 pounds of food for people every day. "That's more than seven semi-trucks full of food every day leaving St. Mary's Food Bank, going out to 900 nonprofit organizations," Notaro said. It takes about 200 volunteers daily to make it happen. "When COVID hit, we had a serious volunteer shortage," Notaro said. "Enter the Thunderbirds. They came out when many other people didn't want to."
Thanks to the Thunderbirds, the food bank is just one of the organizations benefiting from the WM Phoenix Open every year. Special Olympics Arizona is, too. Across the state, there are more than 21,000 Special Olympics athletes participating in more than 20 sports. "Special Olympics is so vital to our community," said Jamie Heckerman, the president and CEO of Special Olympics Arizona. "It's friendship. It's inclusion."
The pandemic has changed so much for this organization, too. "We had donors that didn't come back because they're supporting different initiatives," Heckerman said. "We were lucky that we had those that stuck through [it with] us, like the Thunderbirds, to make sure our athletes had what they needed so they could come back stronger, and participate and still have great experiences."
While the Thunderbirds were able to help multiple organizations and charities, the pandemic dampened their fundraising and caused a scaled-back golf tournament, according to Dr. Michael Golding, this year's WM Phoenix Open tournament chair.
"We really switched gears and took an approach as an organization to go boots on the ground, and we went out in the communities and visited the organizations that we write checks to every year," Golding said. "It was stunning, and it was inspiring, and it really reminded us how important and how special this event is. And it has really motivated us this year to bounce back and return to all that we know and love."
The WM Phoenix Open typically generates up to $14 million for charities and organizations across the Valley. Last year, that number dropped to $3.85 million. "We were very proud of last year, but we're very excited to get back to the big numbers that we're used to, and we're excited to see those numbers do great things in our community," Golding said. "It is a spectacle. It's a great time. It's a phenomenal week. It's a great golf tournament, but at the end of the day, it is a philanthropic machine."
Phoenix woman behind most famous golf headcover in the world by Jaime Cerreta
Daphne's Headcovers is an American success story. When Jane Spicer was a teenager, she wanted a car. Her mom, Daphne (the company's namesake), challenged her to find a way to earn it herself. And that's what she did. With her mom's help, Jane invented animal golf club covers and sold the first designs to the Arizona Biltmore golf shop. At that time, Jane and Daphne designed, cut, sewed, and sold the headcovers. Over time, Jane had sold golf club covers all over Arizona, then the United States, and now globally. She worked to buy that car, a 1973 Volkswagen bug, and hasn't stopped since.
Daphne's Headcovers created Frank the tiger, the most famous headcover in the world carried by the most well-known golfer on the planet, Tiger Woods. The mother and daughter duo created the niche of novelty golf club covers, and now Jane, as CEO, carries on the tradition. The company's core value is, "We must do good while we are doing well."
That in mind, Daphne's Headcovers supports many charitable causes, including Golf Fore Africa, which provides wells for women in Africa so they have fresh water and can go to school and work. The company also supports Gabriel's Angels, which helps abused and at-risk kids by introducing them to the unconditional love of a therapy dog. Veteran Golfers Association and First Tee of Phoenix also are beneficiaries of Daphne's Headcovers. With Jane at the helm, this global company is doing wonderful work globally. It's also the only golf club headcover company in the world to offer a 100% lifetime guarantee on its product. Jane still leads the company with joy, and the culture at Daphne's can only be described as upbeat and vibrant as this now lifelong entrepreneur continues to pursue her dream.
Over 750,000 servings of beer could be sold at the WM Phoenix Open by Tess Rafols
Crescent Crown Distributing will be selling beers and other drinks at the Waste Management Phoenix Open this year, as they have for many years. This year, Matt Fleetwood from Crescent Crown Distributing says they are expecting to sell about 750,000 servings of beer alone. But that wasn't always the case because 23 years ago.
"I remember there were only two concession stands, the Birds Nest was on site, and we were lucky to sell 500 cases of beer," says Fleetwood. 500 cases of beer is about 12,000 servings, so compared to 750,000, the serving amount today has multiplied significantly.
"We're gonna do about 750,000 servings of beer. It's a huge production. It's amazing! It's the greatest show on grass!" Crescent Crown Distributing delivers beer and hard seltzers to restaurants and other establishments all over the Valley.
The planning for WMPO started in April of 2021. Deliveries began the first week of February 2022 with a semi-truck filled with tens of thousands of cases of beer to be unloaded and placed around the course, even with some of the trucks staying on site.
"We have about ten onsite. They kind work as our warehouse sot hat way we're not making many trips back to this," says Robert Taylor, who heads up special events for Crescent Crown Distributing. He says it will take about 80 deliveries from start to finish of the Open.
"We will deliver about 45-50,000 cases of beer. In 2020, we sold around 35,000 cases. Big numbers, and that's in a week's time," says Taylor.
Some of the new drinks you can expect this year are Topochico Hard Seltzer and Ranch Water, among a dozen other brands.
Down to the last drop: Recycling 'Gray Water' at WM Phoenix Open by Sean McLaughlin
At the iconic WM Phoenix Open's 16th Hole, the water does not go to waste — even melting ice. The recycling experts from WM have designed a very simple yet effective way to recycle every last drop of water from the stadium that surrounds the hole. From sinks on the top floor to the bottom of the three-story, massive steel structure, all ice sinks are connected for a purpose.
Melissa Cayne, from WM, explains, "So this is a 250-gallon tank that's going to collect water. There's ice troughs in front of every one of those 60 bars on 16 to repurpose that water. We don't just dump it on the ground. We collect it in this tank and a push pump that will take it back out."
A long, green hose is then attached to that large tank on the back of the Port-A-Let truck. Cayne said, "This is a brand-new, CNG truck-Compressed natural gas. We are able to make the Port-A-Let fleet C-N-G, which is exceptional."
The water comes from the melted ice from the 60 bars surrounding the hole. So, where does the water eventually go?
"This tank is broken into one-third water, two-thirds waste," explains Cayne. "So once this is pumped in, we will unhook this hose, and the drivers use this hose to re-fill the Port-a-Lets. So normally we only use five gallons of water, but here we only use one."
For the past ten years, nearly 50,000 gallons of water have been recaptured from sinks and kitchens and have been re-used across the course, servicing the portable toilets for the hundreds of thousands of fans.
Ian at the Open on Saturday