Winter storms bring clean air to Phoenix-area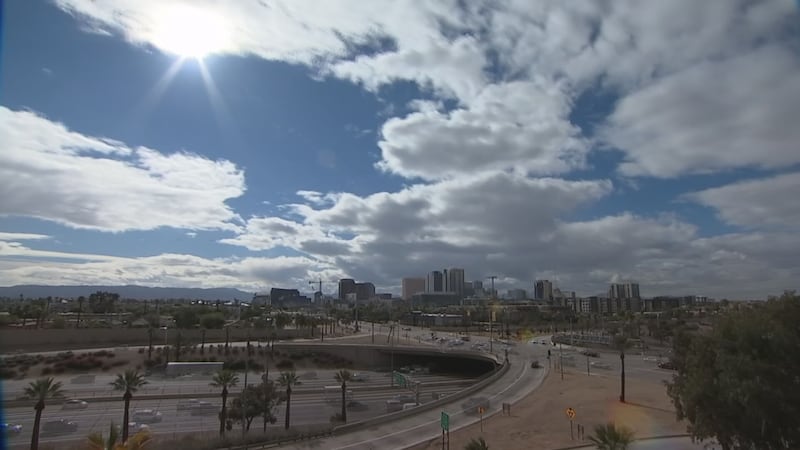 Updated: Dec. 29, 2021 at 8:10 PM MST
PHOENIX (3TV/CBS 5) - Winter storms blowing across Arizona have brought a breath of fresh air to a time of year that normally sees foul air quality.
"We get winter storm systems that move through, but between those storm systems, we get high pressure that results in light winds here in the Valley and that can result in poor air quality across the region," said Matt Pace, PhD, who is an air quality meteorologist for the Arizona Department of Environmental Quality.
Pace says the week between Christmas and New Year's Day commonly sees this poor air quality, as dust, smoke and car exhaust settles into the greater Phoenix area.
"But with the rain that we've had, it was the wettest Christmas Eve on record, we were able to see those values come down," said Pace.
The result is air quality that has been healthier than it normally is this time of year.
"I don't have shortness of breath," said Nick Quiroz, who walks eight miles each day in Ahwatukee. He says he can feel the air quality difference in his lungs.
In 2019, AZ Family Investigates looked at high pollution days and the number of deaths that occur across the state shortly afterward. In many instances, when pollution goes up, the number of deaths rises as well.
At the time, public health officials said they did not have enough evidence to draw a direct correlation between pollution and immediate deaths. But high pollution days are linked to an increase in emergency room visits by people with respiratory illnesses.
Now, researchers are linking high pollution to an increase in COVID deaths. The American Lung Association lists three studies, which show COVID mortality may increase by as much as 10 percent when combined with pollution.
All of that reinforces how positive the news in the Phoenix area is this week.
"Certainly, when you see the storm systems come through, you get excited because that does mean better air quality for everyone," said Pace.
Copyright 2022 KTVK/KPHO. All rights reserved.