Surprise Squad gifts Glendale woman with Sedona getaway, $3K
Surprise Squad is sponsored by Valley Toyota Dealers.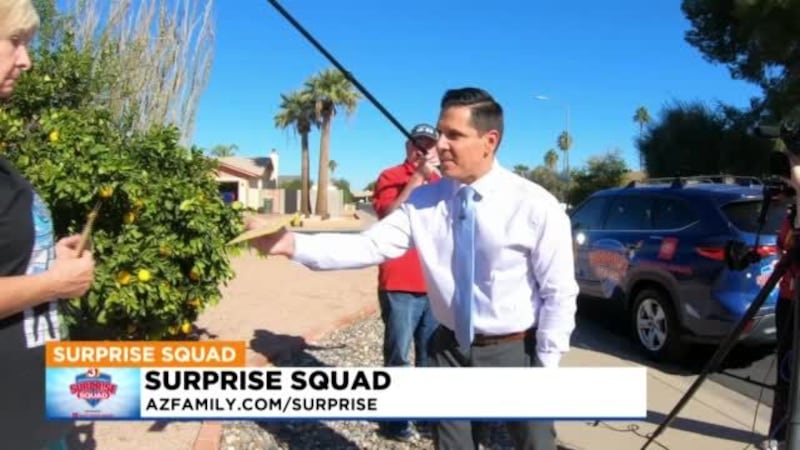 Updated: Nov. 26, 2021 at 11:13 AM MST
GLENDALE, AZ (3TV/CBS 5) -- Suzy is a Glendale woman who is devoted to helping the homeless in our community, as well as unwanted animals. She's also devoted to her husband Steve, a retired firefighter. One of Suzy's friends, Marlene, reached out to the Surprise Squad to say that Steve's been having some health problems this year and wanted to see if the Squad could do something special for the couple. 3TV's Javier Soto and the team recently rolled up to Suzy and Steve's home unannounced.
Suzy heard people approaching her front door and came out with a quizzical look on her face. "Hi, Suzy," Soto said. "We are with Arizona's Family Surprise Squad, and we would love to surprise you for just being an amazing individual and helping so many other people in need. We're here to help you."
"Are you kidding me?" Suzy said. "Really? Well, hi. I'm on my way to feed hungry cats at the rescue. I've got 50 kitties waiting." Marlene joined Suzy outside and began raving about her friend. "How do I put this? I am a better person because I know her."
"That is too sweet, Marlene," Suzy said. "OK, she's the one who helped me with all the rescue kitties. I was trapping them everywhere. Dozens and dozens and I had nowhere to take them, and she really helped me out getting the backing for the rescue. She hired me so I could get the animals fixed. So, she's been an amazing friend. Not to mention she gave me a job at the animal clinic. So, we've been friends for decades. And it's her help that helped me to help all these cats that I help."
Suzy went on to talk about how she and her husband help the homeless around her neighborhood. "We give food and toiletries and clothes, and we pack up every week, and I take a cooler all summer long out there with food and ice water for the homeless. It's fun," she said. "It actually is. Sure beats sitting around watching TV or sitting at the bar every day. This gives me a purpose to get up and to get out of my pajamas."
"I understand you're dealing with all this as you're going through some struggles as a family," Soto said. "My husband had a lot of health issues," she explained. "All year long, it's been cancer this, cancer that, tumor this. It's been a rollercoaster for him, and it's hard watching somebody you love. So, he's been in the hospital a lot. And he's doing great. He's a strong man and a retired firefighter. Getting exposed to all that stuff over all those decades, firefighters pay the price. The young ones, the old ones."
"I'm going to hand this to you," Soto said as he gave her an envelope. "That is courtesy of the Hilton Sedona at Bell Rock." "No, really?" Suzy gasped. Oh my God, I love Sedona." "You'll go to the Hilton Sedona at Bell Rock," Soto told her. "They're also going to make a meal for you. They're also going to give you and Steve, our hero firefighter, a couple's massage." "Wow, that is so awesome," Suzy smiled.
"And we're not done there," Soto said as he handed her a second envelope. "Arizona's Family and Valley Toyota Dealers have stepped in to give you this." "Oh my God, another envelope. This is like being on a game show," Suzy laughed as she opened it. "Oh, no, they didn't. Honey, it's $3,000. Oh my God, oh my God, oh my God. I can't believe this. Wow, that will buy a lot of food. A lot of food for the kitties and food for the homeless and clothes."
"This is amazing," Marlene said. "This lady's just done so much for homeless, for cats, for everybody. For people. What she's done for me, I mean, there's no words for that. She's been my rock through some of the hardest times." "He was the most amazing thing that ever happened to me," Suzy said as she pointed to Steve. "Meeting my husband. But this is truly amazing. This is like, I'm speechless. And that never happens."