Silver Apple recipient is beloved by music students at Paradise Valley HS
Silver Apple is sponsored by Arizona Bank and Trust.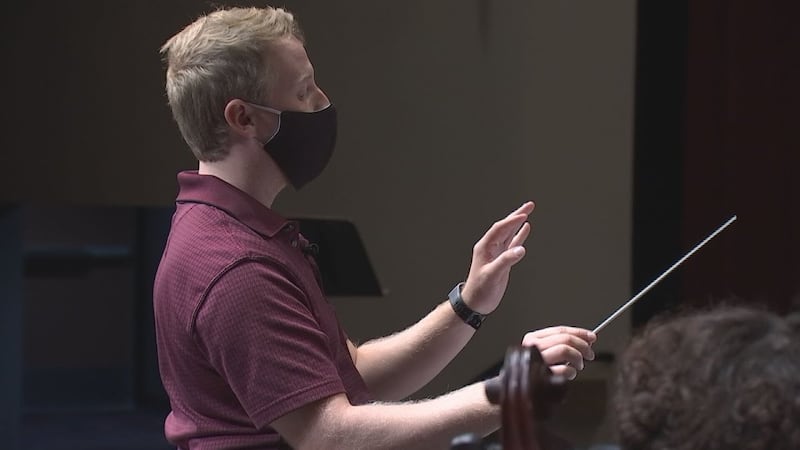 Updated: Nov. 18, 2021 at 1:21 PM MST
PHOENIX (3TV/CBS 5) - Mr. Ryan Diefenderfer has loved music all his life. Now he is passing on that passion to the next generation at Paradise Valley High School.
On any given day on the PVHS campus, the sounds of Dvorak, or Beethoven, or Mozart can be heard coming from "Mr. D's" classroom, thanks to the student orchestra and concert band Mr. D leads. We stopped by that music room after one of his student musicians nominated him for a Silver Apple Award.
After surprising Mr. D with the award, Shelly Havlovic from Arizona Bank and Trust presented the music teacher with a $1,000 check. It was a special moment for Havlovic, who happens to be a part of the PVHS family. "My husband is the assistant principal here," she explained. "I have been a part of this community, as well as seeing Ryan grow here at Paradise Valley High School. So it's been great."
High school senior Noel Robertson is the assistant viola section leader. She wrote the Silver Apple committee about Mr. D three years in a row.
Robertson read the letter she wrote in front of the class and her teacher. She ran down everything Mr. D did during the pandemic and this year. "We composed music, learned new instruments, and practiced scales," she said. "He even created a scales-based bracket competition. Mr. D always creates a welcoming atmosphere, and we are very excited for this year."
Other students feel the same about their beloved music teacher.
"The culture Mr. D has created in this orchestra has made me fall in love with it ... and find a family that I can connect with," Megan Howell emotionally explained.
"Getting to know everyone is really important. We're not here just to make music," Mr. D says of his mission in the classroom. "We're here to get to know each other and have a good 86 minutes every day, so we can feel successful."
For Mr. D, hitting the high note is teaching his students life lessons through music.
He started teaching at Greenway Middle School. He moved to PVHS with many of his students, so he has been with some of them for the past six years now.