Things to do around Williams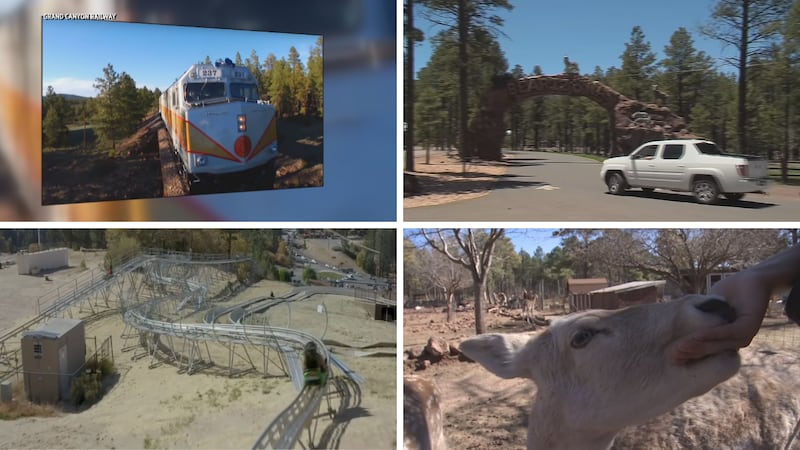 Updated: Nov. 12, 2021 at 12:20 PM MST
Sponsored - Field Trip Friday is sponsored by Sanderson Ford.
WILLIAMS, AZ (3TV/CBS 5) -- There are lots of things to do around Williams, from nature to exploring the wildlife to places to eat and much more. On this Field Trip Friday, we explore all the things and places that Williams offers, including some fun things for the holiday season.
Bearizona
Have you ever wanted to see the wildlife in their natural habitat? Probably best from the safety of your vehicle or inside a building, right? Well, you can check out some animals at Bearizona while driving through and seeing what they are up to. North American animals you will see include rugged mountain goats, wolves, bison, black bears, and much more.
Bearizona is about 160 acres. They are open all year long, so no matter what time of the year you are in Williams or specifically want to see the animals during a certain time of the year, you can.
Where: 1500 E. Route 66, Williams
Canyon Coaster Adventure Park
Canyon Coaster Adventure Park is a brand new adventure park coming to Williams. It is set to open soon and it will have attractions for all ages all year long, including the Canyon Coaster! It will also be first and only mountain coaster in all of Arizona. And, of course, there will be some snow tubing fun, as well.
Where: 700 E Route 66, Williams
🡕 https://canyoncoasteradventurepark.com
Grand Canyon Deer Farm
Oh, deer! Head on over to the Grand Canyon Deer Farm if you have ever been curious to see deer up close and personal. At the farm, they are raised from birth to create a special, intimate human contact. There are also a ton other animals, including wallabies, llamas, bison, peacocks, and much more. Also, you can kiss a camel and even pet a goat! They are open daily now through March 15, 2022, 10 a.m.-5 p.m.
Where: 6769 E Deer Farm Road in Williams
Grand Canyon Railway
The Grand Canyon Railway is one destination you have to check out if you are ever near or in Williams. It was built in 1901, helping connect different parts of the United States. It was however shut down in 1968 as the boom of automobiles continued to soar. Today, it is responsible for keeping around 50,000 cars outside of the Grand Canyon, and by riding it, you are doing you part to help preserve the Grand Canyon National Park.
Where: 233 N Grand Canyon Blvd. in Williams
Phone: 928-635-4010 or call 1-800-THE-TRAIN (800-843-8724)
Polar Express & Santa
Christmas is just around the corner, and it's time to get ready for the Polar Express and, of course, the big man himself -- Santa. This year, you can take your kids or grab some friends or whomever you choose to explore the Polar Express on the Grand Canyon Railway.
"You'll be smiling from ear to ear, as you watch children's faces light up when the train arrives, and enjoy hot chocolate and chocolate chip cookies while listening to this timeless story," according to the Grand Canyon Railway & Hotel website.
Trips are around 90 minutes, and they leave each evening between 5:30 p.m. and 7:30 p.m. Nov. 12 is the first day of the Polar Express and it goes through Dec. 30 with some days off in between. including for Thanksgiving and Christmas.
More information on the Polar Express. including how to get tickets. can be found here.