New A/C unit given to Tempe women after spending 2 summers without cooling
Surprise Squad is sponsored by Valley Toyota Dealers.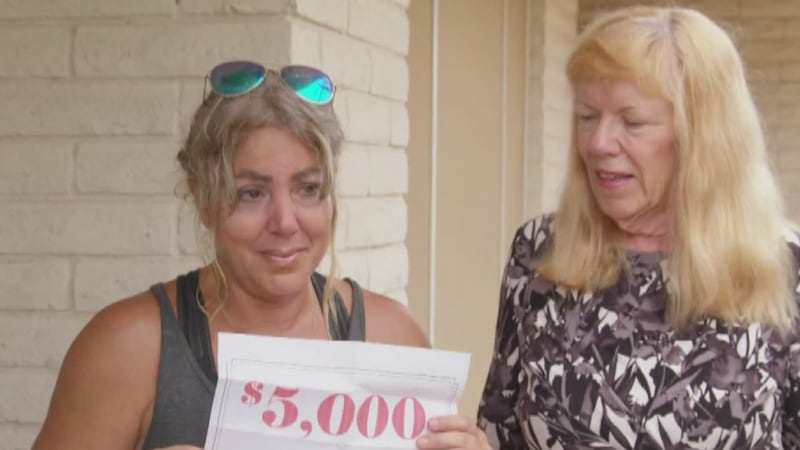 Updated: Sep. 10, 2021 at 5:00 AM MST
TEMPE, AZ (3TV/CBS 5) -- Even though we are in September, triple-digit temps remain in the forecast, and we are still weeks away before truly cooler weather arrives. Imagine having to spend a day without any air conditioning in your home. Now imagine spending two entire summers without any AC.
It has been the reality for Tempe resident Renee and her mom, and it's not even the worst of their ordeals. That's why their neighbor Dory reached out to Arizona's Family Surprise Squad and asked if we could help them out.
On a recent morning, 3TV's Javier Soto and the Surprise Squad team showed up at her door. And they weren't alone. There were several other people with them all helping out with the surprise.
"Hi, are you Renee? Hi, I'm Javier Soto with Arizona's Family Surprise Squad, and we are here to surprise you. Surprise! Come on out."
A stunned-looking Renee stepped outside. "I'm all sweaty," she apologized.
"That's alright," Soto smiled. "We're here to surprise you. We hear you've been going through some tough times. We have a slew of surprises for you because we want to make you feel special. I want to bring in Annie right now. She's with the Phoenix Rising, and she can explain her part of the surprise."
Annie handed Renee a red basket filled with all sorts of goodies. "We've got a signed jersey, we've got some koozies, we've got a voucher here for some sideline tickets whenever a game works out for you. We just want to bring you some joy."
"Thank you," Renee said. "I feel like I'm not deserving of this, but I'm grateful for the people in my life. So thankful."
"I also want to introduce you to Jason Parker," Soto said. "He's with Tek 1 Mechanical."
Jason and his wife Jennifer walked up to Renee. "As he said, I'm Jason. This is my wife and partner. We are Tek 1 Mechanical Heating and Air Conditioning. We're going to put a new air conditioner on your roof."
"No," Renee gasped. "I don't feel like I'm deserving of this. I would definitely consider making some payments."
"No, absolutely not," Jason responded.
"From the depths of my soul, thank you," Renee smiled.
"How long have you been without AC?" Soto asked.
"This is my second summer. Last year was just, it was the roughest year."
"When did things turn south for you?"
Renee began to describe the emotional hardships she's suffered over the last couple of years. "My sister was living in this house and the air conditioner was failing then. She had my rescue dog with her. Just to make a long story short, because it's still very raw and painful, she passed away in this home. So did my dog." She explained how her sister had some underlying health issues and when the AC stopped working, she and the dog died from the excessive heat.
"It was an experience I really can't put into words. And then my mother became more dependent on me. That took a turn, too. I've been caring for her since, and now it's a full time job."
"We want to take care of you," Soto said. "And so beyond the AC unit, beyond the Phoenix Rising tickets, Arizona's Family Surprise Squad in partnership with Valley Toyota Dealers, we want to give you this." Soto handed her an envelope.
"Thank you. Oh my God in heaven," she gasped as she opened it up and saw the certificate inside. "I don't feel like I'm worthy of this."
"That's $5,000 for whatever you need, whatever repairs, however you need it. However, you need to spend it," Soto smiled.
Renee's neighbors Dory and Jimmy came up to her and hugged her. "Are you surprised? Dory asked.
"And one correction," Jimmy said. "You are worthy. You're more than worthy."
"That's right," Dory agreed. "You are worthy, and you have a lot of angels looking after you, so you're not alone."
"I know I do," Renee said with tears in her eyes. "I know I do."