The 'Big A** Burger' lives up to the name at Roaring Fork in Scottsdale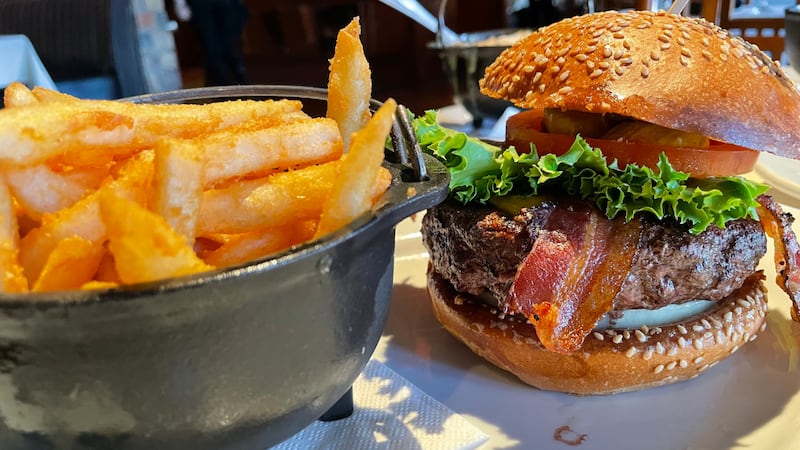 Updated: Sep. 6, 2021 at 8:00 AM MST
SCOTTSDALE, AZ (3TV/CBS 5) -- Imagine, if you will, a burger that requires two hands to hold due to its hefty weight that includes 12 ounces of meat, onion, house-cut bacon, tomato, and pickles all stacked between two sesame-seeded buns. Well, fortunately, your dreams can become a reality at Roaring Fork in Scottsdale, where the Big A** Burger holds its own as one beast-of-a-burger!
A restaurant known as a Southwestern steakhouse and for its wood-fired cooking, Roaring Fork sits near Old Town Scottsdale, just north of Fashion Square Mall off Scottsdale and Chaparral roads. It's a prime spot, popular among happy hour enthusiasts and connoisseurs of Southwestern classics. You'll know when it's time to rush in for a table at the sound of the ceremonial bell ring when the doors open at 4 p.m. Whether you're stopping in for a hearty plate and happy hour cocktail or a belt-busting dinner extravaganza, the piece de resistance of specialties is the restaurant's signature Roaring Fork "Big A**" burger.
This burger is a sizeable champion, comprised of two sesame-seeded buns locally sourced from Mediterra Bake House in Coolidge and a 12-ounce patty of in-house ground meat. You can really taste the smoke and mesquite from the wood-fire cook. Even made to a medium-rare preference, don't be surprised if this mammoth patty takes some time to cook, but rest assured, it all comes down to taking the time to cook with some TLC.
"We come in; we cook with love. That's what I always tell everyone — my whole staff. Cook with love; cook as if you're cooking for your family. We want everyone to come back as much as possible; we want to leave that impression of 'that was a fantastic dinner that I just had," says Roaring Fork's Executive Chef, Israel Medina.
Roaring Fork has an open-kitchen concept, giving guests a front-row viewing of the wood-fire cooking process as they vie for tables. Medina and his team know how to keep things light and have a good time in the kitchen while doing what they love, but they know when to turn up the heat as tables fill up.
"Everyone's very proud to make awesome food. We want to make everyone happy. When we're all back here, we're all family, we're all cooking back here together," Medina explained.
It's clear guests walk out happy and decide to come back because Roaring Fork serves up 50 to 60 orders of the Big A** Burger alone every night! With such a tantalizing burger, aside from the attention-grabbing name, the process and elements that go into making it is what Medina says make it such a standout.
"It truly lives up to its name, it really does. The patty alone is a 12-ounce patty. Then some peppered smoked bacon, cheddar cheese, pickles, onions, tomatoes, can't go wrong with that, and then we serve it on a sesame seed Challah bun," Medina said. "This burger, just because of the name I think, it took off, and people are here to try it. You can't go wrong with happy hour, you buy it for 12.50, and you can probably share it between two people and be completely stuffed."
Jeff's Picks
Aside from the delicious and delectable burger that inspired this story, some great Southwestern-inspired dishes are also worth checking out at Roaring Fork.
Bacon-Wrapped Pork Tenderloin
This dish just pops! It has great color, layers of flavor, and texture. The roasted corn is topped with cotija cheese and parsley. As you dive down into the dish, you have the crispy bacon-wrapped tenderloin itself atop a hefty plop of delicious cheesy roasted poblano cheese grits. The bacon is perfect, with the slightest of crisp adding an excellent salty enhancement to the extremely tender pork it wraps around. The pork was insanely tender, loaded with flavor through seasoning and that extra wood-fire kick. The roasted poblano cheese grits are great for this plate for presentation and taste. It serves as the gooey connector for all the ingredients, resulting in a full bite of flavor overload.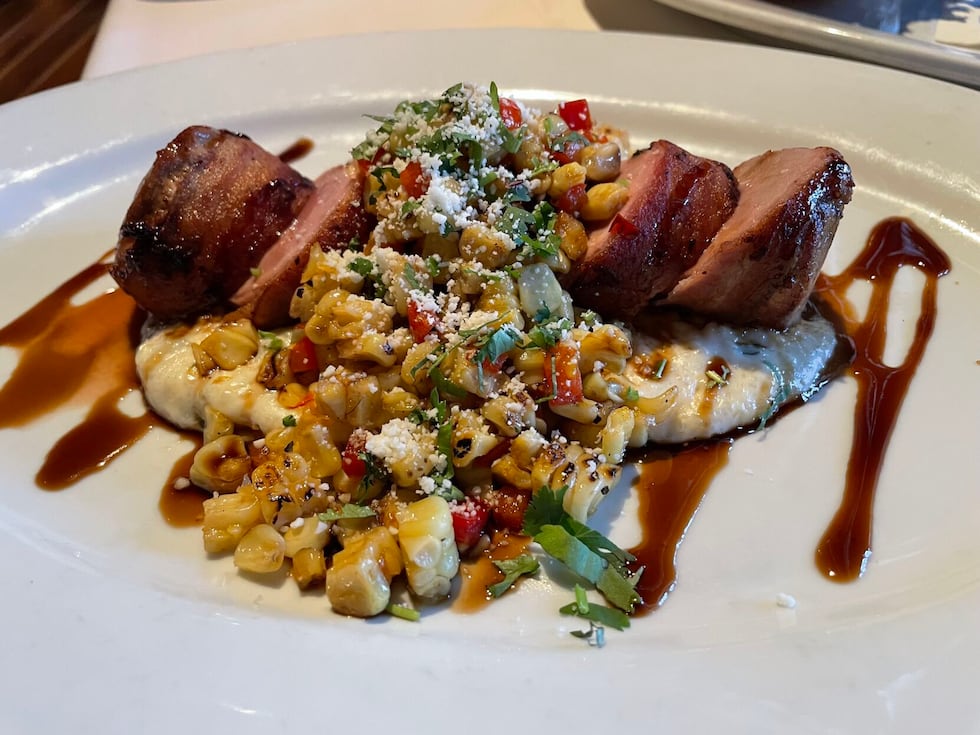 Green Chili Mac n Cheese
If the sound of green chili doesn't hook you, surely the Mac n cheese aspect will. Medina's kitchen de-seeds, peels, purees, and roasts the poblanos daily and simmers them down with onions and peppers. The Mac n cheese gets an extra kick from melted down pepper jack cheese, which lends to a lovely back-end heat. The creaminess is thick and sticks well to the green noodles, with each bite giving you the classic Mac n cheese experience with a Southwestern flair. The toasted panko breadcrumbs on top provide that extra layer of texture and blends well throughout each bite of the dish. This Mac n cheese is without a doubt a great side or substitute to accompany any plate!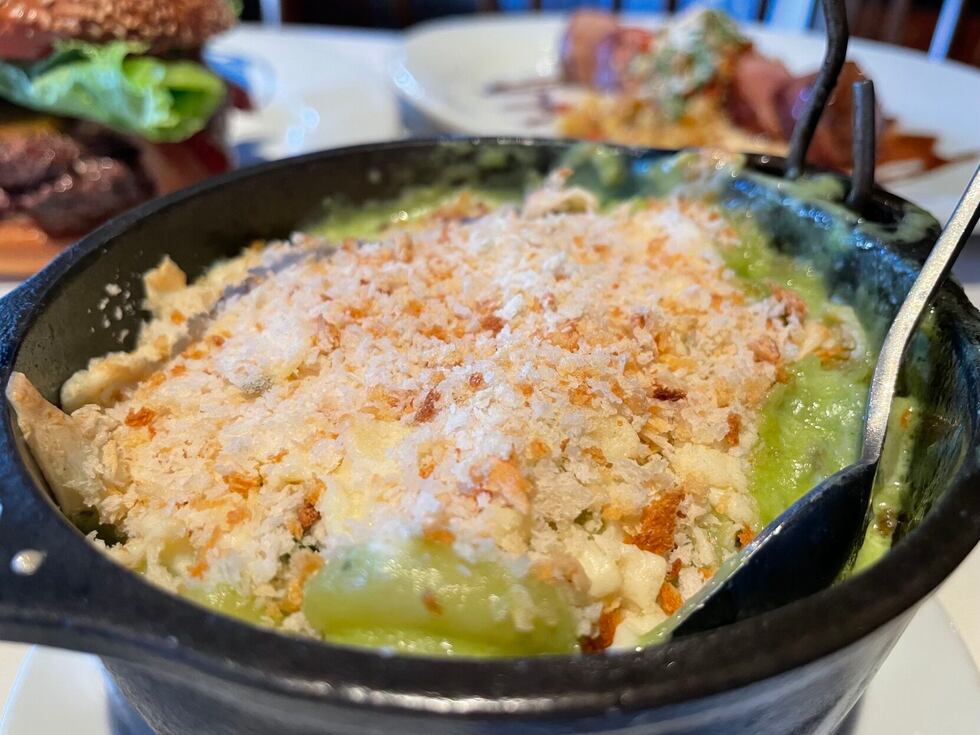 Green Chili Pork Stew
First things first, the aroma alone from this stew blew me away out of all the dishes! Upon the first scent, you'll be salivating. Every aspect of this stew is on point. It has a wonderful balance and level of mild heat. This is what I would consider a Southwestern French Onion Soup with its thick, top-layer of zesty cheese. The bowl is so full of pork chunks some even break through to the top layer of cheese, but rest assured, there are considerable portions throughout. The stew seeps into the pork, adding even more flavor to the meat, while the stew itself is heaven, seasoned very well, and incorporates the perfect amount of garlic.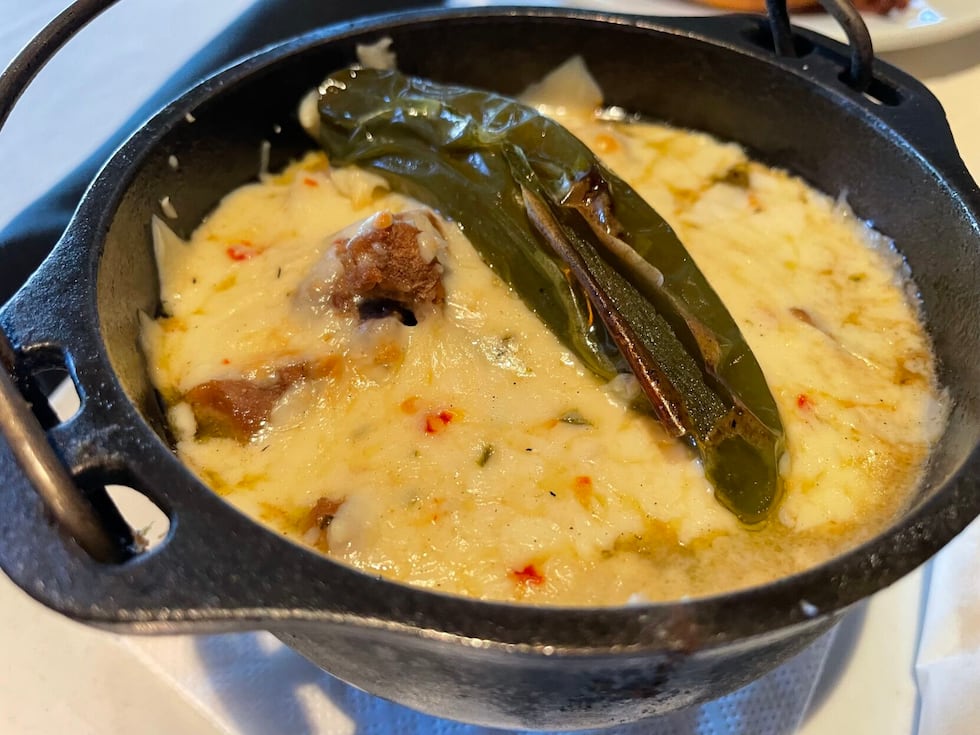 Whether you're stopping into Roaring Fork to tackle the Big A** Burger, check out happy hour, or explore other wood-fired Southwestern specialties, one thing is certain: you'll walk out with a full belly and enriched culinary experience! The staff knows food, loves cooking and is dedicated to serving up the best they can in an open and lively atmosphere. Enjoy your time at this solid restaurant, and for those braving the Big A** Burger, good luck!
This is the first segment in a series on burgers in the Phoenix metro. Arizona's Family Foodie is rolling out to some beloved local joints and restaurants around the Valley to check out some seriously stacked patties and two-handed beasts. Whether it's a local staple or something new pushing the boundaries with one of America's arguably most cherished foods, let's roll up our sleeves and enjoy some juicy burgers!
Copyright 2022 KTVK/KPHO. All rights reserved.