Police say father, daughter killed in gas line explosion in Coolidge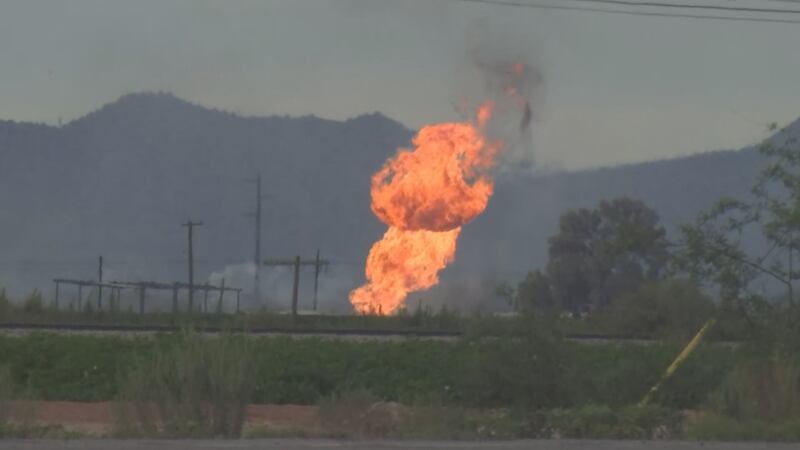 Updated: Aug. 22, 2021 at 11:54 AM MST
COOLIDGE, AZ (3TV/CBS 5) -- Police say a father and daughter were killed and a woman suffered serious burns after an explosion and fire at a farmhouse in the town of Coolidge. The Pinal County Sheriff's Office (PCSO) says a gas line break possibly caused the blast near SR 87 and East Randolph Sunday morning.
"It was like an earthquake," said neighbor Jesus Leyva."The whole house shook this morning."
PCSO says it happened around 5:40 a.m. They said they received numerous calls from residents in the area regarding a possible explosion. PCSO says it was likely a gas line break that caused the explosion and fire.
"I was in bed, asleep," said Leyva."I got up quickly to see what was going on and I saw ... lots of flames."
Coolidge City Manager Rick Miller says a woman who was inside of the home was flown to the hospital with serious burns. She has been identified as Rosalina Alvarez. Police say she was able to escape the burning home through a window, but she still sustained severe burns to 50% of her body. She was taken by helicopter to Maricopa Medical Center.
Coolidge police confirmed two bodies were recovered from that same home. Police believe they are Luis Alvarez and his 14-year-old daughter, Valeria.
On Thursday evening, about 100 people gathered at San Carlos Park in Coolidge for a candlelight vigil. A priest led everyone in prayer and people lit candles to pay their respects to Luis and Valeria. The family thanked everyone for showing love and support during this difficult time. Meanwhile, the family said Rosalina is still in the hospital but doing better.
The Pinal Regional Fire Investigation Task Force is investigating the cause of the fire. Until determined otherwise, Coolidge Police Department Investigations Division is treating this incident as a homicide.
The National Transportation Safety Board (NTSB) tweeted Monday morning that they will be investigating the "rupture of a 30-inch natural gas transmission pipeline."
STATEMENT FROM KINDER MORGAN
A spokesperson from Kinder Morgan reached out to Arizona's Family and released the following statement:
"At approximately 5:45 a.m. MST today, El Paso Natural Gas Company, L.L.C. (EPNG) experienced a pipeline failure on the EPNG system near the City of Coolidge, Pinal County, Arizona near Randolph Rd., east of Hwy. 87. A fire was reported at the site and has been extinguished. All EPNG employees have been accounted for.
The company has deployed employees to the area and has isolated the impacted pipeline segment. The company is coordinating with local first responders and relevant state and federal agencies, and an investigation into the cause of the failure will be conducted."
Copyright 2022 KTVK/KPHO. All rights reserved.