Scratch kitchen provides standout dishes at Outrider Rooftop Lounge in Old Town Scottsdale
This kitchen focuses on made-from-scratch dishes utilizing Arizona seasonal ingredients and helps support local businesses
Updated: May. 12, 2021 at 11:14 AM MST
SCOTTSDALE, AZ (3TV/CBS 5) -- The stylish and modern Canopy hotel tucked away on the south side of Old Town Scottsdale has a hidden gem on the top seventh floor. Walking out from the elevators, you'll be guided by the light (depending on the time of day) out of the double doors to the Outrider Rooftop Lounge! The full 360 rooftop has sights to see from every corner, showcasing downtown Scottsdale, Camelback Mountain, and beyond epic sunset views. The only thing that could make your experience that much better – the food!
This kitchen focuses on made-from-scratch dishes utilizing Arizona seasonal ingredients and helps support local businesses. Supporting local small business owners and providing patrons with a taste of home is at the heart of most dishes crafted by Lead Culinary Enthusiast Patrick Gaudet and his team.
"Working with our neighbors, working with the local breweries, anything that's local. We want to use as much as we can that is from this area. Some of the things we use -- tepary beans from Ramona Farms, we use Mama Lola's tortillas," Gaudet said. "It's about partnering with businesses that we can help support."
The local supplies keep things fresh and identifiably Southwestern, while Gaudet and his team add their flair into the mix. Gaudet says the kitchen cures their own meats. They roast everything, make their own machaca, make their own salsas and dressings. The foods help enhance the experience for patrons in several ways, according to Gaudet.
"We're looking at it as a bar place, a local hangout so people can come and grab finger food but as something different," Gaudet explained. "We even have our own wings that we have our Sonoran spice that we use on it, and it's our own blend."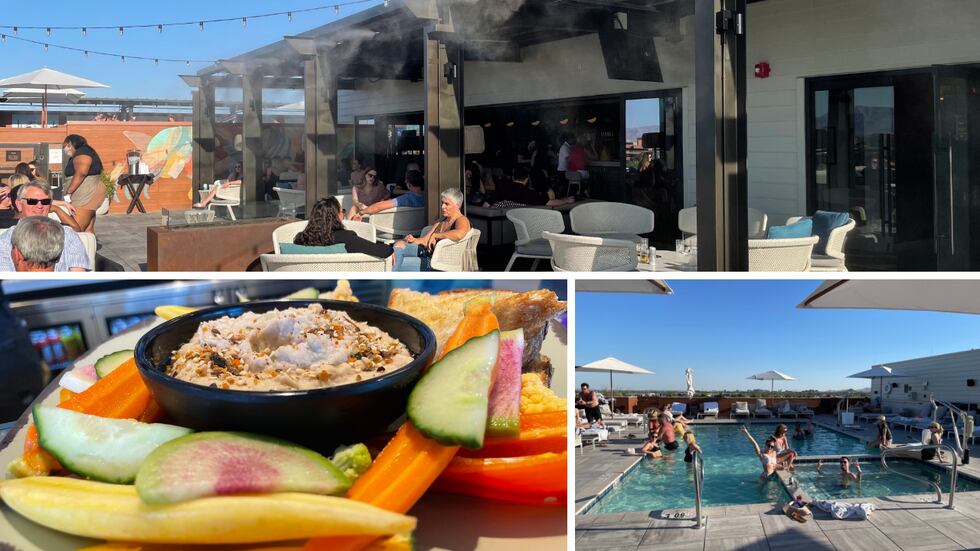 While Outrider Rooftop Lounge is still new on the scene, this summer will provide an excellent opportunity for people to come to check out this exciting hangout with a fun pool area, great views, and an expanding menu and presence in Old Town Scottsdale. Gaudet says the Canopy aims to open the restaurant on the first floor sometime in October. Between the restaurant and rooftop lounge, menus will be rotated every three to four months, with some new menu items, like short ribs, to be introduced. Before we delve into the foods, let's chat cocktails!
Sunburnt Whale – A delectable drink comprised of Gray Whal Gin with a kick from hellfire bitters. This drink is packed with various flavors; it's got an almost earthy twist to it and is overall delightful.
Pirate Jenny – If you're a fan of tequila and spice, this drink will be quite nice! It's habanero-infused tequila kept fruity with banana liqueur and fresh carrot juice, and squeezed lime.
Gooseberry Elixir – A very fresh mix of kiwi, cilantro, beets, elderflower, and tequila. Very refreshing and easy to sip. A great crisp drink for hanging out and watching the sunset.
Kiwi Acai Pina Colada Slushie – A strong kiwi kick! Still smooth, well blended, and perfect for poolside! This slushie drink will continually be rotating flavors!
Sweet Coco Vibe – A variety of flavors included in this drink from lime, orange bitters, thyme, and coconut liqueur all roped together with vodka. It's not too sweet and stands out as another great poolside drink!
While you sip down one of these delicious cocktails, check out the shareables and entrée items! There are several delicious shareables to stay on the lighter side, like the Poke Ceviche, Chili Rubbed Chicken Wings, or even Chicken Tenders. Or if you're looking for something a bit heftier, there's the Cobre Burger, Bison Sloppy Joe Sliders, Pulled Pork Tacos, or Chicken Caprese Panini. In addition to these dishes, there are some must-try items!
JEFF'S PICKS
The unique and locally sourced foods combine into some tasty dishes at Outrider Rooftop Lounge. Whether you're looking for a quick bite with a drink, a sunset-accompanying snack, or a proper meal to enjoy with some friends, this kitchen has a dish for any occasion!
Kicking things off with the Honey-Balsamic Glazed Pork Belly (atop a golden sea of delicious queso fundido), as a lover of queso, I must recommend checking out this appetizer. While queso fundido is typically served up with chorizo, Gaudet changes the game with a very sweet honey-glazed pork belly, pairing it nicely with the smoked gouda blended queso. It's a fantastic blend of honey and barbecue and great to dip with some tortilla chips. The Tepary Bean Hummus (utilizing those local beans from Ramona Farms) features a Mexican-inspired furikake of seasonings, giving the hummus an earthy and smooth blend. The accompanying garden vegetables and toasted sourdough keep the dish light, healthy, and hearty!
The Roasted Sonoran Shrimp Tacos have a light grill to the shrimp after being roasted with a Sonoran chili blend. The lime-cilantro helps negate some of the heat, giving the taste outstanding balance. I couldn't get enough of the Pretzel Bites, which come served with a side of another out-of-this-world queso made from scratch. Outrider Rooftop Lounge partnered with The Shop Beer company in Tempe to create a beer-cheese-meets-queso delight, utilizing the Church Music Hazy IPA to create a green chili queso packed with flavor. There's a hint of heat, which gives a robust taste when drenched over the fluffy fresh pretzel bites being served up.
The Spiced Meatballs are made in-house and made up of turkey chorizo. The meatballs are seasoned very well and have a nice back-end heat that's not too overpowering. The homestyle marinara sauce is made from a roasted tomato sauce, with the dish being topped off with shaved Manchego cheese.
Once you get past the fantastic views from this 360-round rooftop and settle down at your seat, the foods and drinks really enhance the experience at Outrider Rooftop Lounge. There's a dish for group settings, meeting up with a friend, or even for those solo adventurers! The food compliments the ambiance and establishes this rooftop as a place to visit that's a couple of steps outside of the typical hustle and bustle of Old Town Scottsdale. You can count on the solid drinks to hit the spot while Chef Gaudet's kitchen continues to serve up local foods while supporting local businesses; it's a win-win! Next time you find yourself in Old Town Scottsdale, consider checking out Outrider Rooftop Lounge for a fun and well-rounded experience!
This is the third segment in a series on rooftop lounges in the Phoenix metro. Arizona's Family Foodie is breaking out the sunscreen to check out eateries that serve up snacks and modest entrees for those seeking rest and relaxation from atop scenic rooftops. Rooftops often keep their menus small and simple, allowing kitchens to get creative and serve up unique foods to make experiences memorable. So, kick back and come hungry, and let's enjoy some food with a view!
Copyright 2022 KTVK/KPHO. All rights reserved.