Cajun-infused recipes bring a flavor of Louisiana to Glendale at JJ's Louisiana BBQ
For Johnson, barbecue was always his favorite food growing up and something he's been familiar with since his childhood.
Updated: Mar. 11, 2021 at 3:00 PM MST
GLENDALE, AZ (3TV/CBS 5) -- Whether you're on your way out or heading into downtown Glendale, a truly unique and humble restaurant at the corner of 56th and Glendale avenues is worth a pitstop for some Cajun-style barbecue! If you're a fan of spice, Cajun flavor and cooking, and travel, that's what you'll experience at JJ's Louisiana BBQ, where after you taste the food, it will feel like you've been transported to Louisiana!
This is a story of childhood past times, love for barbecue, new beginnings, and faith, which guided James Johnson to establish JJ's Louisiana BBQ in 2011. However, Johnson's barbecue origin story begins after Hurricane Katrina, which decimated New Orleans and surrounding areas in late August 2005. After the storm, Johnson relocated to Arizona through his job with WinCup. Unfortunately, the company eventually laid off Johnson, but he says he was guided by his faith toward his next line of work: barbecue.
"I had a smoker and just decided 'hmm, it's time,' but Christ Jesus just pushed me off into it. He said, 'here you go, right here,' and that's what I've been doing ever since," said Johnson.
For Johnson, barbecue was always his favorite food growing up and something he's been familiar with since his childhood.
"I've been doing it for so long, ever since I was 12 or 13. It's just a natural pastime in Louisiana. We grew up doing it, just barbecuing, just at the blink of an eye. That's how we do it back home," Johnson said.
After getting started with his first smoker and food truck, Johnson was given a chance to set up shop right outside the entrance to Walmart at 75th Avenue and Encanto Boulevard, just south of the Desert Sky Mall. This gave Johnson a great launch, and the store even had Johnson cater their holiday parties. Eventually, Johnson was finally able to establish his own restaurant on the fringes of downtown Glendale. Johnson brings Louisiana flavor with his barbecue, a flavor he says is unlike anything else in the country.
"My barbecue is mostly Cajun style. It's smoked, we don't cook with sauce on our meat. We want you to come taste the flavor of our meat. We make our own sauce and then add the sauce to enhance the flavor of the meat," Johnson said.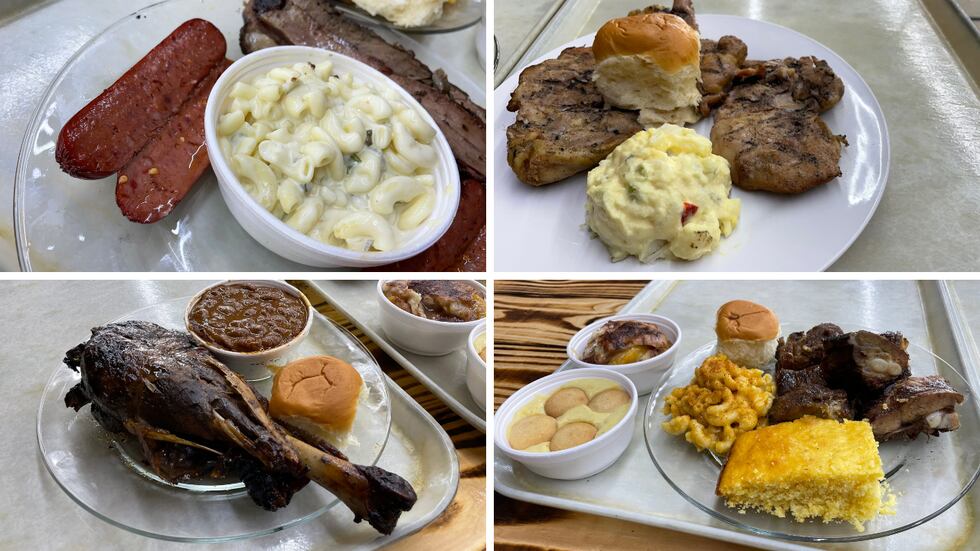 Johnson's Cajun-style barbecue is not only unique because of the spices and flavors it adds to the meats and sides, but it also provides a sense of homestyle and family cooking to the community, which is great for bringing groups of people from all walks of life together. That sense of giving back was recently acknowledged by the Arizona Coyotes, who play in Glendale. The organization gave its support to Black-owned restaurants as one of its core initiatives during February to celebrate Black History Month. JJ's Louisiana BBQ was one of those restaurants, with Johnson catering for the Coyote's organization several times during the month.
Coyotes President and CEO Xavier Gutierrez paid Johnson a surprise visit near the end of the month to acknowledge his hard work and thank him for supplying food for the Coyotes staff during their extended homestead.
"This is it. This is what you do. You invest, you work hard, you're committed. I don't even need to ask James, but he's put his blood, sweat, and tears, everything that he's had, everything that his family has had, into this enterprise. And it's been successful," Gutierrez said.
Gutierrez noted the Coyotes organization wants to continue supporting and help Johnson on his barbecue journey.
"The first thing that James mentioned, he has this beautiful space. And here we are at dinnertime, and unfortunately, there aren't as many restaurant-goers as he's had in the past. So for us, we look at that, and we say, 'What can we do?' We can cater from them. We can put them on our digital platforms to amplify, and we can tell them, 'Hey, we're here. How can we be helpful? We are here for you. We are your partner. We are your supporter," said Gutierrez.
With a growing number of COVID-19 restrictions getting lifted from businesses in Arizona and hopes for normalcy in the not-so-distant future thanks to compounding vaccinations, there's no doubt Johnson still has dreams to expand his Cajun-style barbecue to more pallets around the Phoenix metro. Johnson says the next current goal for JJ's Louisiana BBQ is to franchise.
JEFF'S PICKS
The menu at JJ's is expansive and covers a wide range of traditional barbecue foods with Cajun-packed flavors and some unique, traditional Louisiana-inspired dishes. There's no hiding that the meats and sides have a lot more going on flavor-wise than the standard barbecue due to the Cajun blend of seasonings. It provides a nice and easy backend heat to the dishes, similar to the hint of heat green chilis add that some other Arizona pitmasters use.
Kicking off the meats is the thoroughly tasty rib tips. Smoked the perfect amount of time to keep the meat juicy and tender, with a gracious amount of seasoning and flavor to the meat. The brisket was very moist and crumbled apart beautifully. A savory taste with outstanding flavor backed up by a combination of spice. The brisket was complemented with Johnson's house-made barbecue sauce, which was sweet and decadent. The hot links were one of my favorites, exploding with flavor and juiciness but manageable with the heat and spiciness, making it an overall excellent choice. The ribs had without a doubt a great spread of flavors with a rich smokiness to them. The meat falls right off the bone and is seasoned well from end to end. The house and spicy barbecue sauces are the cherry on top for this meat! The turkey leg is fit for a king! Smoked well and a nice inclusion for this barbecue joint. The catfish was fried to perfection and maintained a light golden breading with a soft crunch. For fish fans not familiar with Cajun cooking, this is a dish with a new world of seasoning that won't disappoint.
The macaroni and potato salads were both deliciously fresh with great ingredient ratios on both respective sides. Both sides were on the lighter side with the sauces, giving more ample taste to the individual ingredients themselves rather than being drowned out by sauce. The corn on the cob half was tasty and had a great buttery/Cajun seasoning flair. The two must-try sides that stood out are barbecue classics but with some kick thanks to Johnson's Cajun recipes. The macaroni and cheese had a nice layer of baked crunch to the top, with Cajun seasonings that gave every bite a nice lingering heat to coincide with the gooey and cheesy noodles. Every rendition of barbecue side beans is different, with every pitmaster focusing on different ingredients, seasonings, and consistency styles. The smoked beans at JJ's BBQ are without a doubt a necessary side for any tray. The amount of flavor is almost hard to describe but could be summarized as pure WOW-factor. The smokey beans have heat, it's hearty, and encapsulates the meaning of Cajun cooking!
If you've been following my barbecue series, you might recall me mentioning that I'm not big on desserts. With that being said, when someone's serving up their grandmother's recipes for homemade banana pudding and peach cobbler, I'll make the exception. For starters, the banana pudding was beyond phenomenal across the board. It was so sweet, utilizing real bananas sliced fresh daily. The breading was soft and melted in your mouth, melding perfectly with the creamy pudding. Johnson's banana pudding is the real dessert deal! The peach cobbler was rich and a homemade knockout in terms of its recipe. The measurements and flawless end product make this a pie lover's dream with freshly sliced peaches as well.
The story behind JJ's is that of a humble man, guided by his faith and passion for bringing Cajun-style barbecue and cooking to the people of the Valley. His authentic, generations-old family recipes can transport anybody back to their own fond childhood memories of home-cooked meals. The delicious food resonates with you, and you'll feel like you've somehow become part of Johnson's family as a result due to the Southern hospitality that radiates within JJ's Louisiana BBQ. The food has a history, and Johnson's decades-old recipes still hold up to this day with no change necessary. This is a phenomenal barbecue joint with an accompanying story to match. If you go, enjoy your time at JJ's Louisiana BBQ, where Johnson does a great job serving up some hearty and wholesome food.
LOCATION: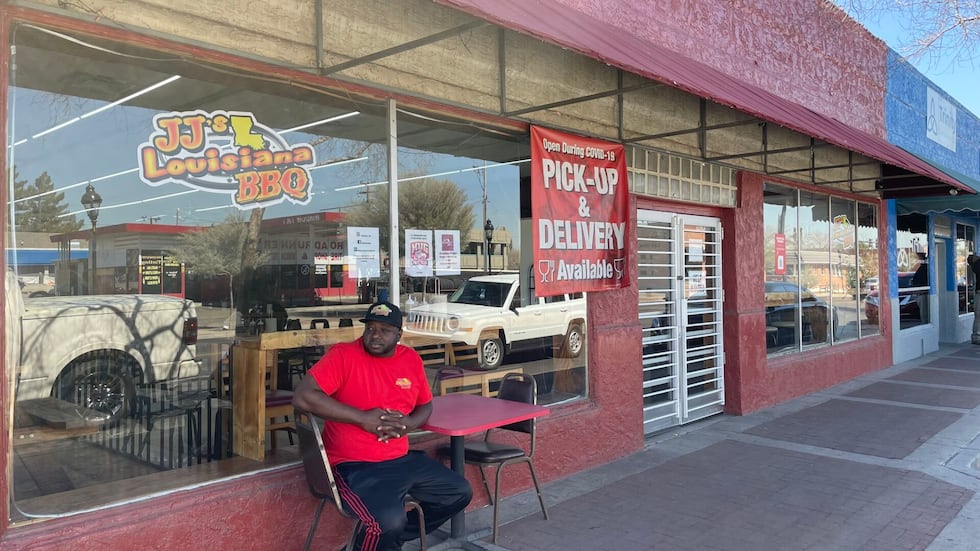 This is the fifth segment in a series on barbecue in the Phoenix metro. Arizona's Family Foodie is taking a look at how pitmasters have fused traditional American BBQ with Southwestern heat and spices, creating almost a new style within its own right. Barbecue brings people and communities together, so let's focus on the food and find new, great restaurants to support and enjoy together!
Copyright 2022 KTVK/KPHO. All rights reserved.