Santa visits babies in NICU
Posted:
Updated:
Posted By Brianna Owczarzak, Digital producer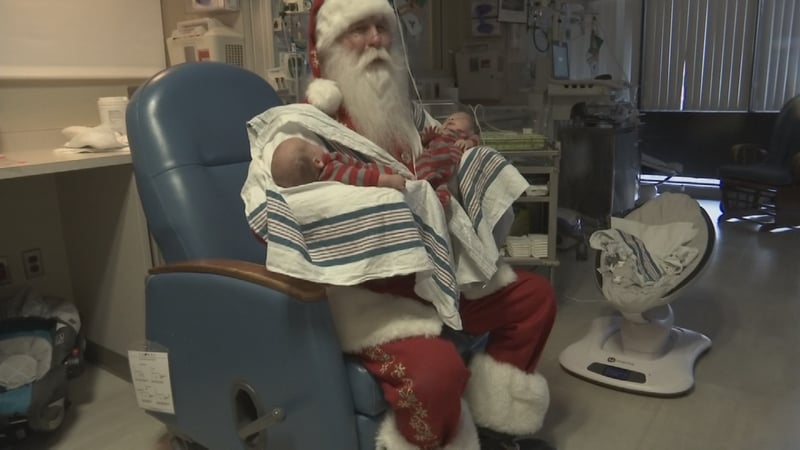 (Source: WNEM)
FLINT, MI (WNEM) -
For many families, taking the kids to see Santa Claus is a holiday tradition.
For parents of babies in the NICU, it's simply not an option.
That's why Santa decided to go to them.
The man in red was the honored guest at Hurley Children's Hospital on Wednesday.
>>Slideshow: Santa visits NICU<<
"Actually, I told my daughter we might have to skip Christmas because she's not gonna be home," said Meochee Maccombs, mother.
She said Christmas plans with her new daughter Madisyn looked bleak before Wednesday. That was until Santa Claus showed up to spread some holiday cheer.
Maccombs said Madisyn should still be in the womb, but her daughter had other plans.
"She was born at 28 weeks. She was three pounds. She came really early and she had no intentions of waiting," Maccombs said.
Maccombs said Santa really caught Madisyn's attention.
"She woke up as soon as Santa walked away. It's just so nice for Hurley to do something like this," she said.
Santa Claus visited at least 20 babies in the intensive care neonatal unit. He brought each little miracle a stuffed animal and took pictures with all of the newborns.
Olandra White's daughter Nadia was born premature and is so small her mother dressed her in a Christmas stocking. She said the event made their Christmas complete.
"It means a lot because she's not gonna be able to go out and go see Santa herself," White said.
Maccombs said she is thankful for the holiday spirit being brought to her family. She said after Santa's visit, everything seems to be looking a little brighter.
"She's doing really good. She's off all the medicines and she's gaining weight," Maccombs said.
Copyright 2017 WNEM (Meredith Corporation). All rights reserved.