From the 32nd floor: New audio of 1 October shooting emerges
Posted:
Updated:
Written by Cyndi Lundeberg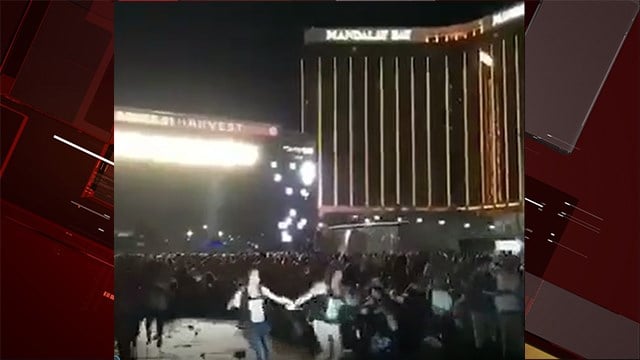 LAS VEGAS (FOX5) -
In newly released Mandalay Bay audio from Oct. 1, a barrage of gunfire then a calm voice are heard.
"Someone call police. Someone is firing a rifle on the 32nd floor in the hallway."
That person, was Stephen Schuck, a maintenance employee at Mandalay Bay the night of the 1 October shooting. Schuck was responding to a door alarm on the 32nd floor when the gunfire began.
"Stephen, make sure you're out of the way!," someone said to Schuck over a radio.
Once the gunfire stopped, Schuck said he saw his coworker, Jesus Campos.
"It was thinking about how I could get to Jesus because he was shot in the leg," Schuck told the Today Show.
Schuck couldn't get to Campos because they were separated by room 135, where the shooter was firing rounds from an automatic weapon.
"I could feel [bullets] pass right by my head," Shuck said.
MGM would not say what time these recordings occurred, but the release comes less than 24 hours after MGM questioned Sheriff Joe Lombardo's timeline of events. Lombardo maintains that Jesus Campos was shot at 9:59 p.m., about six minutes before the shooter opened fire onto the Route 91 Harvest Festival. The first 911 calls appear to start coming in about 10:07 p.m., and they weren't from Mandalay Bay.
Campos and Schuck both radioed down to the hotel for help before Metro Police was alerted. As of Wednesday it was unclear if Mandalay Bay staff ever called police about the initial shots fired.
Metro Police said they plan to release a more comprehensive timeline of events on Friday.
Copyright 2017 KVVU (KVVU Broadcasting Corporation). All rights reserved.