CBS 5 Advocate
Don't take shortcuts when researching contractors
Posted:
Updated: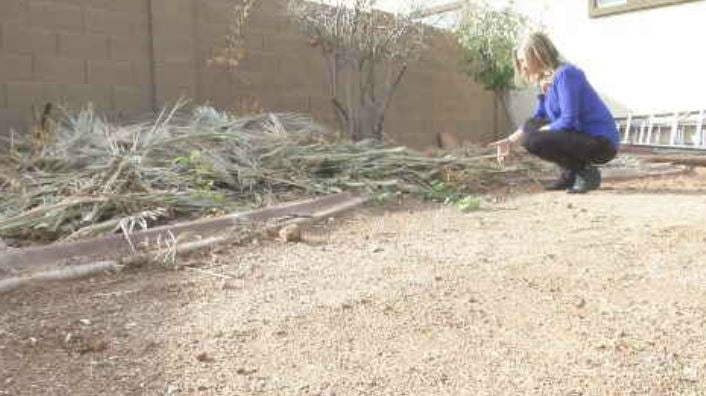 MESA, AZ (CBS5) -
A young Mesa mother ran into problems with a contractor after doing, what she thought, was plenty of research. But there was more she could have done.
There is some basic research every consumer should do before hiring a contractor.. like getting several bids and making sure the contractor is licensed. Sometime consumers think they're doing it but aren't following through all the way. And those half measures can lead to problems that could have been avoided.
Carly Ofsthun wanted artificial turf in the backyard for her young daughter to play on. She smartly got several bids, hired DNC Pest and Landscape Solutions, and paid $700 upfront for supplies. She says the owner of DNC Pest and Landscape Solutions - David Pack, did a few hours of prep work over a couple days, but on the next scheduled work day?
"Nobody came and then we started calling and his phone was disconnected," Ofsthun said.
CBS 5 News found DNC's phone number out of service also. Ofsthun says for two weeks, texts, phone calls, and emails got no response. She says DNC Pest and Landscape Solutions left a messy pile of palms in her yard and disappeared with her $700.
"Our daughter is starting to walk, we really want to have a place for her, so it's really upsetting," Ofsthun said.
Along with the bids, Ofsthun had asked for license numbers upfront. Only later did she discover DNC's license number on the receipt was not valid for contracting. She also figured out a smarter way to pay for supplies.
"I would go with him and pay that actual company myself with my credit card so that if things aren't delivered I can dispute it, Ofsthun said.
When she finds another contractor to do the work, she'll make sure to confirm their license with the Arizona Registrar of Contractors and to buy the supplies herself.
"We took some partial steps but I would say do a few more," Ofsthun said.
CBS 5 News left a message for owner David Pack and he called back right away.
Pack told CBS 5 News he has a valid pest control license but we told him that has nothing to do with contracting jobs. Any contracting work over $1000 requires a contractor's license. Therefore, DNC Pest and Landscape Solutions was violating Arizona law when it entered into this contract with Ofsthun.
Pack also told us he didn't disappear. He says he had a falling out with Ofsthun, didn't want to complete the work, and was "working on" a refund. He also said his phone broke.
In the end, Pack told CBS 5 News he would return the entire $700 to Ofsthun. He never returned one penny and then, just like Ofsthun says he did with her, Pack ceased all communication with CBS 5 News. This case is another good example of why consumers should avoid unlicensed contractors.
Copyright 2017 KPHO (KPHO Broadcasting Corporation). All rights reserved.
---