CBS 5 Advocate
Insurers want proof for coverage to extend to rental cars
Posted:
Updated: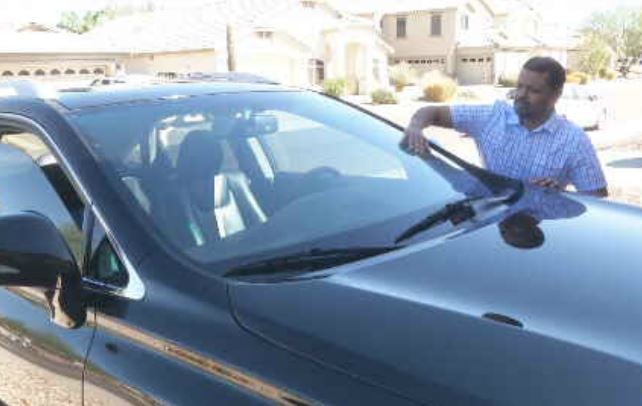 Sandeep Patwardhan said he never got a copy from Enterprise Rent-A-Car proving he declined their insurance. (Source: CBS 5)
PHOENIX (CBS5) -
We crack a lot of windshields in Arizona, and a popular car insurance coverage is glass-break protection.
Even if you owe a deductible on other types of damage, with glass-break protection you're typically covered 100 percent for any damage to your windshield. This coverage may also extend to rental cars, but if you need to use it, your insurer will want to see your rental agreement.
Sandeep Patwardhan says while his personal vehicle was in for repairs, he cracked the windshield on a rental car he was driving. The glass-break coverage on his personal auto policy extends to rental cars, so he expected his insurance to cover it. There was just one thing.
"I need to show them that I have specifically declined the coverage that was provided by the rental company," Patwardhan said.
Patwardhan says Enterprise Rent-A-Car had offered him their insurance coverage at the counter; he refused it, and his insurer just needed to see the signed rental agreement to confirm. One problem: Patwardhan says Enterprise never gave him a copy.
"When I asked about that they said this is a new process that they are following where they will not have any kind of paperwork for me," Patwardhan said.
Patwardhan says he's been trying to get the agreement from Enterprise for two months without success.
"I never got any kind of specific answer as to why, but that's the only response I got; that they would not be providing that," Patwardhan said.
Since his insurer won't settle the claim without the agreement, Enterprise held Patwardhan responsible and charged him $275 for the windshield. His insurer would have paid it all if he just had his agreement; a mistake he won't make the next time he rents a car.
"I would say, I will not sit in this car unless I get the signed paperwork in my hand," Patwardhan said.
Why does your personal auto insurer want to confirm that you declined the rental agency coverage? Because if you didn't, even if by mistake, then the rental agency insurance pays for the windshield. Your personal insurer is off the hook, regardless of your glass-break protection.
Once CBS 5 News got involved, Enterprise apologized for failing to give Patwardhan a copy of the agreement and refunded his $275. We thank Enterprise Rent-A-Car for their swift and fair response in this matter.
Remember, if you want your own auto policy's glass-break protection to pay for damage to a rental car's windshield, you'll likely need a copy of your rental agreement.
Copyright 2016 KPHO (KPHO Broadcasting Corporation). All rights reserved.
---