CBS 5 Investigates' Morgan Loew to receive achievement award
Posted:
Updated: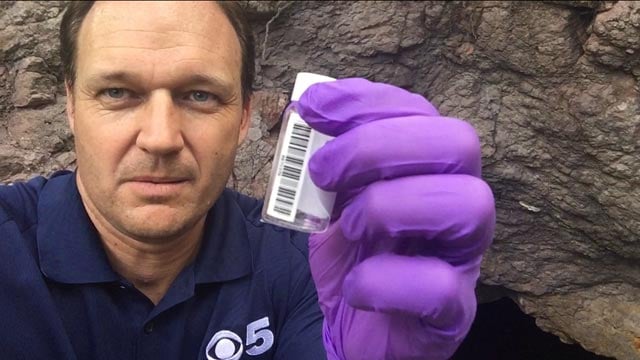 CBS 5 Investigates took water samples from within the drainage tunnel for the Lead Queen Mine. (Source: CBS 5 Investigates)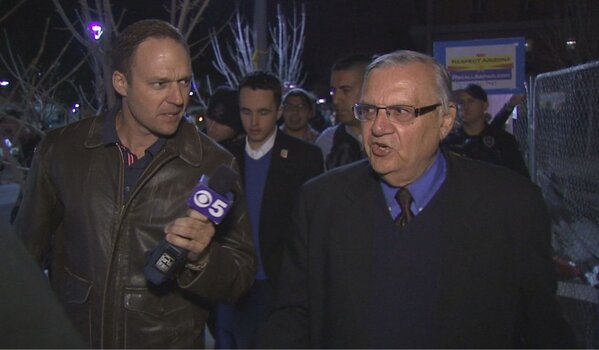 Loew asked the hard questions of Maricopa County Sheriff Joe Arpaio for a 2013 story -- and he got answers. (Source: Morgan Loew via Twitter)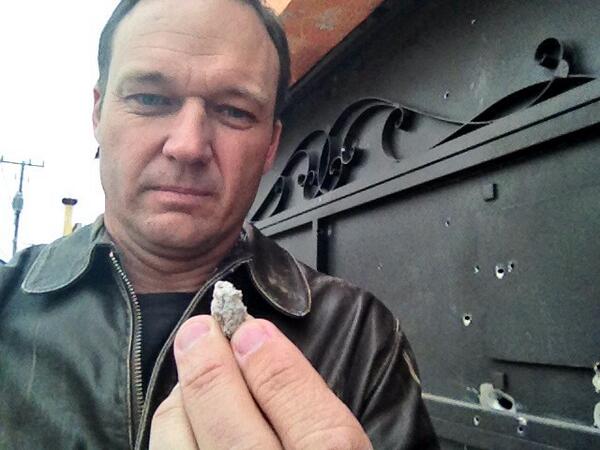 Tackling s story about drug violence in a quiet border town in 2014. (Source: Morgan Loew via Twitter)
PHOENIX (CBS5) -
CBS 5 investigative reporter Morgan Loew is one of six journalists to be honored with a special achievement award this weekend.
Loew, whose in-depth reports have given Arizonans the answers they need about issues affecting them on a daily basis, is being inducted into the prestigious Silver Circle of the Rocky Mountain Southwest Chapter of the National Academy of Television Arts and Sciences (NATAS).
Founded in 1955, NATAS celebrates the best television has to offer with the Emmy Award. You might have heard of it. Regional Emmys are awarded in 19 regions throughout the country. The Rocky Mountain Southwest Chapter covers Arizona, as well as New Mexico, Utah, Wyoming and El Centro, CA.
Among the most respected journalists in our region, Loew and the other inductees will join 148 journalists in the Silver Circle, including fellow 5 Investigates team member Gilbert Zermeno, and colleague Donna Rossi, who was honored last year.
The Silver Circle is one of NATAS's most distinguished honors for which only a few candidates are selected each year. It is reserved for the best of the best in their chosen crafts whether they are on camera, behind it, editing what comes off it or in the control room during a show. It is an elite club comprised of journalists who have been in the business for at least 25 years, maintaining consistently standards in everything they do.
A graduate of the University of Arizona and Concord Law School, Loew's storied career has taken him not just to every corner of Arizona but also all over the country and even the globe.
He has interviewed people who have shaped the world as we know it, luminaries most of us only see on television or read about online or in newspapers and magazines.
Stories that mean something
His past assignments have included covering the invasion of Iraq, human smuggling in Mexico, vigilantes on the border and Sheriff Joe Arpaio in Maricopa County. His reports have appeared or been featured on CBS News, CNN, NBC News, MSNBC and NPR.
"While his investigative chops and reporter muscles have grown leaps and bounds through the years, here's what's remained the same size -- his head," Kathy Clark, the assistant news director at CBS 5, said. She and Loew go back 20 years.
Modest almost to a fault, Loew is known among his peers -- and the viewers he serves -- for consistently producing and reporting stories of the highest quality. When Arizona wants answers, Loew delivers them. His work has earned 10 Rocky Mountain Emmy Awards, two regional Edward R. Murrow Awards, a Society of Professional Journalists First Amendment Award and a commendation from the Humane Society of the United States.
In addition to his Silver Circle induction, Loew also has been nominated for another Rocky Mountain Emmy Award. His story about "zombie mines" that continue to leach toxic heavy metals into the environment and Arizona's waterways earned him and his team a Regional Edward R. Murrow Award earlier this year.
READ: CBS 5 Investigates' look at mine pollution wins Edward R. Murrow Award
Loew tells stories that have long-reaching tangible effects. His reports have landed crooks behind bars and led to changes in state law. He has exposed conmen who prey on the elderly and predators who target women and children.
He's not afraid to take risks to tell the story -- whatever that story might be. And there is always one driving force -- to tell each story properly, the way it needs to be told.
"His intuition and passion to get the story -- and get it right -- has always been No. 1," Clark said.
BREAKING INVESTIGATIONS: CBS 5 Investigates
Loew's favorite investigations are the ones that take him undercover, which means the risks he takes are very real.
"Through the years, I've watched Morgan confront the bad guys, go undercover across the border and tunnel deep underground to try and solve a murder mystery," Clark said. "He is fearless in his pursuit of the story."
During his hidden camera investigations into drug and human smuggling, Loew infiltrated some of the most dangerous militia and vigilante groups in the Southwest. Members were later charged with crimes that range from murder to child molesting.
"Morgan always lets the story be bigger than he is," Clark said. "He's not flashy; he's real."
Even when it's difficult. Perhaps especially when it's difficult.
#AReportersLife
The life of a reporter, particularly an investigative reporter, is not a glamorous one. It's the life to which Loew has dedicated himself, though, and through it all, he maintains a sense of humor. Even when, as is more common in the field than anyone wants to admit, things don't go quite according to plan.
Teaching future journalists
In addition to stellar storytelling, Loew, like NATAS, is also dedicated to ensuring that future journalists are as prepared as they can be to be part of the quickly changing world of news media.
He teaches media law and TV news reporting at Arizona State University's Cronkite School of Journalism and Mass Communication and works hard to ensure that those who will be reporting the news in years to come have a solid foundation from which to work.
More than one student has described Loew as "knowledgeable and passionate about the course material." While knowledge is expected of any professor, it's a teacher's passion that gets students interested in learning and, more importantly, keeps them interested.
It's that passion, evident in every story he tells, that Loew passes on to the next generation of newsmen and women.
A newsroom leader
Loew's teaching is not reserved for the classroom or those planning to get into the business.
He is a natural leader, not just for his investigative team, but for the entire newsroom.
"He is a teacher and team player," Clark said. "It is rare to meet someone who embodies immense talent, passion, personality and a modesty that is genuine.
"You don't come across a lot of 'Morgan Loews' in your path, whether it be in the workplace or just in life," she continued. "Morgan has brought a credibility to our field and craft that will inspire future journalists for generations to come."
Those future journalists don't yet know how lucky they are. But they will realize one day.
Clark knew it years ago.
"I can say this producer is better because of him. Our news team is better because of him."
That's something with which his colleagues, no doubt, would agree. This web producer certainly does.
Welcome to the Silver Circle
Please join us in congratulating Loew on this richly deserved honor.
Loew and the rest of this year's Silver Circle class will be inducted during the Emmy Award gala Saturday evening.
Editor's Note: Catherine Holland was part of the team that worked with Loew on the abandoned mines story.
Copyright 2016 KPHO (KPHO Broadcasting Corporation). All rights reserved.
---