Homeless campers 'standing their ground' at Camp Amanda
Posted:
Updated: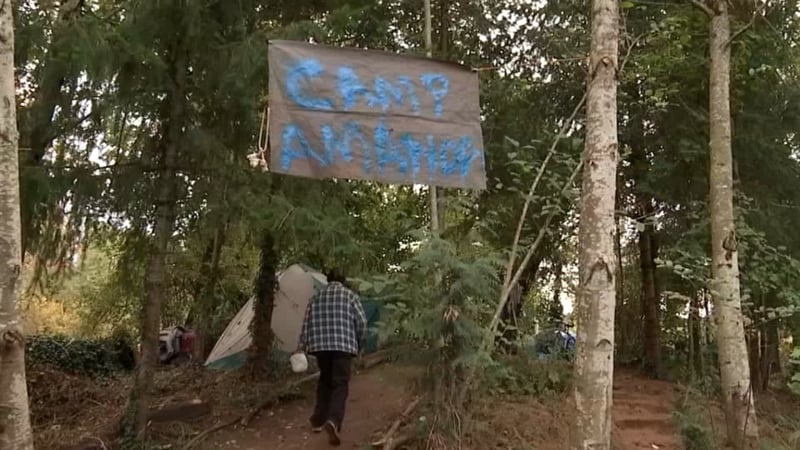 Some of the homeless individuals displaced from the Springwater sweep have come together to form Camp Amanda near SE Foster Road and SE 110th Avenue. (KPTV)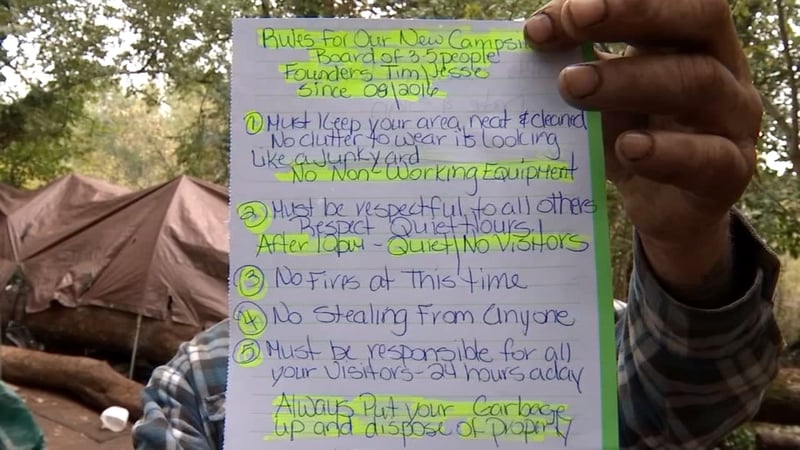 People moving into Camp Amanda are asked to follow a set of rules by the others living there. (KPTV)
PORTLAND, OR (KPTV) -
A month after a city-led sweep of homeless campers on the Springwater Trail, a small group has found a new spot to set up camp and is refusing to budge.
Camp Amanda is an accumulation of nine tents, nestled into the trees in above a wetland area near Southeast Foster Road and Southeast 110th Avenue.
A wooden sign bearing the camp's name hangs at its entrance, a dozen or so hand-cut steps in the embankment lead to the center of camp, where we found Jackie Hooper, one of the camp's founders.
"We're standing our ground. You know?" Hooper said. "We're not going to move unless you find us a permanent property."
The "you" she references is the City of Portland, which posted a seven-day notice to vacate the area on September 23. That notice has since expired, and the camp sits untouched.
"We selected the people that live here. It's nice and quiet and calm," Hooper explained.
She has been homeless for six months since a bank foreclosed on the house where she was renting a room.
Hooper and her boyfriend, Jess, were among the hundreds of campers on the Springwater Trail cleared out by a city sweep at the beginning of September. They moved on but set up camp again a short distance away.
Brian Worley, a spokesman for Mayor Charlie Hale's office, said the camp is in an environmentally sensitive area, and the campers are there without permission.
So far, though, there has been no attempt to remove them. In reality, the residents of Camp Amanda have few other options in terms of a place to live.
About 50 Springwater campers were able to find beds at the newly opened Hansen Shelter at Northeast 122nd Avenue and Glisan Street according to Stacy Borke, Director of Housing Services for Transition Projects, which runs the shelter.
Borke said the 200-bed shelter is now at capacity, though, leaving the roughly 200 other people displaced by the Springwater sweep still searching for a place to sleep and competing with the more than 3,000 other estimated homeless individuals in Portland.
"There's tremendous need. I think the primary need is affordable housing," Borke said.
The city and county are working to get more shelter beds online, with 120 additional beds becoming available when the new McLaughlin Resource Center opens in the next couple months in southeast Portland.
Borke said there are about 600 more shelter beds available this year than there were last year but need still far outstrips supply.
As for Hooper and her fellow campers, they're staying put, for now at least, hoping the city doesn't resort to using force to get them to move.
According to Worley, there have so far been no arrests made during the cleanup efforts on the Springwater Corridor.
Copyright 2016 KPTV-KPDX Broadcasting Corporation. All rights reserved.