Arpaio campaign breaking records, spending millions
Posted:
Updated: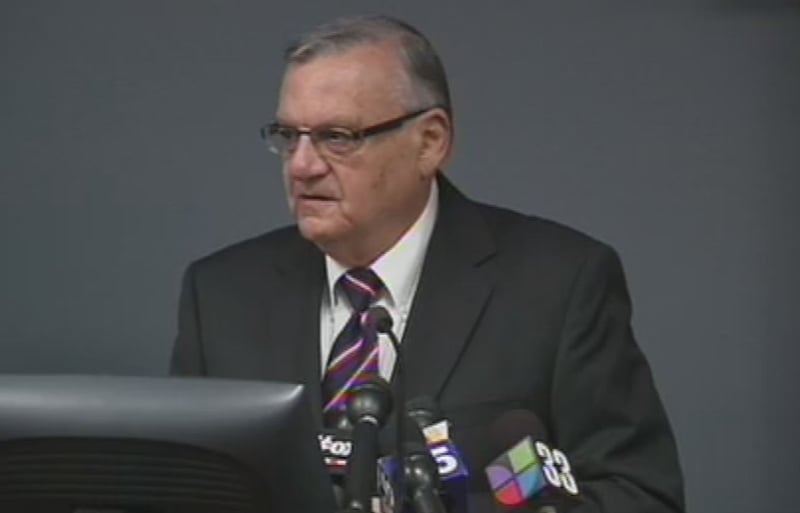 Maricopa County Sheriff Joe Arpaio's campaign has taken in nearly $10 million for his re-election bid. (Source: KPHO)
PHOENIX (CBS5) -
Maricopa County Sheriff Joe Arpaio's campaign has taken in nearly $10 million for his re-election bid, but has less than half that amount on hand, due to an expensive fund raising effort.
"It does take some money to raise money," said Chad Willems, of Summit Consulting Group. Willems serves as Arpaio's campaign manager.
According to the most recent campaign finance report, the "Elect Sheriff Joe Arpaio" committee raised $9.9 million through May. But spending on fundraising and consultants left the campaign with $4.1 million in the bank.
The report lists itemized expenses that include fundraising, mailings, petitions and administrative expenses. Nearly $4 million has gone to Summit.
[RELATED: Sheriff spends heavily on political consultants (May 12, 2016)]
Willems would not disclose his salary, commissions or any other financial incentives he has for bringing in or spending campaign money.
"Frankly, that's nobody's business how much I take home to my family," he said.
According to another political consultant who spoke to CBS 5 Investigates, it is common for national campaigns to earn and spend the way Arpaio's campaign has. What is uncommon is for a county sheriff to succeed in this type of fundraising.
"There's not another Arizona politician today, from the governor's office to the U.S. senators, to the congressmen, to anybody else in any office that can do anything like that," said Stan Barnes of Copper State Consulting.
Barnes says even the $4 million that Arpaio has on hand is an enormous amount of money for a county-wide race.
"If it takes you ten million to get that four million, well, that's the pathway it takes. No one else can do that," said Barnes.
For comparison, on Monday, Donald Trump, who is the presumptive Republican nominee for president, reported having just $1.3 million cash on hand.
"The sheriff is very popular," said Willems, as he described a donor list of hundreds of thousands of Arpaio supporters across the U.S.
Democrat Paul Penzone's campaign has not released its latest campaign finance report yet. But the campaign issued the following statement in reaction to Arpaio's announcement, which reads in part:
"The sheriff's announcement triggered one of the most successful fundraising days of our campaign. We're proud of the support and look forward to the November election."
Republican primary challenger Dan Saban released a statement, which reads in part:
"It is time for professional law enforcement to return to Maricopa County. There is no amount of money that can buy that, as Dan has only held two small fundraisers."
You can read part of the campaign finance paperwork below or by clicking/tapping here.
Read the full campaign finance paperwork by clicking/tapping here.
For more information on the finance information for Arpaio's re-election bid, you can head to the Maricopa County Recorder's Office.?
Copyright 2016 KPHO (KPHO Broadcasting Corporation). All rights reserved.