Law enforcement using expired, bagged meters as personal parking spaces
Posted:
Updated: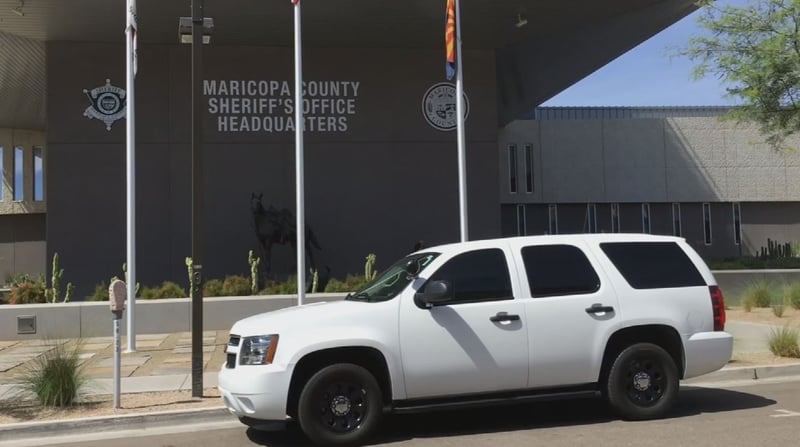 PHOENIX (CBS5) -
The parking spaces surrounding the Maricopa County Sheriff's Office two-year-old headquarters are covered in bags, which means nobody is supposed to park there. Most high-profile law enforcement buildings have similar bagged meters or red paint on the street curb. But up until a month ago, the spaces next to the bagged meters at MCSO were filled with unmarked sheriff's office vehicles. Unmarked MCSO vehicles also filled the regular metered spaces around the building, but those meters blinked "expired" on their display next to each and every vehicle, meaning the employees had not paid the parking fee.
"They do not have to pay for metered spaces," said Monica Hernandez, who works for the city of Phoenix. Hernandez was citing a state law that allows police to park at expired meters so long as it is "for the purpose of actual performance of a law enforcement duty."
But MCSO's internal parking policy prohibits parking at bagged and expired meters.
Unmarked police vehicles also park on the street at expired and bagged meters around the Phoenix Police Department downtown headquarters.
"All these vehicles you see parked here are on duty police officers doing their jobs," said Sgt. Jonathan Howard, from the Phoenix Police Department. Howard said the downtown headquarters building is a working police station, and the vehicles parked around the building are driven by working detectives.
"I'm talking about robbery detectives, homicide detectives, vehicular crimes detectives. All of these guys are in and out throughout the day, interviewing suspects, witnesses, responding to critical scenes," said Howard.
But Howard said the police department and the city are working to redesign the street that runs next to the station, in an effort to ensure there are more parking spaces for regular motorists, as well as clearly defined spots for police.
The MCSO headquarters does not house patrol deputies or detectives. MCSO officials declined our request for an on-camera interview regarding its parking situation. But a spokesperson released this statement:
"The Maricopa County Sheriff's Office Headquarters building is used as a central point for all day-to-day operations within Maricopa County. Our building is the meeting location where we hold several meetings a day which deals with Patrol Operations, Special Operations, Jail Operations and out of agency meetings.
Headquarters is a working facility as we have our Professional Standards Bureau and Bureau of Internal Oversight conducting interviews with employees every day. These employees park in front of the building and conduct their daily business and continue with any other tasks they may have.
In addition to all the interviews which are conducted here, the Sheriff's Human Resources Division is located on the 4th floor, which causes a high volume of employees to park in the front of the building as they conduct official business. Being the main headquarters for the Maricopa County Sheriff's Office, one can understand how it could have such a high volume of Law Enforcement vehicles parked outside the building, keeping in mind these are the same parking spaces used by the media and the public when they have a meeting taking place in our building.
It is our policy, when an employee must park an unmarked vehicle in a restricted parking zone while on official business; he shall display a "Sheriff's Official Business" placard in a prominent place in the vehicle."
Within a week of CBS 5 Investigates receiving the parking policy from MCSO, the spaces around the downtown headquarters were empty.
Copyright 2016 KPHO (KPHO Broadcasting Corporation). All rights reserved.
---