DPS director argues case for governor's border strike force
Posted:
Updated: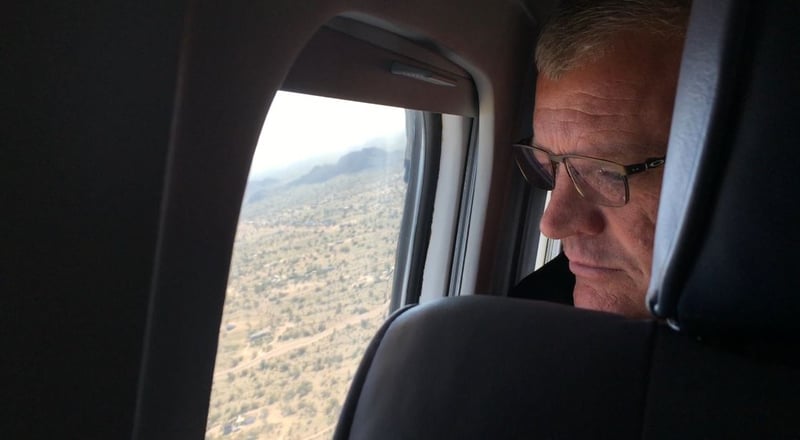 PHOENIX (CBS5) -
As the new head of the Arizona Department of Public Safety, Col. Frank Milstead had a novel idea. When it comes to combating the drug smuggling gangs that use the southern Arizona desert as a superhighway, why not just jam their radio and wireless communications so they can't coordinate smuggling efforts?
The answer, it turns out, was not so simple.
"If you're an illegal alien in my country, setting up an illegal communication system in my country, to disrupt American law enforcement, can't we just disrupt, dismantle or interfere? And the answer to that question now is no," said Milstead.
He went on to explain the maze of federal red tape law enforcement agencies need to traverse in order to meddle with telecommunications, in light of privacy concerns for American citizens.
"You've got to make sure they really are here illegally, and not just campers. And you have to get a federal warrant to disrupt what's going on," said Milstead.
This seemingly simple solution and the complicated reason it will not materialize has come to symbolize the challenges involved in combating drug traffickers, who trek across international boundaries, through a sovereign Indian nation, across federal land and two counties. It is nearly impossible to get all parties to agree on a plan of attack.
"This is about synergy. It is about putting your federal, your county and your state law enforcement together," said Milstead. The solution, he argues, is pushing full steam ahead with his boss's plan for a Border Strike Force.
Gov. Doug Ducey announced the plan last year as a way to help the state coordinate and lead the effort to keep drugs from entering our country and flooding the streets by crossing the Arizona desert. But not everybody agreed that a state-led border strike force was the right approach.
[RELATED: Documents outline details of Ducey's border strike force]
[RELATED: DPS: Arizona Border Strike Force ready to roll]
[RELATED: Arizona Gov. Doug Ducey creates state police border force]
Several county sheriffs argued that they could put the funding to better use themselves. Other critics viewed it as a "feel good" approach by the governor to gain political credit with his Republican base, but that it would not be effective in reducing the flow of drugs into Arizona.
During a three-day operation earlier this month, the strike force and cooperating agencies seized some 4,000 pounds of marijuana from the Interstate 8 corridor between Casa Grande and Gila Bend.
As the director the state DPS, Milstead is in charge of selling the plan to critics and implementing it on the street and in the desert. One of his first tasks was to repair the broken relationship the Ducey administration inherited with the federal government, as a result of former Gov. Jan Brewer's often combative dealings with the Obama administration.
"Probably for about eight months, I worked with Customs and Border Protection, with Homeland Security Investigations, the FBI and the DEA. This is a new day. We don't want a strained relationship. We want a partnership. And that partnership right now is very strong," said Milstead.
But a giant black hole in the effort to combat smuggling remains. Smugglers and their scouts, who work for the Sinaloa Cartel, ship their drugs across the desert through the Tohono O'Odham Indian Reservation. It's a large swath of desert that is sovereign and where state and local law enforcement agencies have little room to enforce the law.
Milstead said he was working on a plan for several of his state troopers to receive "dual patches," which would allow them to operate freely on the reservation. But that effort came to a screeching halt due to what Milstead referred to as "Politics."
Several law enforcement sources tell CBS 5 Investigates that the recent friction surrounding a Tohono O'Odham casino project in the west Valley, and the local and federal opposition to it is the catalyst behind the souring relationship. Law enforcement cooperation, they say, is the collateral damage from the rift.
One of the biggest barriers left to fully implement the strike force is the state legislature. Republican lawmakers are wary of increasing state agency budgets. Democratic lawmakers worry about the effect more militarization of the border area will have on the lives of law abiding residents and businesses.
But Milstead says he is optimistic the budget request will be successful. Like the idea of jamming the cartel's communications systems, this one may be easier thought of then implemented.
Copyright 2016 KPHO (KPHO Broadcasting Corporation). All rights reserved.
---