Some Arizona classrooms have 15-year-old textbooks
Posted:
Updated: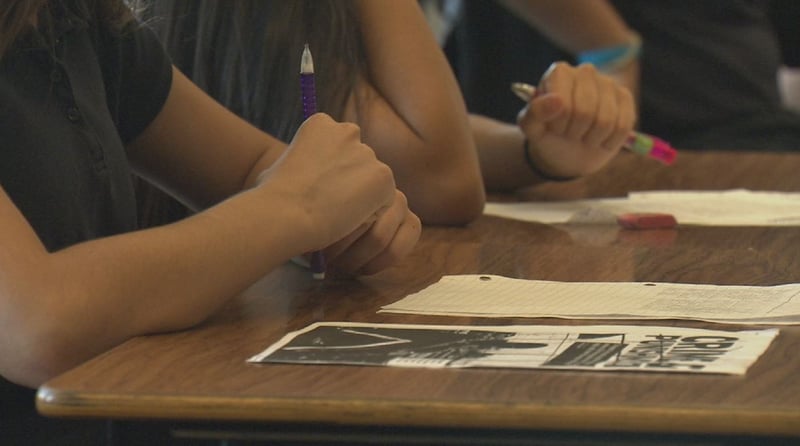 PHOENIX (CBS5) -
When sixth-graders returned to school in the Casa Grande Elementary district this fall, they were assigned social studies textbooks that contain no mention of the terrorist attacks of Sept. 11, the wars in Afghanistan or Iraq, or the election of Barack Obama, the first African-American president in United States history.
The textbooks were published in 2000, which makes them 15 years old, and explains why so much important American history is left out.
"Having new materials is very, very challenging," said Barbara Wright, who is the director of curriculum and instruction at the Casa Grande Elementary District, where new textbooks are among the victims of our state's education budget.
Wright says the money -- millions of dollars -- required to replace the old texts is just not available.
"The bare minimum would be $3 million and that would be replacing our K-8 social studies books. Our middle school math is from the 1990s," said Wright.
Her district received a total of $463,000 from the state for capital expenses like textbooks. But the district has competing needs.
"Do we replace roofs? Or let them leak? Do we replace textbooks and not replace buses?" said Wright.
The Casa Grande District is not the only one dealing with this crisis. CBS 5 Investigates sent questionnaires to schools across the state, from Nogales to Peoria, from Yuma to Tucson. The median age for sixth-grade social studies textbooks was 10 years old.
Many of those books are no longer in print, so districts are scouring Amazon for used copies or asking students to share. Teachers are being asked to research more current events themselves and incorporate their own work into the curriculum. It is work they are not paid for, and work that could result in curriculums that do not meet district or state standards.
Some districts report that they are moving away from textbooks entirely, using online resources and e-books instead. But that brings up new challenges. How do they ensure that every student has access to computers or tablets at home? Printing material for an entire school or district can quickly out-price the cost of new textbooks.
"We can look at a lot of scenarios, but what we have to do is act now. The state has the money now. The bill is due now," said Andrew Morrill, who is the president of the Arizona Education Association.
He is referring to recent news that the state has a budget surplus of $325 million. Education advocates argue that the surplus, along with the $457 million in the state's "rainy day" fund, would go a long way tom solve the education funding crisis.
"Is it really OK in Arizona for our teachers to have to scrounge up their own materials and pay for them out of pocket, because the state won't bring current the level of education funding?" said Morrill.
Several school districts are suing the state Legislature for cutting school funding below the levels mandated by a voter-approved initiative in 2000. A superior court judge has already ruled that the state owes schools more than $300 million in additional funding for the coming year, and that tab could reach $1.3 billion if the judge decides the legislators owe the schools additional money for the years they short-changed the schools.
Another group is considering filing a lawsuit against state leaders for failing to pay for adequate capital expenses like roofs, buses and textbooks.
So far, legislators and school officials have been unable to come to a settlement, and state leaders say they are not considering the use of the surplus to help the schools.
Gov. Doug Ducey is pushing his own plan to use additional revenue from the sale of state trust land to boost education funding.
"The first thing we have to do is have the state trust land proposal pass," he said last week. "If it does pass, I think you'll be able to see that we'll make the case that we'll lead the country in terms of new dollars into the classroom. That's the best we can do."
His plan would add $2 billion over 10 years, but would take at least two years to enact. An even bigger problem, according to critics, is that the governor's plan would add just $323 per student per year to the amount the state pays school districts. That would bring Arizona up from 50th in the country in terms of state dollars spent per student, to 49th.
Meantime, students in classrooms across the state are returning to schools where the textbooks say Bill Clinton is still the president.
Copyright 2015 CBS 5 (KPHO Broadcasting Corporation). All rights reserved.