CBS 5 INVESTIGATES
AZ teacher exodus leaves more than 1K Valley classrooms vacant
Posted:
Updated: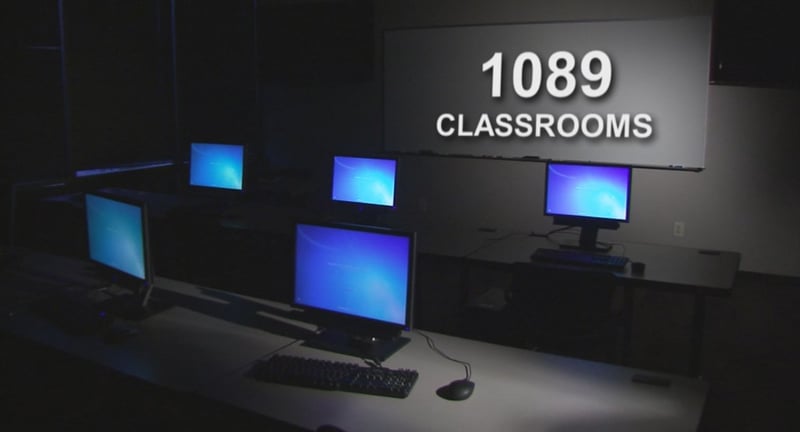 PHOENIX (CBS5) -
Teachers are leaving the profession, and leaving Arizona for bigger paychecks, according to a CBS 5 questionnaire sent to Valley school districts and interviews with current and former teachers.
The questionnaire was sent to 40 Valley school districts. The 25 districts that responded reported a total of 1089 open teaching positions. They include:
• 85 open positions in the Deer Valley Unified School District
• 102 open positions in the Gilbert Unified School District
• 115 open positions in the Peoria Unified School District
• And 130 positions in the Cartwright School District
"We think this is the largest documented teacher shortage that Arizona has faced in decades," said Andrew Morrill, who is the president of the Arizona Education Association and a former high school English teacher.
Morrill points to three factors that are affecting the shortage. He says the state's teacher salaries are among the lowest in the country, the state requires so many exams and guidelines that seasoned teachers feel limited in their ability to be creative, and according to a recent Census report, the state is dead last in dollars spent in the classroom.
Task force on AZ's teacher crisis: We need more money

Report: State has problem hiring, retaining quality teachers

5 Investigates: Long-term substitutes filling Arizona teaching positions
"Teachers are leaving the profession. They're leaving in debt and they're leaving in tears," said Morrill.
One of those teachers is Addi Navickas. She taught for five years, but decided that she can no longer afford to work in the profession she loves.
"That's the thing. I call them my kids. And I wish the best for them, but I'm just not going to be the one for them anymore," said Navickas, as she wiped tears from her eyes.
Across the Valley, Elaine Lauro is preparing to move to California after 18 years in the classroom, most of it spent here in Arizona.
"I know I have my skills. I have my master's. I've worked hard in life, but sometimes I feel like I don't have the pay behind me," said Lauro.
She can make $20,000 more per year, working in California, and says she's tired of having to say, "No" to movies, restaurant dinners and vacations with her family.
"Those are luxuries that I can't afford anymore," said Lauro.
Last week, Governor Doug Ducey announced a plan to add $1.8 billion to Arizona's public schools over five years, by using state trust land dollars.
A statement sent to CBS 5 from the governor's office reads:
"Governor Ducey has been listening and working on a plan to put significant resources in our schools in the face of our budget challenges. This plan does that. Our goal is to get this $2 billion to the schools as quickly as possible, and we are working closely with the education community to make that happen."
But the plan would need to pass the legislature and a public vote in an election, so any new funding would be at least one and a half years away.