While many public schools struggle, some charter chains profit
Posted:
Updated: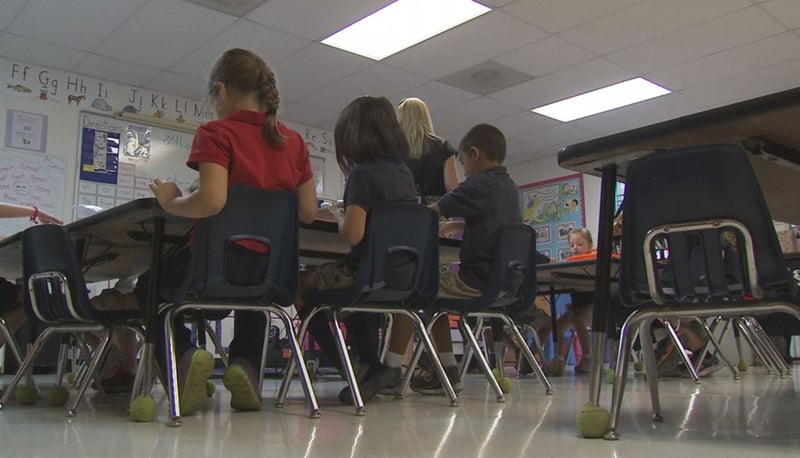 PHOENIX (CBS5) -
A Valley charter school watchdog is criticizing large charter management chains for directing more dollars away from the classroom than most traditional public schools.
"These schools are made to make a profit," said Jim Hall, the founder of Arizonans for Charter School Accountability and retired longtime Valley school principal.
"Someone needs to find out how they're spending their money, and there needs to be transparency," Hall said.
CBS 5 Investigates examined budget data and IRS tax filings for dozens of charter schools. Among the findings:
Some charter management chains spend as little as 40 percent of their budgets in the classroom, directing as much as 60 percent of their budgets to administrative expenses, plant operations and debt payments for facilities. Traditional school districts spent an average of 54 percent of their budgeted dollars in the classroom during the 2013-14 school years, according the Arizona Auditor General's Office. The comparison may not be "apples to apples" because charters pay real estate costs out of their operating budgets while traditional school districts do not.
Some nonprofit chains outsource daily operations to for-profit charter management companies. Two examples in Arizona include the Leona Group and Imagine Schools.
Nonprofit status allows charter schools and their management companies to avoid paying property taxes.
The Arizona Auditor General's Office is precluded by law from auditing charter schools the same way it audits public school districts, making it more difficult for parents to learn the breakdown of dollars spent in the classroom versus dollars spent on other expenses, such as real estate and administration.
The Leona Group
One of the largest operators of charter schools in Arizona is a company called The Leona Group, LLC. It provides management services for 23 nonprofit charter schools across Arizona. Until 2007, the company also owned charter schools, but Leona sold its 10 schools to a nonprofit company.
Today, Leona has management agreements with two nonprofits. They are the American Charter Schools Foundation and Kaizen Education Foundation.
According to IRS form 990s, filed by both nonprofits, they took in a combined $64 million in 2013. Almost all of that money came from the state of Arizona. The nonprofits paid a combined $30 million to Leona Arizona Employment Group, LLC and $6.1 million to Leona Arizona Management, LLC, and another $8 million in occupancy and debt service on the facilities they purchased from The Leona Group and the schools they subsequently added.
Because The Leona Group is a privately held corporation, it is not known how much of their fees are profit and how much is paid out for services and employees. But an official with the company told CBS 5 Investigates that all of the money that goes to Leona Employment Group is spent on employees and associated costs.
The Leona Group also issued a statement to CBS 5 Investigates, which reads in part:
"The Leona Group would assert (and experience confirms) that the answer to the inquiry is that our customer public charter schools pay significantly less for those required central administrative services and receive levels of people power, experience and expertise that would be quite difficult to replicate through individuals on staff at the school or through a piecemeal retention of outside firms, whether for profit or not for profit. The Leona Group simply is able to utilize efficiencies and economies of scale (over 60 customer schools across five states) that allow the company to provide its customers a higher level of quality at a lower cost. The Leona Group is able to be successful only when the nonprofit public charter schools who are its customers are likewise successful, and that requires those customers to be financially sound, student-centric educational public institutions."
Critics like Jim Hall argue that the use of management companies creates a way for for-profit companies to make money from their relationships with the nonprofit charter schools they created. In effect, Hall says some of them are "nonprofit" in name only.
Comparing schools
If the staffing size at one of the Valley's alternative high schools is compared with a similarly-sized traditional high school, there might be a disparity.
Sun Valley High School, which is an alternative school run by The Leona Group, employs 12 office personnel and 17 instructional staff. Tanque Verde High School, near Tucson, employs eight office personnel and 31 instructional staff. Tanque Verde also offers after-school sports and other traditional programs that Sun Valley does not.
Officials from the Leona Group argue that the breakdown reported to the state makes it appear that Sun Valley is more administration-heavy than it actually is. According to their breakdown, the school has five office staff, 17 teachers, and another nine staff members who range from reading specialists to curriculum coaches. All are positions that affect student learning, and should be considered "classroom," rather than "administrative" staff.
Other chains face criticism
Imagine Schools is the largest operator of charter schools in the country. It runs 14 charters in Arizona. But in December, a federal judge in Missouri ordered Imagine to pay $997-thousand in damages and refunds to a local charter school it operated. The judge found that the chain engaged in self-dealing, when it required the school to pay above-market rent to another company Imagine also owned.
During the court action, a witness testified that Imagine spends far less in the classroom at that school than the national average. According to the witness, the company spent 27.9 percent of its funds on instructional costs, while the national average was 65.82 percent.
Imagine sent the following statement to CBS 5 Investigates:
"While we strongly disagree with portions of the judge's ruling, we did reach an amicable settlement, which we believe is the best stewardship of our resources. Our commitment to working diligently and transparently with the school communities we serve remains strong. We are continually reviewing, refining and optimizing our accountability procedures to strengthen our operational practices. As stewards of public funds, we want our practices to meet the letter and spirit of the law, providing effective education and operational services for our schools and students."
Some smaller charters see success
Not every charter school in Arizona is part of a chain, and many of the smaller "mom and pop" charters excel in both academics and the amount of money they direct toward the classroom.
"Our school is a nonprofit. It is a 501c3 nonprofit, and we absolutely view it as a school and not as a business," said Wendy Miller, who is the principal and chief operating officer of Challenge Charter School in Glendale.
The Miller family has run the school for 19 years.
"It isn't easy to prioritize where to put funds," said Miller, whose school allocated 59 percent of its budget to the classroom and student support, which is a higher percentage than many traditional public schools.
As a result, she and the rest of the school's small administrative staff have to double up on responsibilities and workload.
The strategy has paid off. Challenge is a National Blue Ribbon School, "A" rated by the Arizona Department of Education and is considered a Title One Rewards school. The student body is diverse, as is the curriculum.
"The family environment has worked for us. It makes our parents and our students feel comfortable and trust that we will put them first as we would our own family," Miller said.
Critics call for more transparency
During the 2015 legislative session, Gov. Doug Ducey and many Republican members of the Legislature argued that traditional public schools should direct more money into the classroom and away from administrative expenses.
They are able to view the ratios for each school district because the Arizona Auditor General's Office reviews each district's budget and expenditures every year and publishes them for legislators, administrators and parents to see. But the state law that set up the charter school system in Arizona exempts charters from the yearly audit.
Charters are required to submit their budgets and financial reporters to the Arizona State Board for Charter Schools, and the nonprofit charters are required to file IRS form 990 tax returns. Reviewing that information is how CBS 5 Investigates was able to examine charter school expenditures.
But critics like Jim Hall from Arizonans for Charter School Accountability say the freedom that allows charter schools to innovate also reduces transparency and accountability.
"There's a lot of data we don't collect from charter schools because we want to provide them with freedom from constraint," Hall said.
This year, his group launched an effort to change state law to require the auditor general's office to examine charter school budgets. But that effort failed when no legislator would sponsor the bill.