Study: Teen drivers are more distracted than anyone thought
Posted:
Updated:
Posted by Catherine Holland
(Source: Elena Elisseeva via 123 RF)
PHOENIX (3TV/CBS 5) -
A new study form the AAA Foundation for Traffic Safety shows it's a much bigger problem than originally thought.
"The
Triple A Foundation for Traffic Safety
analyzed nearly 1,700 crash videos for teen drivers," said Michelle Donati, a spokesperson for
AAA Arizona
. "What we looked at was the final 6 seconds leading up to a crash."
The results are eye-opening. AAA says it proves it takes just seconds of being distracted for something to go wrong.
The National Highway Traffic Safety Administration had estimated distractions were the cause of about 14 percent of all teen driver crashes. They found that distraction was a factor in nearly 6 out of 10 moderate-to-severe teen crashes, which is four times as many as official estimates based on police reports.
Almost 60 percent of crashes were linked to a distraction.
"When a teen was using cell phone before a crash, they had their eyes off the road for 4.1 seconds out of those final 6 seconds, so the majority of the time their eyes were not even on the road," Donati explained. "They didn't see or know where they were going."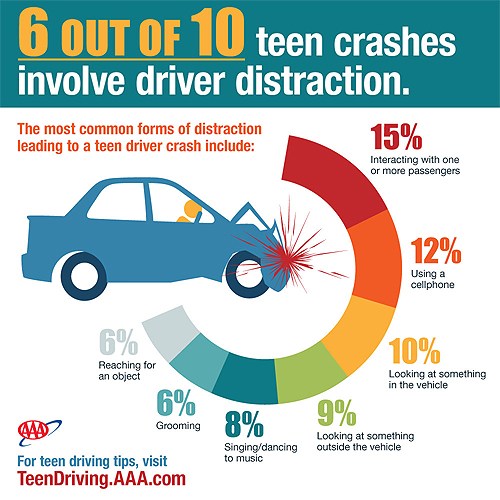 Here's what the study says are the most common things to distract a teen driver.
Interacting with a passenger: 15 percent
Cell phone use: 12 percent
Looking at something in the vehicle: 10 percent
Looking at something outside the vehicle: 9 percent
Singing/moving to music: 8 percent
Grooming: 6 percent
Reaching for an object: 6 percent
The
videos that are the foundation of the study were provided by Lytx.
"It is our hope that these findings serve to remind drivers of all ages that distracted driving is dangerous and sometimes deadly," Lytx CEO Brandon Nixon said. "Practicing safer skills behind the wheel can save lives."
Sharing that hope, AAA says this study is added proof that we need more safe-driving laws.
"While graduated driver licensing laws have reduced teen crash rates in the state and nation, this study shows how important it is for Arizona to review its GDL law to ensure it provides adequate protection for teen drivers," said Michelle Gorman of AAA of Arizona. "As a safety advocate, AAA recommends Arizona's GDL law be expanded to include a wireless device ban."
For the fourth year, Arizona legislators failed to act on a bill that would strengthen the GDL law. HB 2343 would have prohibited teens from using wireless communications devices, such as a cell phone, while operating a vehicle during the permit and first six months of the GDL phases, except for in emergency situations.
Teens already have the highest crash rates of any age group in the United States, with about 963,000 drivers ages 16 to 19 being involved in police-reported crashes in 2013. These crashes resulted in 383,000 injuries and 2,865 deaths. In Arizona, 80 drivers ages 16 to 19 were involved in a fatal crash, and 5,641 were involved in injury crashes in 2013.
Parents play a critical role in preventing distracted driving. AAA recommends that parents teach teens about the dangers of cell phone use while driving. The organization also suggests parents restrict passengers while their teens learn to drive.