CBS 5 Advocate
Don't count on warranty at some small tire shops
Posted:
Updated: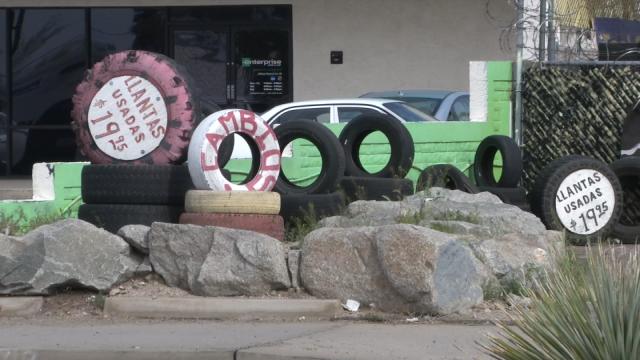 PHOENIX (CBS5) -
A Phoenix woman says a small tire shop refused to honor their warranty claiming they were under new ownership. This is an all-to-common problem with small-time operations.
There are plenty of mom & pop shops that offer great service and are very reliable, but that's certainly not always the case. When it comes to some of the little, independent tire shops around town, you might get a great deal, but don't count on the warranty.
"It felt like I was going to have safe tires on my car," Jonalyn Nicholas said.
Nicholas bought four new tires from Hernandez Tire Shop on Bell Road near 28th Street in Phoenix. She paid $270 and received one year of warranty. About six months in, Nicholas says a friend pointed out a problem with one of the tires.
"He showed me where there was some separation of the thread and you could see wires coming through," Nicholas said.
Nicholas was rightfully concerned and returned to the business expecting them to replace the faulty tire free of charge under the warranty.
"He basically told me they had a new management, a new owner, so therefore they were not going to honor the warranty," Nicholas said.
Nicholas had to buy a used tire instead. She says the new owner has kept the same name on the business (Hernandez Tire Shop) and is using the identical paperwork, which actually has a different name on it. But the new owner doesn't seem to care much about the customers of the business he purchased.
"I don't think it's a good excuse, I think, it's just that, an excuse. He bought the business, he bought the warranties that come with it," Nicholas said.
That's not legally true, but it's how reputable new owners operate.
"Honor the warranty, it's good business," Nicholas said.
Since many little tire shops that change hands don't, consumers are usually better off with another option. They should go to a tire shop with a bigger name, that's been around longer, has a good warranty, and a track record of honoring it. You might be surprised, many better-known tire stores have great deals too.
CBS 5 News contacted Hernandez Tire shop, they told us they would take care of everything; they agreed to refund the $40 Nicholas paid for the used tire and to give her the new tire she should have received in the first place. But Nicholas stopped by Hernandez Tire Shop three times, and three times, she says she left with nothing. Again, another good example of why you need to be careful where you buy your tires.
Copyright 2015 CBS 5 (KPHO Broadcasting Corporation). All rights reserved.