New
AZ lawmaker wants sober living homes to be licensed
Posted:
Updated: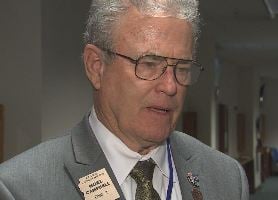 Rep. Noel Campbell (CBS 5 News)
Sober living homes are a safe haven for recovering drug addicts and alcoholics.
But, an Arizona lawmaker is concerned about their proliferation in his community.
"I call them drug rehab drop houses, where they stash people," said Rep. Noel Campbell. "There's no treatment going on. They're inundating our city."
Campbell, who is a resident of Prescott, has sponsored a bill that some worry could put sober living homes out of business.
House Bill 2563 would require the state's estimated 10,000 sober living homes to be licensed by the Arizona Division of Behavioral Health Services.
Campbell said with nearly 160 of these homes clustered in his city's residential neighborhoods, something needs to be done.
"They don't want to come under state licensing because of the cost, because of the transparency of the program, because of the protocols they'd have to meet," he said. "But, the legitimate ones should do that."
Duane Mantey, co-chair of the Arizona Recovery Housing Association, whose members submit to health and safety inspections of their properties, points out that sober living homes do not provide healthcare services.
He said this type of licensing would likely shut down the good ones, due to costly requirements that include hiring 24-hour staff.
"The licensing requirements are appropriate for a medical-type facility," Mantey explained. "But, not for a home that's just providing housing."
He said the current bill would harm legitimate sober living homes, while fly-by-night operators would continue to fly under the radar.
"Maybe it's not a perfect bill," Campbell admitted. "And, I'm certainly willing - that we're going to have amendments made. But, I'm really concerned. We need to get something done."
The Children and Family Affairs Committee passed HB 2563 on Monday.
But, the chairman said the bill needs work and he doesn't expect to see the current version hit the House floor.
Campbell said he intends to work with AZRHA to reach a compromise.
"We all have the same mission," Mantey said. "It's to improve the industry. We would very much like to be part of the solution."
Copyright 2015 CBS 5 (KPHO Broadcasting Corporation). All rights reserved.