ONLY ON 5
AZ bill aims to outlaw disguises during criminal acts
Posted:
Updated: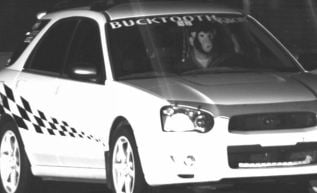 Speed cam photo of driver wearing monkey mask. (CBS 5 News)
PHOENIX (CBS5) -
Back in 2009, Dave VonTesmar was accused of trying to get out of nearly 40 freeway speed camera tickets by wearing a mask.
A new bill proposes to crack down on such monkey business in Arizona.
The proposal would essentially make it a crime to conceal your identity while breaking the law.
Some would say, VonTesmar knows a thing or two about that.
"For a while there, I was public enemy number one," he admitted.
VonTesmar no longer lives in Arizona.
But while he was here, and before speed cameras were removed from state highways, he let everyone know what he thought about them.
"I made a concerted effort, so that they would not be able to identify the vehicle operator in my particular car," VonTesmar explained.
Speed cameras on Phoenix-area highways snapped someone in VonTesmar's car wearing a monkey mask nearly 40 times in 2009.
He said judges tossed half of the tickets he got.
But, another $3,000 worth have gone to collections and VonTesmar refuses to pay - because he said there is still no proof that he was the masked driver of his car.
"I kept sending them a photo license with every infraction, because they're not violations," he explained. "They're infractions. I still have a perfect driving record."
But if some Arizona lawmakers have their way, VonTesmar's alleged actions would have tougher consequences.
Republican state representatives Bob Thorpe, Brenda Barton and David Livingston are sponsors of HB 2143.
If passed, it would make wearing a mask or any personal disguise a misdemeanor if used while committing a public offense, or to avoid being caught once accused of one.
This would apply to anyone who tried to outsmart the valley's remaining speed or red light cameras.
"You had a mask on," VonTesmar said. "Good luck enforcing that."
Thorpe issued a statement that reads, in part:
"We are trying to target those individuals who wear a mask in the commission of a crime. I want to have as many good tools on the books as possible for law enforcement, and public safety."
"Are people robbing a bank going to stop wearing sunglasses and a hoodie?" asked VonTesmar, who said any such law would not be a deterrent to real criminals. "No!"
Thorpe, who introduced HB 2143 earlier this week, pointed out California already has an identical law on the books.
Copyright 2015 CBS 5 (KPHO Broadcasting Corporation). All rights reserved.