New
Facebook page calls for recall of new AZ schools chief
Posted:
Updated: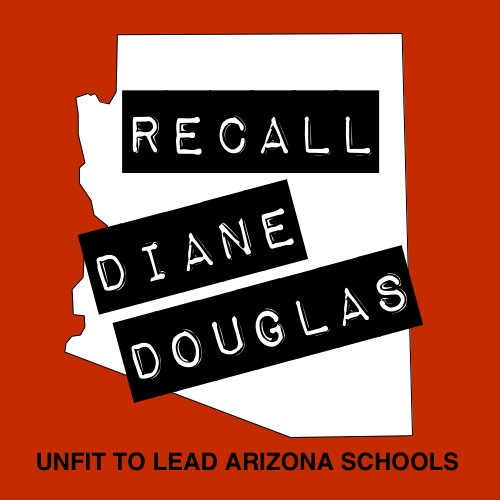 Courtesy: Facebook
PHOENIX (CBS5) -
The race for Arizona Superintendent of Public Instruction was very tight, with Republican Diane Douglas clinching the seat by fewer than 17,000 votes or about one percentage point.
Those who supported her opponent, David Garcia, are fighting mad – and, have taken their battle to social media.
On Sunday, the Facebook page Recall Diane Douglas went live, and at the time this article was written, the page had more than 1,800 likes.
The administrator of the page, Anthony Espinoza, M.Ed., is a Phoenix elementary school teacher who sent this statement:
"We think Douglas is unqualified to be the superintendent of public instruction. It is clear from her one issue campaign and lack of credentials that she understands very little about our education system. There is a reason that she avoided every single debate except for the mandatory Clean Elections one.
We are serious about pushing for a recall. A lot of educators, parents and concerned Arizonans are on board, and it's going to be a grassroots effort. The page has already received more than 1,000 likes in just 24 hours.
Unfortunately the only qualification that mattered in this election was the 'R' after her name."
Garcia, Douglas' Democratic opponent, was a candidate with an extensive background as an educator and a stark contrast to Douglas, who has no experience in that arena.
That disparity is likely why Douglas, who ran on a conservative platform to repeal Common Core in Arizona, has caused such outrage with her win.
But Jaime Molera, a political consultant and Republican who endorsed Garcia, said any recall effort is really too soon.
"She (Douglas) ran an underground campaign," he said. "Well, you can't be an underground superintendent. You're going to have to be above-board and tell people what it is you plan to do. Now she's going to be an elected official - where access to her schedules, her emails is public information. And, she can't hide anymore. And that's where if people want to judge her for her actions, and then maybe do what's constitutional, a recall effort - then they have some grounding to do it. I think, right now it's a little premature."
Another Garcia supporter, Former Republican State Senator Rich Crandall, sent this statement:
"If we recalled every elected official who has absolutely no qualifications, especially before they even take office, we would be a busy electorate. Diane Douglas is owed the right to prove the cynics wrong, including myself. She needs to be given the chance to do what's right by surrounding herself with a competent team, listening to educators, and sharing with the people of Arizona her vision for K-12 education, beyond simply doing away with the Common Core state standards. We'll know within 90 days of Diane taking office if we have someone who wants to truly help Arizona education, or if we have a disaster in the making."
Former Mesa mayor and Republican gubernatorial candidate, Scott Smith, also endorsed Garcia – but, in a statement to CBS 5 news, he said he wouldn't support a recall effort:
"I am disappointed that David Garcia was not elected, but the election was fair. Garcia supporters had a chance. We didn't make it happen. What purpose is served by a recall? Time to move on and work hard in other areas to improve education in Arizona."
Per state law, Douglas would not be subject to a recall until she has been in office for six months.
Organizers would have to gather about 363,462 signatures in order to force a recall election.
CBS 5 News made calls and sent emails to Douglas, and those who endorsed her, to get their thoughts on the matter.
We have not yet heard back from them.
Copyright 2014 CBS 5 (KPHO Broadcasting Corporation). All rights reserved.